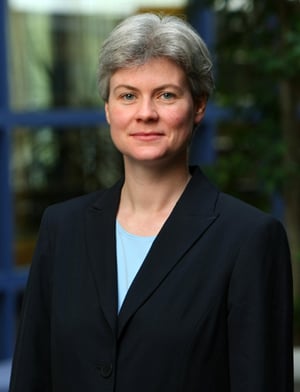 Kimberley Brooks never knew she wanted to be a lawyer. It wasn't until her second year of law school when she started to apply for articling positions and considered the kind of law she liked.
"That's when I realized practising law was going to be part of my legal education," she says.
Brooks became the new dean of the Dalhousie University Schulich School of Law on July 1. The former tax professor from McGill University brings her enthusiasm and sharp focus to the role.
Before becoming a professor, Brooks practised as a tax lawyer at Stikeman Elliott LLP. While she enjoyed practising law, university life pulled her into academia.
"The moment came when I was sitting at my desk late one evening working," she says. "I longed for those big conversations about the principles of law in university."
Brooks began teaching at McGill in 2001 and was the H. Heward Stikeman Chair in Tax Law. She was drawn to tax law from her studies in economics at the University of Toronto and culminating with a master's degree in law taxation at Osgoode Hall Law School in Toronto.
Following the tradition of Dalhousie deans teaching during their tenure, Brooks will teach her specialty.
"I love solving problems like how do we apply these rules in everyday life," she says. "There are economic, social, and political forces pushing tax law, statutory interpretation, and broader ideas about our economic system. No matter what you like, tax law is a part of it."
Brooks joins the Dalhousie community as the school is going through major changes. Last fall, it received a $24-million endowment from billionaire philanthropist Seymour Schulich (thus prompting its name change) and recently hired a new head librarian.
"The luxury here is that the community, the alumni, the faculty, and the students are engaged in the process of the law both locally and internationally," she says. "How are we attracting students that we haven't historically represented at the school and what kinds of programs do we need to do that? That'll be a better conversation than discussing how to cut everything back in order to stay alive."
Upon her appointment, Tom Traves, president of Dalhousie, had this to say: "Ms. Brooks shows inexhaustible energy and passion for the law, students, and law schools. She is deeply committed to seizing the opportunity before the Schulich School of Law to take the lead in curriculum reform, increase its scholarly impact, cultivate the professional legal community, and to encourage students to work in the public interest."
While Brooks settles into her new role, she'll also be moving into her new home with three-year-old son Coltrane and one-year-old daughter Beckett. The house is only a few blocks away from campus.
"Law students around the area are a bit worried," she says. "I guess I'll spend most of my time inside the house."