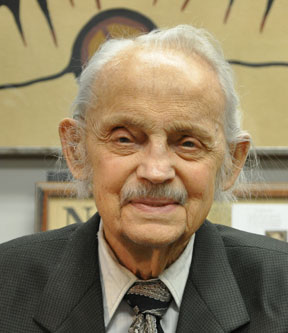 In a field filled with professionals known for pushing the boundaries of work-life balance, Winnipeg's Harry Walsh stood out.
At 97 years old and with 71 years of service under his belt, Walsh was Canada's oldest practising lawyer when he died early yesterday morning. The legendary practitioner had been in hospital for about two weeks after suffering complications from a recent fall in which he suffered a broken hip. Before the accident, he had come to work every day since being called to the Manitoba bar in 1937.
Walsh had accomplished much throughout his career, which was acknowledged when he was made an officer of the Order of Canada last December. Governor General David Johnston praised Walsh's long-standing service as a lawyer and work helping abolish the death penalty in Canada, which Parliament made official on July 16, 1976.
Walsh told the
Winnipeg Free Press
that he considered that work his crowning achievement as a lawyer. "I was responsible for that and I want to take credit for that," he said. "I never had a hanging in any case where I was the senior lawyer. We have no right to take the life of anybody."
Walsh also has been credited for helping create Manitoba's legal aid system, and in 2000 the Law Society of Manitoba named him one of the province's top 10 lawyers in history. A veteran of the Second World War, Walsh was also a founder of the Jewish Foundation of Manitoba.
He was known as a mentor to many of Winnipeg's top lawyers. As Criminal defence attorney Greg Brodsky told CBC News:"He's the reason I am what I am." He added that Walsh "was there for me every day."
Walsh is survived by a son and daughter.