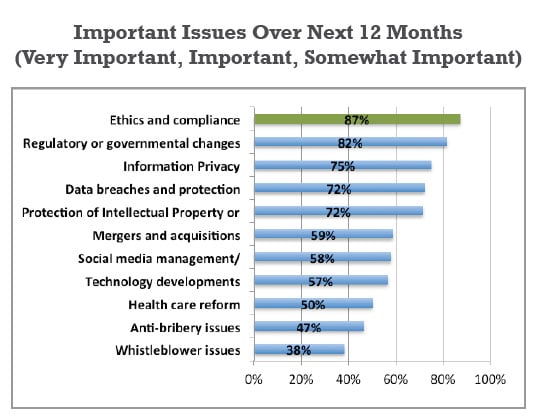 Chief legal officers say compliance and ethics issues dominate their agendas these days, followed closely by regulatory changes, according to a survey conducted by the Association of Corporate Counsel.
"Compliance was a top issue for CLOs overall, followed by getting their arms around regulatory and government challenges and changes of law, information privacy, and data breaches," says ACC president and CEO Veta Richardson.
Among Canadian CLOs, 16 per cent of new positions created were in the area of compliance, reflecting an increasing emphasis that issues around anti-corruption and anti-bribery be reviewed in-house.
"Compliance is an area where they have to spend their time focusing, but also 33 per cent want to spend their time addressing and focusing on compliance issues," says Richardson.
Conducted annually, the global survey of 1,100 heads of in-house departments from 36 countries includes Canadian corporate counsel and asks what business priorities have been and will be keeping CLOs up at night.
Issues covered in the survey also included law department budget and staff changes, challenges involving pro bono initiatives, and how CLOs evaluate the success and effectiveness of their law department.
Findings revealed other trends, including the increase in hiring and the use of contract lawyers, which had a 59-per-cent increase over last year. Of particular note was 63 per cent of Canadian CLOs plan to increase their law department budget, compared to the overall response rate of 39 per cent.
"That's a pretty significant variance of 24 per cent," says Richardson.
Overall, CLOs' level of job satisfaction decreased from 92 per cent in 2011 to 81 per cent in 2012. In Canada, 77 per cent of CLOs are satisfied with their job in the company.
"Canadians were slightly less satisfied," says Richardson. "For the most part that's probably aligned with the complexity of issues and the fact chief legal officers have been having to deal with these complex issues, the fast pace of business, the global pace of business, and keeping up with what's going on in their own operations — and it's starting to take a toll."
While 38 per cent of respondents said they earn an average base salary of $250,000, Richardson acknowledges pay is generally lower in Canada.
According to the survey, reducing outside counsel legal costs remains one of the top five business priorities for legal departments. In Canada over the last 12 months, 27 per cent said they spend the majority of their time working on how to attract and retain good outside counsel.
"Although 27 per cent have that focus, the majority would prefer not to have to focus on it so intently," says Richardson.
Of the Canadians surveyed, 80 per cent use outside legal spending as a metric and benchmark to evaluate the effectiveness and efficiency of their own law department and show their inside team is cost effective.
"They're constantly having to evaluate the internal versus buy externally decision," she says. "In Canada they're using outside counsel spend as a metric slightly more than the overall survey pool indicated. The general overall number was 75 per cent who used it as a metric."
Other findings from the survey:
10 per cent of Canadian CLOs surveyed made staff cuts over the past year unrelated to performance (slightly fewer than the overall response rate of 11 per cent); 32 per cent of staff cuts were in-house lawyers.
67 per cent supplemented their departments by hiring contract lawyers in the last 12 months.
61 per cent of the CLOs surveyed reported law department budget changes over the past 12 months and in the year ahead, compared to 55 per cent overall.
Pro bono programs are not prevalent among the law departments of survey respondents, primarily due to the fact respondents' departments were too small and the legal staff was stretched too thin. Ninety five per cent of respondents said they did not have a pro bono program in their department.
Where pro bono programs have been successful is when they have partnered with other organizations such as Pro Bono Law Ontario. Recently the Ontario chapter of ACC has launched such a program with PBLO.
Of those surveyed, nine per cent of respondents said increasing pro bono work helped to enhance the overall legal skill set of the lawyers on their staff.