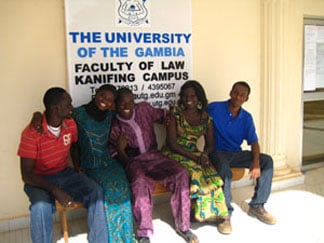 It's safe to say almost every Canadian law student participates in at least one moot during his or her time at law school. However, that's not the case for some students at law schools in other parts of the world.
But Heather Keachie, a visiting lecturer and moot team coach, hopes to change that for five students at University of The Gambia Faculty of Law so that they may compete in this year's Philip C. Jessup International Law Moot Court Competition. The moot is in Washington, D.C., from March 25 to 31.
Keachie graduated from the University of Toronto Faculty of Law with a master's degree in international relations. After graduation, she clerked at the Federal Court of Appeal. At the end of her clerkship, she didn't want to embark on a traditional legal career; she was more interested in international development. In 2008, she volunteered with a small NGO in Tanzania and enjoyed her time there. So last September she joined the faculty at the University of The Gambia, in northwest Africa, on a one-year contract.
In the fall, she was approached by students seeking to set up a moot club. Some of them had gone to the International Criminal Court in The Hague the year prior through a mooting program and wanted to take part in other international moots. So she agreed, and has spent most of her time fundraising to send them to the Jessup.
As you can imagine, the trip is very expensive. Keachie predicts it will cost approximately $15,000 in total and they've raised about $4,000 so far. She is also counting on sponsorship from an airline to help with the flight costs. They've received some support from private companies and government ministries in The Gambia and from the university itself. Keachie also set up a
web site
to reach out to the international legal community, but hasn't received a very positive response. Despite their efforts, they're only about halfway there and are in desperate need of additional donations.
In other efforts, the team hosted a public moot demonstration at the law school on Feb. 24 for students to practise making arguments and raise funds. Besides drumming up dollars, the team has been busy preparing for the moot, but Keachie says the students are severely disadvantaged due to the lack of resources. There isn't regular Internet access available and when they do access the Internet, it's too slow to download files, she says. There are also no books in the library besides the international law textbook that Keachie brought with her. Not all students are proficient in English either, as they all speak two to four tribal languages.
Just being involved in an international moot would be the biggest benefit to students, says Keachie. "I do see that the more experiences a person can have — the more they see how other people live, how other people interact, how other people interact with government — the richer their understanding is of their own culture and their own background. And I think that some of them know that, and it's certainly been part of my motivation in pushing this project," she says.
"In terms of their academic and skill benefits, just working on the moot now I can see a lot of improvement in them, but being forced to follow through with it and actually present in front of international students will, I hope, give them confidence that they can then take back when they come back to The Gambia," says Keachie.
"I see a very different level of confidence and self-awareness between the students who have participated in previous international moots and the ones who haven't, and I just want to be able to give that to as many students as possible."
Some students have never even been outside The Gambia, so it would really be an eye-opening experience for them, she adds. "The reason why I've put so much time and effort into this is to give these students an opportunity that I took for granted or that many people take for granted — and that's just the ability to see other parts of the world."
The law program is a hybrid between those in Canada and the United Kingdom; students graduate with an LLB after four years. Keachie says many students enrol right out of high school, others have a bit of college training, and some are teachers pursuing a law degree.
It's a small faculty: an interim dean, an administrator, one full-time Gambian professor, six full-time visiting lecturers, and nine adjunct professors for 238 students. It was established five years ago and recently graduated its first class of 13 students.
The law school should help address the country's need for more lawyers. Currently, there are approximately 80 practising lawyers in The Gambia – all of whom were trained abroad – to serve a population of 1.7 million people. A bar school has also recently opened so graduates can be called to the Gambian bar.
Keachie maintains this is a chance for the international legal community to give back. "[T]he legal profession, especially in Canada, it's very privileged and it's not that privileged everywhere else in the world. I think a recognition of that is important and giving a little something in order to give that same chance to students who obviously come from a very disadvantaged [background] is a part of being an international legal professional."
You can donate to the University of The Gambia's moot team on their web site. To read biographies about the students, check out the team's blog.