Walied Soliman has been named global chairman of Norton Rose Fulbright, heading up the firm's supervisory board.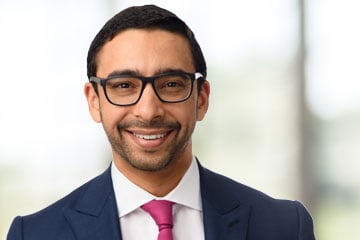 Walied Soliman has been named global chairman of Norton Rose Fulbright, heading up the firm's supervisory board.
"Essentially, my role is going to be the chair of the global partnership board — a non-executive function but important governance function within the partnership and an important ambassadorial role outside of the firm," says Soliman who is also Canadian chairman at the firm in Toronto.
Soliman says he has multiple goals for his time in the role as chairman. The first is to engage with clients around the world to expand their practice areas, the second is to focus on diversity and inclusion within the firm, and the third is to continually evolve the firm's processes around mental health, and a focus on the firm's global governance.
"Our number one goal remains our commitment to being widely regarded as the leading business law firm in each of our jurisdictions," he says.
"That is what every single one of our lawyers wakes up every morning committed to delivering. The internal governance of law firms, while not very interesting from an outward-facing perspective, is very important in helping enable our lawyers to have all the very best tools to achieve the mission of being the very best they can be."
He noted that under the leadership of global CEO Peter Martyr, the firm has gone through "unprecedented expansion." The firm has also been "at the cutting edge of developing its global governance model," he says.
"I have received calls from fellow chairs and other law firm leaders in Canada asking about our governance model. Most of our competitors don't want to open up their constitutions or their partnership agreements and most partnership agreements at most law firms are decades-old. I think we've come up with a really robust and progressive governance model that focuses on enabling our lawyers on a mission of being the best while ensuring the business is very strong."
Soliman says despite talk in legal circles about the need to consider changing the law firm partner and leadership model to consider alternative business structures, he disagrees, insisting lawyers need to have a role in the running of the firm to make it successful.
"There is a notion out there that as these partnerships are growing there is a corporatization of law firms, and that model in my view cannot succeed in a successful law firm," he says. "Partners need to feel like partners; they need to feel like they are actually running their business and that they have a direct line into affecting change that their business desires. A corporate model where the partners are employees is not conducive to enabling partners to achieve a mission of being the very best they can be," he says.
In Canada, Soliman is elected by his peers and he says that in itself is a recognition of the importance of every partner in the firm.
When it comes to the push to do away with the billable hour, he says that while alternative fee arrangements are becoming "exceptionally popular" and have worked well for both law firms and clients in many parts of the world, he doesn't believe the billable hour is going away anytime soon.
"I don't believe the billable hour is dead, nor do I believe the billable hour is on is death bed, but I do believe there are many models in many parts of the world that have succeeded very well and certainly we are adopting those in Canada and in many parts of the world," he says, but declined to disclose specifics.
"We have many different types of [alternative fee arrangement] relationships with enterprise clients around the world that have been executed very successfully," he says.
Soliman will be continuing his special situations practice on a full-time basis, which is focused on mergers and acquisitions, takeover defence, complex reorganizations and shareholder activism in Canada. He says he expects his administrative duties in Canada and globally won't take more than 20 per cent of his time.
As global chair, Soliman will focus on developing Norton Rose Fulbright's cross-border M&A and funds practice.
Soliman replaces Tricia Hobson, whose term as global chair expired by rotation on Dec. 31, 2018. The global chair role is for one year.
"The appointment of Walied Soliman to the role of global chair for Norton Rose Fulbright will be a boost to the continued growth of our global business," said Peter Martyr, global chief executive, Norton Rose Fulbright, in a statement.
"Walied is a leading practitioner in the Canadian M&A, takeover defence, complex reorganizations and shareholder activism market. His extensive experience will be invaluable as we grow these practices worldwide."
"I would like to thank Walied's predecessor, Tricia Hobson, for her contribution and commitment to the global business during her tenure as global chair," he added.