The International Law Office has awarded a whole gamut of Canadian lawyers with its
Client Choice Awards
.
The awards, which surveys senior corporate counsel only, recognizes winners globally and honours both individuals and law firms for their contribution to the legal profession.
McMillan LLP was selected as Canada's winning law firm this year. Winning law firms were selected through an ILO subscriber survey of corporate counsel and were assessed for the depth of their team, response time, quality legal advice and billing transparency, among other criteria.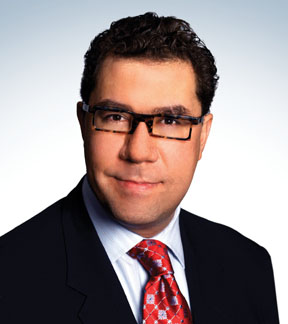 Fraser Milner Casgrain LLP partner Sander Grieve was the only Canadian winner in the capital markets category to receive the Client Choice Award 2012 and is the national co-chairman of FMC's mining group. Apart from practising in public markets finance and mergers-and-acquisitions, he also acts for a wide range of issuers, underwriters, and agents in both international and domestic securities issues. Currently, Grieve focuses on global mining and precious metals in his practice.
"The support of my clients is essential to my business; that they have taken time out to recognize my efforts is the highest professional praise I could hope for," said Grieve.
Evans, who has worked with FMC since 1999, also was an exclusive Canadian winner this year in the litigation category. Evans' litigation practice focuses primarily on banking, securities, professional liability, and fraud. He often appears before all levels of court in Canada and practices heavily in auditor's liability and securities matters.
"This award is particularly meaningful as it reflects the views of my clients," said Evans. "Strong, time-tested client relationships are the foundation of our success as lawyers. I am honoured to have been recognized by my clients and ILO."
The Norton Rose Group was also selected as an ILO Client Choice Award winner in the international category this year. Individually, Charles Hurdon, a partner at Norton Rose Canada LLP, was awarded in the employment category along with six other members of the Norton Rose Group who took home individual prizes globally.
Hurdon specializes in employment and labour law and has experience representing and advising employers in executive employment agreements, executive compensation and executive terminations. He also practices in occupational health and safety and has assisted employers in developing health and safety programs.
Other individual Client Service Award winners across Canada include:
• Eric Carmona, partner Stikeman Elliott LLP, in the Commercial Property category
• Roger Taplin, partner McCarthy Tétrault LLP, in the Energy & Natural Resources category
• Shawn HT Denstedt, partner Osler, Hoskin & Harcourt LLP, in the Environment category
• Sandra Abitan, partner Osler, Hoskin & Harcourt LLP, in the Insolvency & Restructuring category
• Marion Bailey-Canham, partner Gowling Lafleur Henderson LLP, in the Intellectual Property category
• Sylvain Cossette, partner Davies Ward Phillips & Vineberg LLP, in the M&A category
The London-based ILO selected winners for their client care and quality of service based on client reviews and independent research. Specifically, the award honours lawyers who add significant, real value to their clients' business in a way that sets them apart from other lawyers in the same market. Lawyers and law firms were also evaluated on their quality of legal advice, communication skills, and use of technology. Winners were chosen from more than 2,000 individual assessments received from corporate counsel in 64 jurisdictions worldwide.
The ILO awards research team also conducted interviews and additional research to establish the shortlist of award winners. Categories for this year's individual awards included arbitration, banking, corporate tax, public law, and white-collar crime, among others.
Award winners were announced in Canada Feb. 23.
Updated version of story posted at 1 p.m.