​When Gerald Le Dain was appointed to the bench of the Supreme Court of Canada in 1984, he had a distinguished background as a jurist and academic.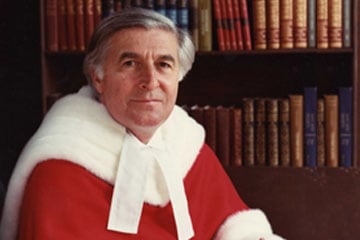 When Gerald Le Dain was appointed to the bench of the Supreme Court of Canada in 1984, he had a distinguished background as a jurist and academic.
Called to the Quebec Bar in 1949, Le Dain went on to teach law at his alma mater, McGill University, practise as a lawyer, become dean of Osgoode Hall Law School in 1967, and, perhaps most notably, chair the Commission of Inquiry into the Non-Medical Use of Drugs from 1969 to 1973, which recommended that cannabis be removed from the narcotic control act and be regulated provincially. In 1975 he was appointed to the Federal Court of Appeal and the Court Martial Appeal Court.
But Le Dain's tenure as a Supreme Court puisne judge was cut short four years after his appointment when — according to a report that will be broadcast Jan. 14 on CBC Radio's The Sunday Edition — then Chief Justice Brian Dickson effectively required Le Dain to resign from the court after Le Dain's wife had requested a leave of absence for him, citing mental strain and depression. Le Dain retired from the high court on Nov. 30, 1988, three days after his 64th birthday.
Bonnie Brown, the producer of the radio documentary "One Judge Down" that will air this weekend on The Sunday Edition, was inspired to tell Le Dain's story in order to share the full circumstances of his having to leave the court, and that a significant part of his contribution to the court — namely his drafting of the Supreme Court's decision in Ford v. Quebec (Attorney General) [1988] 2 SCR 712 — was erased from the record.
Brown — who also holds a law degree from McGill University, from which Le Dain received his Bachelor of Civil Law in 1949 — said she learned a little more about Le Dain after attending a meeting of the Osgoode Society for Canadian Legal History to hear legal historian Blaine Baker speak on a forthcoming (2018) book of essays that he is editing entitled Tracings of Gerald Le Dain's Life In The Law. Brown was curious as to why Le Dain had decided to step down from the Supreme Court bench just four years after his appointment, and decided to investigate.
"As I embarked on this project to talk to people, most of whom are extremely circumspect about speaking about anything in the courts, it felt as if they'd been waiting to be asked about it," Brown told Legal Feeds. "The set of circumstances [surrounding Le Dain's resignation from the Supreme Court] had always upset them, and they were waiting to be asked about what they knew went on.
"People were not just willing, but I would say they were happy to finally be able to tell the side of the story that's been with them for 30 years … that would reclaim, in a sense, the proper legacy of someone they respected and admired and loved very much."
Brown conducted interviews with Claire L'Heureux-Dubé, the last surviving Supreme Court justice from Le Dain's era; Harry Arthurs, former dean of Osgoode Hall Law School and president of York University; Justice Melvyn Green of the Ontario Court of Justice; David Butt, a Toronto criminal lawyer who clerked for Le Dain at the Supreme Court in 1987-1988; McGill law prof Richard Janda, who also clerked under Le Dain; and Caroline Burgess, one of Le Dain's daughters. In her documentary, a portrait emerges of a man with a deep sense of insight and humanity that he brought to each case he heard, who was intense, passionate and elegant, and who left the bench with much more that he could have done.
Le Dain was considered to be both a man of his time and ahead of his time.
"He was ground-breaking in so many ways," says Brown. Royal commissions had traditionally sat in Ottawa or the city where the research was centred, she says, but, as chair of the Commission of Inquiry into the Non-Medical Use of Drugs, Le Dain took his commissioners "out of the office, on the road, to talk to people across the country" about the recreational use of cannabis. "He talked to young people in universities, in coffee houses, to try to understand the emerging culture of recreational drug use."
And, as dean of Osgoode Hall Law School from 1967 to 1972, "he had a huge impact on legal education in Canada," says Brown; under his leadership, Osgoode became the first law school in Canada to allow students to make clinical practice a part of their legal education, and the school helped establish the Parkdale Community Legal Services legal aid clinic.
Le Dain, a thoughtful scholar and collegial jurist, began to struggle under the heavy caseload of the Supreme Court during an especially intense period, and in September of 1988 he was diagnosed with clinical depression (he was subsequently hospitalized). In Brian Dickson's biography, says Brown, the then chief justice refused Cynthia Le Dain's request for a leave of absence for her husband because Dickson did not feel that the court could wait for him to recover.
Le Dain was made a Companion of the Order of Canada in 1989, at which point he had retired from professional life. "His clerk, Richard Janda, would say he never lost the intellectual capability to render judgments, but the circumstances around his exit from the court [meant that] he really receded from public life," says Brown.
The issue behind Gerald Le Dain's resignation is also timely in that " the issues of combatting the stigma around mental illness are more and more present," she adds. "As we see in society, particularly around young people, we see what a prevalent problem it's become."
"One Judge Down" will air on Sunday, Jan. 14 on CBC Radio's The Sunday Edition, and will be available to listen to on the CBC website from tomorrow (January 12th) at 6 p.m. EST.