For years, general counsel counsel have been doing more with less — handling a flood of mounting data as well as increased compliance and HR functions that used to be separate from the GC function. Now some are looking to technology to help manage the workload and make them seem less of a cost centre.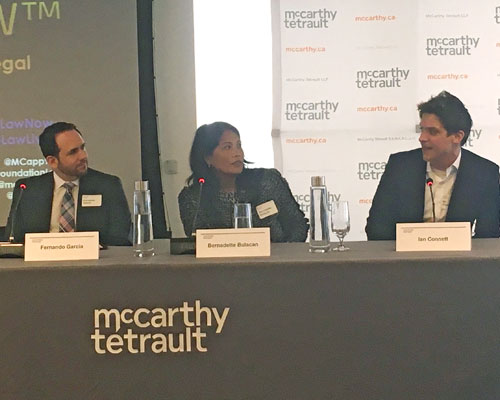 "As you're wearing more hats, you have to be more efficient in what you're doing," said Fernando Garcia, general counsel of Nissan Canada, speaking as part of a panel last week at McCarthy Tétrault LLP. "That's where we're seeing technology starting to creep in. Maybe we can find ways to get things done faster and more efficiently with technology."
The panel, called Tech Savvy In-House Counsel presented by Evolve Law, McCarthy's and Thomson Reuters, looked at how both in-house counsel and law firms can be looking to deploy and even create technology tools to make their lives easier and help each other find greater value.
Ian Connett, a 30-year-old general counsel with Collective, an advertising technology company in New York — the "MillennialGC" — says when reporting to a CFO or CEO it all comes down to how you're performing against your budget.
"There's that challenge of 'what technologies do I need to integrate and where do I outsource, what do I keep in-house and send outhouse,'" he said. "There's also a communication problem lawyers have in how do we communicate with these bright people who are engineers in the technology department? How do we borrow in-house IT resources to build out a contract system or start to solve some of these problems and start a conversation around how to do a design sprint to change processes?"
Connett used to work for an IT distributor that had tens of thousands of contracts and people were always asking him about details of the contracts.
"We had to think about do we buy or build a system. We ended up getting a licence through a company called ACTIS, which is built off of Salesforce, and we use Salesforce.com to basically be a data warehouse for all of our contractual data. It was a huge project. It was the first time I had ever attempted anything like that before, but as a younger attorney, I was able to add a lot of value to our department," he said.
Connett admits the scope was probably "a little too large" and advised if anyone is looking to build out a contract system to focus on key data sets first and build from there.
Recently, Connett's company decided to bring more of its intellectual property work in-house, investing in a platform called Alt Legal — cloud-based software that takes out a lot of the reporting aspects of IP law.
"One of the things that tends to irk a guy like me is the bills for little reports — I just got my IP report spreadsheet and it's $100, but those things add up. It's those types of costs that we look at and say 'What if we had a platform doing it for a fixed cost and I can pull the reports whenever I want?'" he said. "We still have IP counsel for strategic work or crafting of claims, but for management kind of work, you don't need a lawyer to pull an IP report. I think IP is an area where you're going to see disruption in the forseeable future."
Moderator Matthew Peters, national innovation leader at McCarthy's, said while some law firms might see that kind of move as in-house "stealing our work" it should be the opposite.
"The buyers are making a rational decision, which is that they can get more value by hiring or building a process in-house than they are seeing from the law firm. If you aren't demonstrating value, why not say how you can work together. The firm should be able to build it and deliver it more cost effectively than in-house even," Peters said.
Connett agreed, saying he is amazed that more law firms don't offer these types of platforms where clients can log in to get information.
Bernadette Bulacan, director, market development at Thomson Reuters and a former general counsel, said most legal departments probably couldn't get the green light to build something. So how, as a legal department, do you make the business case?
"You are doing more with less and you're a cost centre, so if there are technology dollars, they aren't going to the cost centre, they are going to go to a revenue generator," said Bulacan, co-founding employee of billing and matter management software Serengeti (now Legal Tracker). "So one of the challenges I see for a tech-savvy GC is not just the choice of all the technology available. The challenge for legal departments is actually developing the business case for that technology, working with partners to demonstrate an ROI on that and that you would be able to not only implement the technology but sustain use for that ROI in years to come."
Garcia said the challenge is also that a business may see a request for investment in technology for the legal department as dollars spent away from customer-facing initiatives.
"It's about being able to demonstrate the opportunity cost and why it's valuable," said Garcia.
Bulacan said some general counsel in the U.S. are starting to hire department operations specialists. The Corporate Legal Operations Consortium is an organization whose members are not all lawyers by trade but may be finance or technology professionals who are "business minded."
"Some lawyers and some GCs are realizing they didn't go to law school to run staff and numbers. But they have the power to do it for them," she said. "Some legal departments are starting to hire that role."
In Canada, there are about a half-dozen individuals in the chief legal operations position, including at companies such as Air Canada, SNC Lavalin, Bell Canada and the York Region, which have hired this role.
"If you want to bring technology in and demonstrate the value of technology, you need to start talking like the other department leaders about your resources," said Bulacan. "That is with data, numbers and pictures."
Connett said it is now "imperative" that lawyers be trained to understand and manage the department and identify where the work is coming from and how to automate processes and have the data at the fingertips.
"That will make you more valuable to the organization," he said. "For the law firms, some people view this as threatening, but I assure you if you are able to provide data and transparency into the process your client is going to love you and give you more work because you are making their job easier justifying the legal budget on a quarter-by-quarter basis."
Technology is often "the last divide to conquer," said moderator Matthew Peters, national innovation leader at McCarthy's. "If you don't have a big IT department supporting you, start with a simple process," he said.
Connett cautioned that lawyers not try to be "all things to all people."
"There is a lot out there around contract management and e-discovery, but think small and niche," he said.