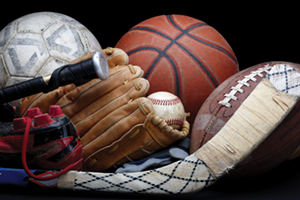 The way most economists see it, the sports industry should be immune to recession. The general wisdom goes that even in hard times, people will pay to see their favourite team, but in a changing landscape where much of the growth relies on sponsorship contracts, athletes' public image, or the right contractual agreements — things can quickly become complicated. And while larger franchises might be able to ride the economic roller-coaster more easily, smaller teams face harder times.
At Maple Leafs Sports & Entertainment Ltd., the company behind iconic Canadian brands like the Toronto Maple Leafs and the only Canadian team in the National Basketball Association, the Raptors, things went relatively smoothly during the recession but even there, the bad economy hit harder than expected. "We were planning for a difficult economy before it hit, and certainly we didn't anticipate it hitting as badly as it did, but we expected to have some challenges and that helped us weather it," says Robin Brudner, executive vice president, general counsel, and corporate secretary at MLSE. "We negotiated sponsorship agreements, for example, earlier that we had generally done before in order to try to early renew and secure the sponsorships."
Thanks to the wide recognition of the company's brands, Brudner says MLSE was successful in securing sponsorships even during the worst part of the recession. But it required more effort than before. "We have been very fortunate that we have been able to maintain our roster of sponsors by and large, but absolutely the selling process is longer, harder. The approval process from the sponsor perspective is greater and more involved and we have to demonstrate like never before the value of the partnership," says Brudner.
According to IEG Sponsorship Report data, sports accounts for 68 per cent of the $17-billion North American sponsorship market and sponsors are demanding more transparency on the return on investment. They want to see a direct revenue stream coming out of sponsorship, not just general brand awareness by association, says Michael Penman, a senior partner at Toronto's Blaney McMurtry LLP who deals with sports legal issues.
But while large, well-established teams like the Toronto Maple Leafs will do fairly well in any economy, smaller brands face an uphill battle, he says. "The jewels and in the franchises, teams like the Toronto Maple Leafs and the New York Yankees seem to be fairly impervious to the economy," says Penman. "Branding is still important, but it is not the only factor, there has to be some payback." The problem, he adds, will be for big franchises to find enough good teams to play against, which when the economy is bad don't have the same safety net the big names have.
It's a view shared by the latest PricewaterhouseCoopers report on the state of the sports industry. "Despite the economic downturn the largest sports brands with global reach and pulling-power have continued to attract the massive sponsorship deals," said the report. "The mid-level brands or brands associated with a particular city or country have been hit badly." The report predicts positive growth every year through to 2013, but says this only comes after the depths of the recession registered in the sports industry as well as when the combined Canadian and U.S. sports market declined by 4.7 per cent in 2009, followed by a rebound beginning in 2010.
The recession also led to changes in who is actively investing in sponsorship, says the PwC report. In 2009, some banks shifted their spending priorities away from sponsorship. However, looking forward, improving financial conditions will likely see the financial services sector's return to sponsorship. Another industry investing increasing amounts in sponsorship is online sports betting.
While there is big money involved in team and venue sponsorships, individual athletes carry their own sponsorship contracts. And these contracts can be just as lucrative as those for teams or sports companies. But individual athlete sponsorship contracts also come with their own opportunities and pitfalls when negotiating sponsorships, says James Bunting, a sports-related litigation partner at Davies Ward Phillips & Vineberg LLP. "Something that can become a source of contention are public image clauses. They preclude an athlete from tarnishing his public image."
One of the things sports lawyers worry most about is the use of performance-enhancing drugs, a hot issue on and off the field. Canada recently saw major developments in this area with the adoption by the Canadian Football League of performance-enhancing drug policies. "It's important and could change the state of play for the CFL," says Bunting. "With the adoption of its doping policy, the CFL has not only brought itself in line with other major professional sports, but has also sent a message to Canadian football athletes of all levels that doping will not be tolerated in Canadian football."
While the effectiveness of the CFL policy will need to be gauged by its results, the mere adoption and implementation of the policy is a positive step forward for Canadian football, adds Bunting. No professional Canadian football team has been hit by doping allegations, but the CFL move comes after developments at the university level, which feeds the professional teams. A few members of the University of Waterloo's football team, the Waterloo Warriors, recently tested positive for banned substances including human growth hormone and steroids. The test results marked the most significant doping scandal in Canadian university history. The university decided to take a hard line and set an example, suspending its football program for an entire season.
As part of its program, the CFL has announced it will identify the top 80 Canadian university football prospects and provide funding for those athletes to be tested during the year.
A changing industry
The four-lawyer in-house team at MLSE keeps busy most days, and as in-house lawyers in the sports industry, they face different pressures from those of most of their colleagues in other businesses. "You know, there aren't too many people who will wake up Monday morning and think they know more about how [General Electric Co.] might have been run, but certainly a lot of people wake up on Monday morning and think that they might have crafted a play differently," says Brudner. "I love that part of it as well. It's certainly something that we are very mindful about. We know that people are very passionate, thankfully, about our teams, and we have to respect that and value that but part of that comes with more criticism than with other companies."
The industry has changed, as has how in-house counsel work inside it, says Brudner. "When I started 15 years ago at the Raptors, we attended some team lawyer meetings at the NBA and there were, I would say, a third to half of the teams were represented by outside counsel who did their work. This has certainly changed. Now 100 per cent of the teams, I would venture to guess, have inside counsel, at least one. Because the business has become so much more involving, that's . . . how much more complicated the practice of law in our business has become," she says.
And the economy is not the only variable for Canada's sports business. Toronto and some other parts of the country are changing mainly through immigration. While hockey remains Canada's first sport, many new immigrants don't know much about it, so bringing them into the fold is a priority for companies like MLSE. However, they are diversifying with the opening of the Toronto FC soccer franchise, which although new has been embraced by the city's global population. "Toronto FC has done great, we have no worries there," says Brudner.
In the end, although unique, companies in the sports industry face many of the challenges seen by businesses anywhere during the recession. "It's a unique business, but at the end of the day it is still a business," says Brudner.