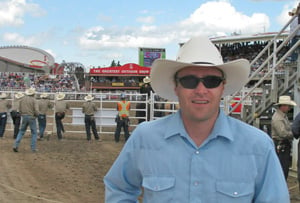 The former general counsel of the Forzani Group has taken on the role as in-house counsel for Calgary-based industrial construction company
The Churchill Corp.
Evan Johnston joined Churchill as vice president and general counsel Sept. 13 as its first GC, bringing in-house legal work previously performed by outside counsel.
Reporting directly to the CEO, he will be managing Churchill's relationships with all external legal firms as well as advising the company on all corporate activities including mergers and acquisitions, securities law, employment law, and contract law.
Johnston's most recent role was as vice president, general counsel, and corporate secretary for The Forzani Group Ltd., which was recently acquired by Canadian Tire Corp. Johnston says following the completion of that high-profile deal he exercised his change and control right to leave.
"The lead director at Forzani happened to be the chairman of Churchill and he called me the day the deal was announced and asked me what I was going to do," says Johnston. "One thing led to another and it was actually a good time to be coming out of that job because the high-profile nature of the deal [meant] there were a lot of offers."
His first task out of the gate, he says, will be to educate the team at Churchill about the value in-house counsel can bring.
"They haven't had a GC before so I think that will be the biggest challenge," he says.
Churchill was not only looking for a GC who could handle the legal work but also someone who could get involved in the business strategy and growth of the company.
"My vision and the CEO's vision fit well because that's exactly what I was looking for. I wasn't looking for the kind of job where you sit in your office and push paper for the rest of your life. I wanted something with growth and to get involved on the business side with the senior team and develop opportunities for myself," he says. "There is a lot of growth left in this company."
Johnston says he had "the luxury" of having some very good offers from some high-profile companies but at the end of the day, being part of a growth story and involved in the business was what really attracted him to Churchill. "It wasn't the money and it wasn't the profile — things that would typically be attractive. What I'm hoping is that my next job is not a law job; I'm hoping this gets me on a succession track that puts me more in a business role."
Prior to joining the Forzani Group, Johnston practised with several law firms, including Blake Cassels and Graydon LLP, in the areas of corporate finance and securities law as well as private and public equity, venture capital, M&A, fund formation, and corporate governance. His experience has been in Calgary, Vancouver, New York, and with Clifford Chance LLP in London, England. He holds a Bachelor of Commerce and law degrees from the University of Manitoba and is also a certified financial analyst.
Johnston will report directly to Churchill's president and CEO, Jim Houck.
"I am very pleased to announce the appointment of Evan as our vice president and general counsel and to have Evan join our executive management team at Churchill," Houck said in a statement. "Evan comes to us at a time when Churchill has achieved a size and complexity that requires in-house counsel. We look forward to his leadership contribution to the company's strategy and continued growth."
The Churchill Corp. provides building construction, commercial and industrial electrical contracting, earthmoving, and industrial insulation services to public and private sector clients. It has offices in British Columbia, Alberta, Saskatchewan, Manitoba, northwestern Ontario, and the Yukon.