The Law Society of Upper Canada received more complaints about lawyers and paralegals in the first quarter of 2013 than any quarter last year.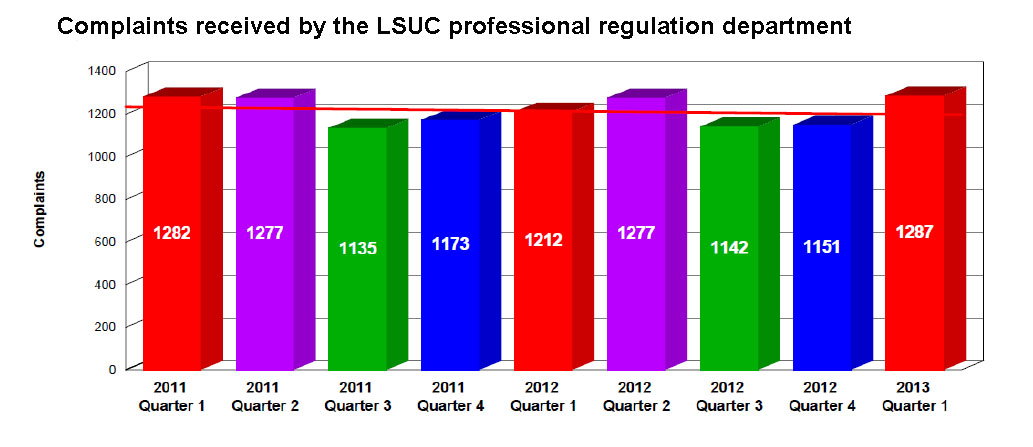 The law society's professional regulation division took more than 1,200 new complaints between January and March, a 12-per-cent increase from the last quarter of 2012. In a more dramatic rise, the investigations department saw a 32-per-cent increase in the first quarter of 2013 over the same period last year.
"The department's intake of new cases was unusually high in the last quarter of 2012, based on an internal revision of the case transfer process, however in the first quarter of 2013, intake of new cases has continued to be higher than the yearly trend in 2012," says a
report
released at yesterday's Convocation.
The professional regulation committee also reported the vast majority of complaints — more than 1,000 — are grievances filed against lawyers. Complaints against paralegals amounted to 160 cases, according to the committee report.
The increase in new complaints has elevated the number of cases in the law society's investigations inventory, says the report.
"While the department also completed more cases than in the same period in 2012, the high number of new cases resulted in a 6.7-per-cent increase in inventory," the committee notes. "The median age of the inventory continues to be lower than target at 229 days."
The department closed or transferred out more than 300 cases in the first three months of 2013, a six-per-cent increase from the end of last year.
The majority of cases that land on the desks of law society investigators are completed within less than 10 months. But mortgage fraud complaints take so long to investigate the law society sets aside the age of those cases from its general statistics. Twenty-seven per cent of mortgage fraud cases took more than 18 months to close, nearly double the number of all other cases that took up the same time.