While lawyers typically pick their words carefully in court, another British Columbia Court of Appeal decision underscores the need for caution when speaking outside the courtroom as well.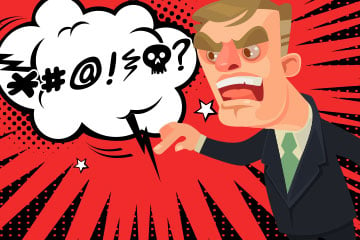 While lawyers typically pick their words carefully in court, another British Columbia Court of Appeal decision underscores the need for caution when speaking outside the courtroom as well.
A Kelowna, B.C. lawyer has lost his BCCA request for a review of a Law Society of B.C. decision [2018 BCCA 40 Johnson v. The Law Society of B.C.] that the use of profanity during a heated exchange with an RCMP officer in a courthouse hall was professional misconduct.
Martin Drew Johnson was given a 30-day suspension and fined $10,000 for use of an expletive during an LSBC disciplinary hearing held in 2014 regarding a March 2011 incident at the Kelowna courthouse.
The case follows another BCCA decision handed down in 2017 against lawyer Stanley Chang Woon Foo who, upon meeting a social worker in the hallway of a Quesnel courthouse in 2013, claimed he was only joking when he said he should shoot her as she took away too many kids. While the social worker didn't view the comment as a threat, it was considered highly inappropriate and the LSBC imposed a two-week suspension on Foo and costs of more than $8,000.
Johnson's incident occurred during an assault hearing where Johnson was acting for a client where the complainant was the client's estranged wife. The RCMP officer, a potential witness, is only described as "Constable B." Following the wife's testimony and during a break period, the Crown prosecutor and Johnson agreed that a peace bond was the best solution. Crown counsel wanted to speak with the constable and both lawyers met with him in the hallway outside the courtroom.
Johnson asked the constable to go to the matrimonial home with his client to pick up some personal belongings, but the constable refused. A heated exchange ensued, but Crown counsel came up with a solution. In a further exchange, the RCMP officer said: "Don't for a minute think that I don't know who you are or what you are about." Johnson's response was: "Fuck you."
At that point, the pair was almost nose to nose.
"Their chests or stomachs were touching," states the court record.
The constable maintained he was being assaulted and Johnson said he was the individual being assaulted.
"You haven't seen anything until you've seen an RCMP assaulted," said the police officer and then with the assistance of a sheriff's officer handcuffed Johnson. The constable attempted to have Johnson charged with assault, but Crown counsel in Prince George refused to proceed.
A subsequent three-member LSBC hearing panel found Johnson's use of the expletive constituted professional misconduct in the sense that it was a marked departure of what the law society expects from its members. The panel's advice was that law can be aggressive and exchanges will occur. Lawyers should bite their lip and walk away.
The LSBC panel members were divided on what constitutes provocation. The majority of members found that Johnson acted in anger, meant to insult the constable and that provocation can never be used as a defence to uttering profanities in a courthouse as lawyers are expected to rise above such situations. The minority panel member felt that the use of profanities in some cases could be excused; however, the panel member held the view that the constable's conduct didn't excuse Johnson's behaviour.
Johnson appealed to the LSBC review board in 2016, arguing that the hearing panel erred in that it considered provocation not relevant to the determination of professional misconduct and that provocation should not be a defence or excuse for professional misconduct. He also argued that his actions should not have been ruled professional misconduct. But the review panel didn't agree and dismissed the appeal.
The majority of the review panel maintained that provocation could not be used as a defence to an allegation of professional misconduct. Rather, it opined that provocation was only one of many possible factors (context, who said it, how it was said, timing, who heard it, demeanour, cultural understanding and other factors) that had to be considered on a case-by-case basis in determining whether professional misconduct had occurred.
The review panel found that the word spoken by the constable about knowing who Johnson was and what he was about were just not enough provocation.
Johnson took the case to the B.C. Court of Appeal for review, claiming that the LSBC had not applied the standard of correctness properly both in terms of a finding of professional misconduct and the penalty imposed.
He also contended that even if the proper standard of review was applied, the decision was unreasonable.
The BCCA presiding judge said it is up to professional associations to determine what is a professional standard as long as it involves a transparent, intelligent and justifiable process.
"I do not accept Mr. Johnson's argument that the review board took what he describes as a "categorical approach," namely that any lawyer who swears in anger in a courthouse will automatically be guilty of professional misconduct," said Justice J.A. Frankel.
"The (review) board took all of the circumstances into account. Those circumstances include Constable B's inappropriate behaviour and its effect on Mr. Johnson, that Constable B was a potential witness in the trial in which Mr. Johnson was then engaged, and that the incident occurred in the hallway of a courthouse. Having done so, the majority concluded Mr. Johnson's use of profanity constituted a marked departure from the conduct the Law Society expects from its members."