One of the two men accused of an al Qaeda-backed plan to derail a passenger train in Canada questioned the authority of Canadian law to judge him, telling a court on Wednesday the Criminal Code is imperfect and is not a holy book.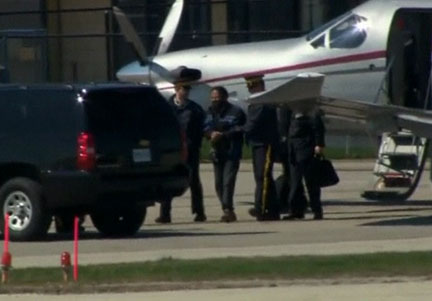 Chiheb Esseghaier, a Tunisian-born PhD student, faces charges that include conspiracy to murder and working with a terrorist group.
He and another suspect allegedly hoped to derail a passenger train, perhaps at a bridge near the U.S.-Canada border, with possible heavy loss of life, said authorities.
In a brief hearing where he was ordered back into custody, Esseghaier, 30, said the allegations against him are based on laws that are unreliable because they are not the work of God.
"All of these conclusions was taken out based on [the] Criminal Code," he told a Toronto court. "The Criminal Code is not [a] holy book."
He added: "Only the creator is perfect."
Esseghaier, who has a thick black beard and wore a blue-black windbreaker, declined to use an Arabic interpreter the court had made available. But he seemed to struggle at times to understand the proceedings.
Canadian authorities said they have linked the two to al Qaeda factions in Iran. They said, however that there is no indication the plans, which police described as the first known al Qaeda-backed plot on Canadian soil, were state-sponsored. Tehran has vehemently rejected any ties to the arrests.
Authorities said there is also no connection to the Boston Marathon bombing. But U.S. officials say investigators are trying to establish if the two suspects were part of a wider network with associates in the United States, especially in New York.
Esseghaier, along with Raed Jaser, 35, of Toronto, were arrested on Monday in separate raids after what police said was a joint Canada-U.S. investigation that started last year after a tip from a member of the Muslim community.
Jaser was remanded into custody on Tuesday. He denies the charges against him, said his lawyer John Norris, who has also represented Canadian Guantanamo detainee Omar Khadr.
Jaser was born in the UAE and came to Canada with his parents as refugees 20 years ago, although he only recently obtained status as a permanent resident.
U.S. officials said the suspects were believed to have worked on a plan to blow up a trestle bridge on the Canadian side of the border as the Maple Leaf, Amtrak's daily run between Toronto and New York, passed over it.
Canadian police said there had been no immediate threat to rail passengers or to the public.
Police had tracked Esseghaier for a year before making the arrests. U.S. sources close to the investigation said he made several trips to the United States, with one official saying "loose ends" were still being pursued in the United States.
Why the arrests were made on Monday was the source of speculation on Wednesday, with some reports saying officials felt a sense of urgency to act preventively after the Boston tragedy and others saying they decided to act after intelligence showed the plot was closer to being execution.
"I don't get into operational matters," Canadian Public Safety Minister Vic Toews said when asked to comment on the timing of the arrests.
Jaser's lawyer Norris called the timing of the arrests "notable", citing the events in Boston and anti-terror legislation being debated in Parliament.
The link to Iran has puzzled some experts, as there has been little evidence of attempts by the few al Qaeda figures there to attack the West. However, a U.S. government source said Iran is home to a little-known network of alleged al Qaeda fixers and "facilitators" based in the city of Zahedan, very close to Iran's borders with both Pakistan and Afghanistan.
Canada severed diplomatic ties with Iran last year over what it said was Iran's support for terrorist groups, as well as its nuclear program and its hostility towards Israel.