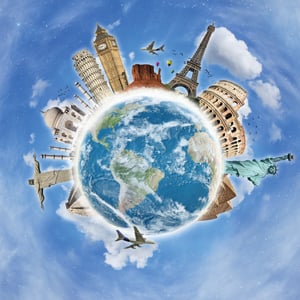 In July 2001, 14-year-old Navratan Fateh arrived in Canada from the Indian state of Punjab with his parents and younger sister. They settled in Surrey, B.C., and the young teen soon loved his new home, developing a fascination for the Canadian education system. He found it more organized and analytical than India's system, as he was encouraged to express his creativity rather than memorize facts. But then came the terrorist attack on the World Trade Center in New York City on Sept. 11, 2001. Being Sikhs, Fateh's family feared that they might face possible repercussions in Canada so they moved back to India once he finished Grade 8.
But Fateh was determined to return as an adult to the country he fell in love with. So after his 18th birthday, he contacted a lawyer in Vancouver to find out how to appeal his immigration status. He studied Canadian law to figure out how he could get back into the country, and fought his immigration case for two years before winning his judgment on humanitarian-and-compassionate grounds. "If I didn't have legal knowledge, I would be like, 'OK, well the law says you stay [in Canada] for three years or you go back, and that's the end of the story. But there is an exception [on] humanitarian-and-compassionate grounds," says Fateh. "You're supposed to raise the argument, build your case, and if you build your case well enough you might fit that exception, it's one out of 10. But the other person wouldn't know that exception, he would just accept the facts. Somebody who knows the law would be like, 'I can do this.'" It's because of this experience with Canada's Immigration Appeal Division that Fateh decided he wanted to use his legal education to help those without any knowledge of the law.
Once he obtained his BA and LLB from Chandigarh, India's Panjab University's combined program, he returned to Canada in June 2011 and enrolled at the University of Toronto Faculty of Law to complete his LLM. He was also elected president of the Graduate Law Students Association. Fateh chose U of T because of its course-intensive program, where he will receive 20 credits for courses and four credits for his thesis. This style of program appealed to his interest in human rights law since it allows him to take upper-year courses on narrow subjects, such as human rights and international politics: dilemmas in action and evaluation, a course taught by former Liberal party leader Michael Ignatieff.
Fateh says he developed a fascination for human rights law from witnessing so much injustice while growing up in Punjab. "With my jurisdiction being India, I've seen a lot of human rights abuses. Between 1990 and 2000, the law was developing in a way that if somebody was a human rights lawyer, he would just be killed or disappear," he recalls. "There are a lot of torture stories, I just grew up with them."
Although he doesn't have much desire to go back to India to practise law, he still wants to help those who have legal issues there. After graduation, he plans to take on the role of a liaison between Canada and India, assisting those who are unfamiliar with the law. He aspires to open his own practice in Canada and dedicate part of it to the Indian community, including travelling to India to settle clients' cases if necessary.
One example of a case that has ties in Canada and India is the murder of Jassi Sidhu, who was killed in Punjab in 2000 following her marriage to an Indian man her family allegedly didn't approve of. Her mother and uncle, who live in Maple Ridge, B.C., were arrested in January and face extradition to India where they are wanted on charges of conspiracy to commit murder. The concept of honour killings is something Fateh is familiar with — in fact, he's writing his thesis on the topic. He says his family's law firm receives multiple cases regarding honour killings each month.
The case of a Montreal couple and their son convicted of killing their three teenage daughters and the husband's first wife in what have been characterized as honour killings has brought this issue into the spotlight recently. Fateh says the notion of women being murdered by their family members for allegedly bringing shame onto the family is becoming more prevalent in Canada. Ultimately, he would like to help the Canadian justice system understand honour killings and improve the laws surrounding them.
In deciding what to do post-graduation, Fateh says the law school didn't push him in any particular direction. In his experience, he says U of T's law faculty supports its international students whether they want to practise in Canada or return to their native country. U of T law dean Mayo Moran says international students seek a variety of careers after graduation and the faculty strives to help them achieve their goals. "People do a whole range of things," she says. "So what we try to do is to give students a great sense of the range of things that they can do and then try to facilitate what they want to do, rather than trying to get people to either stay here or go away."
Foreign students come to study law in Canada for a variety of reasons. 4Students spoke to various international students who said Canada's post-secondary institutions offer a better education than what's available in their native countries. In addition, they said, Canadian law schools don't just take their money and tell them to return home, nor do they pressure them to stay here to practise law. Canada is also a democratic society that some international students may not be accustomed to.
Third-year law student Gjergji Hasa says he hopes his degree from the McGill University Faculty of Law will allow him to help people in his home country of Albania. He left Albania during the 1997 civil war after winning a scholarship to a school in Romania. In 2004, he moved to Canada and went to McGill's admissions office to apply to the law faculty but was told he needed a Canadian undergraduate degree, volunteer experience, and the ability to speak French — none of which he had at the time, he couldn't even speak English then. So he completed a political science degree at Concordia University in Montreal with a minor in French and got some volunteer experience.
He says he always had his sights set on McGill because "it has a lot of international students as well, it has an international character, it is well known internationally, and I wanted to work in the international field." McGill has a large global community; nearly 19 per cent of its student body is international students. In October 2009, law students started a popular blog called
Legal
Frontiers
, which features articles written by students and professors about issues in international law.
Like Fateh, Hasa also plans on being a liaison between Canada and his home country. He seeks to remove the political corruption in Albania and improve its economy. "In Albania, I think that people have had enough. They want things to change but things cannot change from the bottom up only or from the top down only," he opines. "The will of the politicians and the culture that is created is far from where it should be. So being an example and simply delivering what people want would be the first change that needs to be made."
He began his bid for change by sending letters to Albania's head of the rule of law, advising him of his wish to eventually play a complementary role on the Albania judiciary and bring its institutions to higher standards. His professors at McGill and even Federal Court Justice Michel Shore have expressed interest in his plans. Shore advised Hasa not to go back to Albania right after graduation though, as it could be dangerous for him. In the meantime, he says he will work for an international institution in Canada and help Albania from the outside before going back.
"There is a lot of work to be done out there," Hasa concedes. "In Canada we're very, very, extremely fortunate to have what we have. I see people complaining and whining about what is not being done. It tells me that they haven't seen outside of Canada and what is actually happening."
Unlike Hasa, Marcelo Rodriguez Ferrere has no desire to move from his native country. He received his BA and LLB from New Zealand's University of Otago in 2007, and then clerked at a court and practised corporate civil litigation at a law firm. After working in the profession for four years, he decided to pursue an LLM from U of T. He enjoyed studying the law and wanted to increase his legal education so he chose Canada because post-graduate degrees from overseas are highly regarded in New Zealand and the justice system is similar to the one he knows quite well. "New Zealand's got quite a tradition of heading to Canada actually, I've had quite a few colleagues that have come over here," he says. "I think the general reason is because the Canadian legal system is actually quite similar to New Zealand, coming from that Commonwealth tradition."
Studying in Canada is also much cheaper than going to other countries such as the United Kingdom or the United States, he adds, and he is fascinated by the Canadian legal landscape. The biggest difference between the two countries, he notes, is that New Zealand doesn't have a federal system of government like Canada, which took him some time to figure out.
Rodriguez Ferrere says there seems to be a lot more pressure at law school in Canada as opposed to back home. "[E]verything that you do at university, at law school, is solely focused on what you're going to do afterwards. It's certainly a consideration and everyone wants to get into practice after they do law school in New Zealand as well, but it feels less of a pressure-cooker environment than there is over here. It seems to be over here that everything is driven towards getting a job on Bay Street, and if you don't then you've failed," he explains.
He says he hasn't been directly encouraged to practise in Canada, but just being in classes with other JD students who are so driven and determined to go into private practice creates an intense environment. "I haven't met anybody that isn't going into practice after law school," he says. There seems to be an expectation in Canada that law graduates will go into private practice, whereas that expectation doesn't really exist in New Zealand, he adds.
However, Rodriguez Ferrere isn't worried about getting hired on Bay Street since he plans to return to New Zealand after graduation. He says he doesn't want to go through the process required for students with foreign law degrees to qualify to practise in Canada, which would include writing several equivalency exams and obtaining a work visa. He's also more inclined toward academic work rather than returning to private practice.
For more information on how to qualify to practise law in Canada if you received your law degree in another country, visit the National Committee on Accreditation's web site:
flsc.ca/en/national-committee-on-accreditation
.