A former political ally of Canadian Prime Minister Stephen Harper abused his authority as a senator to illegally enrich himself, the opening day of a high-profile fraud and bribery trial heard on Tuesday.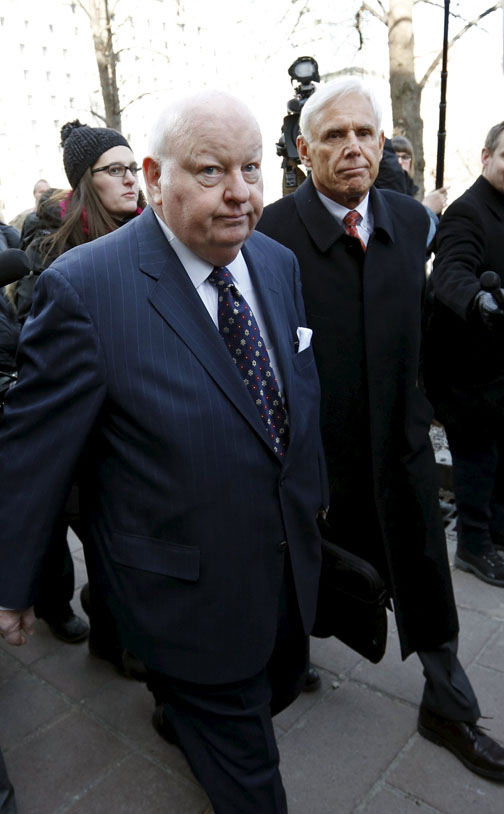 Senator Mike Duffy, once a high flier in Canada's governing Conservative Party, faces 31 charges in a case that could damage Harper's chances of winning re-election in October this year. All the charges relate to Duffy's actions after Harper appointed him to the Senate in late 2008.
Prosecutor Mark Holmes said Duffy had on several occasions falsely claimed travel expenses from his home province of Prince Edward Island in Atlantic Canada to Ottawa despite living in the federal capital all along.
"The focus of the trial is the claims for compensation as a result of this extra travel, which the senator contends he had to undertake. But the theory of the Crown is that he didn't undertake any extra travel," Holmes told the court.
"Apart from the policies, there is something more fundamental at play. One, you can't steal from your employers, and two, you can't abuse your position of authority to unjustly enrich yourself."
Harper's chief of staff Nigel Wright resigned in May 2013 after it emerged he had secretly paid Duffy $90,000 to cover living and traveling expenses he had improperly claimed.
The case is embarrassing for the Conservatives, who came to power in 2006 promising to boost accountability in politics. Polls show the party is unlikely to retain its majority in the House of Commons in October's election.
Harper insists he knew nothing about the $90,000 cheque but opposition parties say he must have had an idea. After the scandal broke, the Conservative-dominated Senate suspended Duffy and two other Harper-appointed Senators over their expenses.
Duffy says Senate rules for claiming expenses were so vague that he did not break them and accuses Harper's office of launching a conspiracy against him once the check from Wright became public.
"I am not guilty, your honour," Duffy said in a loud voice when asked how he pled.
Holmes also said Duffy had paid a friend $65,000 in Senate funds for work that was never done. "The real reason was to create a resource pool over which there was no possibility of financial oversight," he said.
At various points Holmes dismissed as "preposterous" and "criminal" Duffy's justifications for claiming expenses.
The case continues. It is scheduled for 41 during April, May, and June.
From FindLaw.ca:
A blow-by-blow chronology of Mike Duffy's Senate expense scandal saga