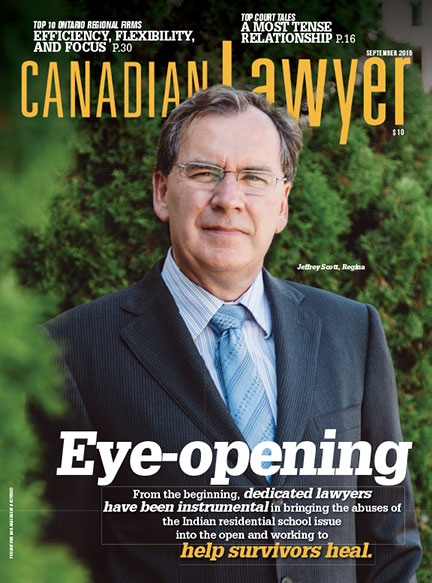 The Truth and Reconciliation Commission held its closing ceremony in Ottawa earlier this year with much attention and promise that Canada and its first peoples will finally be able to reconcile after years of damage caused by the Indian Residential School experience. For many, the TRC offered former students a chance to share their experiences in the church- and government-run institutions that stripped away their language, culture, and childhood. For others, it was a time to reflect on the last 20 years when the first residential school lawsuits started to make their way through Canada's judicial system and leak into the media. At that time, the public knew very little about Indian residential schools, but was about to learn of the horrors that went on inside those mostly unknown-to-the-public institutions.
Canada's dark secret comes to light
It was a quiet December evening for
Regina Leader Post
beat reporter Trevor Sutter. The large, dimly lit newsroom was empty with all the other reporters calling it a day hours earlier.
"You're on alert to pick up whatever coverage needs to be picked up overnight," recalls Sutter describing the graveyard shift. He was keeping an ear to the police scanner finishing up some stories when around midnight the phone rang. "He didn't make much sense at first, but he kept on mentioning being abused at the Gordon Residential School," says Sutter. The guy on the other end didn't want to give out his name and sounded distraught, but Sutter managed to get his telephone number.
The next day, Sutter tracked down the midnight caller, who lived just a few blocks from the newspaper. Sutter knocked on the door and remembers the man had two little kids running around when the door opened. At first, the guy denied calling Sutter the previous evening, but, after some discussion, he began to repeat what he told the reporter over the phone.
After their meeting, Sutter headed down to the federal courthouse and found a file that contained more information with details that had a calculated amount for the lawsuit settlements.
"He gave me enough information to allow me to do searches in the court. He gave me details and names and stuff like that," says Sutter. "Somebody left a list of out-of-court settlements of the names and the amount paid. Normally, that doesn't go into the court record. It was a hand-scribbled note. It had about 20 names and the amount was pretty significant."
Sutter found a cache of information containing lawsuits filed by former Gordon Indian Residential School students against the federal government and the school's top administrator, William Peniston Starr. The statement of claims arose from a 1993 conviction that found Starr guilty of 10 counts of sexual assault against students from the residential school over a 16-year period. "The conviction planted a seed in my head the conviction might not be an isolated case," says Sutter. He was right. Starr later admitted to abusing hundreds of students over a 30-year period.
Jeff Scott is a Regina lawyer who represented many of the former Gordon Residential School students who filed the claims against Starr and the Government of Canada. Scott grew up about 72 kilometres north of the George Gordon First Nation. "I didn't even know about the Indian Residential Schools until I was retained in the early 1990s." It wouldn't take long for Scott to learn about the institutions. He recalls feeling shocked when he first heard his client tell of the abuse at the hands of Starr. "And the shock probably extended to wondering how did this happen, how were these individuals abused by these former employees, by this former employee for this period of time without any intervention," says Scott. "It was shock and bewilderment and a great deal of concern for my client and then my clients."
Scott started getting more and more clients as word spread among other former students. He developed a reputation as someone who would listen and could be trusted. "I think he had the right approach. He listened to stories and he wasn't just building cases," says Sutter about the impressions he got from Scott while following the story. "Lawyers are a lot like journalists as they tend to listen for things to help them build their case. He was a rare one, but what came after that scared me, the quick lawsuits, the ones that ran around door knocking on reserves to sign people up and I think that did happen."
Scott says: "I was told by my clients I was the first individual they felt they could trust and really come out with all the details as to what occurred. They needed to tell me in order for me to be able to fully represent them. For a lot of these clients, it wasn't even just the compensation, it was the acknowledgment that this occurred to them and it had to be addressed."
Once these initial cases were settled, other lawyers and their firms started actively gathering clients for class action lawsuits. At the same time, First Nation and Metis politicians began calling for an inquiry into Indian Residential Schools. The Royal Commission on Aboriginal Peoples made a similar call. The pressure was mounting and, finally, in 2006, the Indian Residential Schools Settlement Agreement was reached.
Independent Assessment Process
Eleanor Sunchild recalls a trip to northern Saskatchewan to the small Cree-speaking community of Pelican Narrows to sign up former students for the Independent Assessment Process. She was listening to their stories when she met a man in his early fifties. "He had his IAP application rolled up in the back of his pocket and he took it out and told me in Cree, 'I've been carrying this around for six months because I can't find anybody to help me fill it out. I was going to ask my friend who can read and write English to help me, but I was too ashamed.'
While he talked Cree, I filled in his application for him," says Sunchild. "He told me a horrible tale of sexual abuse and being repeatedly raped by a supervisor from the Prince Albert Indian Residential School over a period of five years. He was crying and shaking and, at one point, he even threw up."
The IAP is part of the Indian Residential Schools Settlement Agreement, the largest class action settlement in Canadian history. It involved representatives of aboriginal groups, churches, the Government of Canada, and the legal profession. The IAP provided residential school abuse survivors a way to settle their claims quickly and out of court. "The Independent Assessment Process (IAP) is a claimant-centred process that supports healing and reconciliation among former students, their families and communities," wrote chief adjudicator Dan Shapiro about the process in 2013. "The IAP provides former students with an opportunity to come forward and speak of their experience at residential schools in an atmosphere of safety and respect. For many claimants, this opportunity is a transformational moment."
Sunchild was called to the bar in 1999 and began practising criminal and family law as well as providing legal services to First Nation bands. In 2005, she opened up Sunchild Law. Four years later, she turned her focus and began to specialize in IAP claims to help former Indian residential school students deal with their abuse claims against the federal government.
"I started collecting the files and stories from the former students. I originally only wanted 100, but quickly it grew," says Sunchild. Her firm has handled around 1,200 IAP files in the last six years. "I have my own story of being in foster care for a period of my life. So when I started hearing the stories from the claimants, I was triggered by the content." She says the stories reminded her of being isolated and very lonely. Sunchild spent her childhood, from the age of two until her teens, living in care. When she returned home, her grandparents spent a lot of time teaching her about her culture, something Sunchild credits for helping her do the work she does today. "So, when I first started doing the stories, I had to embark on intensive therapy," she says. "As I think we all who have been involved in this process, at some point, it really makes you question your own humanity."
The firm's main office is located on reserve land owned by the Poundmaker Cree Nation south of of Battleford, Sask. Sunchild Law consists of seven lawyers, a dozen staff members, three First Nation elders, and a psychologist. Clients have access to the elders and the psychologist. "We don't force anybody to partake in any of those services, but we do offer it and encourage them to because the content of their hearing and the content of their stories are very traumatic," says Sunchild. "It makes my role easier in helping the claimant. That goes for all of our lawyers. We use that support for them as well, when the stories get too tough to hear or when they become overwhelmed or showing signs of burnout." In addition, the firm has a monthly talking circle to help its lawyers debrief and, in some instances, a counsellor may be brought in to debrief the legal team.
"Having heard these experiences, it does forever change the lives of the people that hear them," says Shapiro, the IAP's chief adjudicator. "I think there is a renewed understanding, first of all, an appreciation for aboriginal traditions and culture, but understanding of what folks went through and the ripple effect of what they experienced in their family and their communities.
That's something that's bound to change a person."
Shapiro replaced Dan Ish as the head of the IAP in 2013. He's been around since the IAP was established in 2007, when he held the position of deputy chief adjudicator. Prior to that, he was a senior adjudicator with the alternate dispute resolution system, the precursor to the IAP. Just before he started the ADR job, the Saskatoon-based lawyer read as much as he could get his hands on to learn about Canada's history with residential schools. "We really can't go forward as a nation without understanding the full legacy of the residential school experience," says Shapiro. "Yes, absolutely it's a painful and dark chapter of our shared history, but it doesn't go away by not knowing about it or addressing it."
The Independent Assessment Process is one way for claimants, church organizations, the federal government, and even the perpetrators to address the residential school experience. The IAP provides compensation to former students for proven sexual abuse, serious physical abuse, and certain other wrongful acts. The Indian Residential Schools Settlement Agreement also provided the Common Experience Payment for former students. Once a former student proved he or she attended a recognized residential school, he or she would be eligible to receive $10,000 for the first year he or she attended and $3,000 for every year after that. Shapiro describes the CEP settlement as a compensation for "cultural wrongs."
The other three components include the Truth and Reconciliation Commission, healing, and commemoration initiatives, says Shapiro.
In order to qualify for the IAP, a former student had to fill out an application that proved they attended one of the residential schools listed in the settlement agreement. Next, the applicant had to allege an act of abuse that, if proven, is compensable under the IAP. If the application moved forward, then all those involved, including the claimant, churches, and the government, had to provide certain documents under the IAP. "Typically, once those documents are provided, the case goes before an IAP adjudicator," says Shapiro. "The adjudicator gathers sworn or affirmed testimony from the former student, any witnesses, and, in some cases, the alleged perpetrators."
Once the allegations are proven, the adjudicator can then award compensation on a scale based on the types of physical and sexual abuse and the loss of probable opportunities. In the standard track for compensation, including future care, the award can be up to $290,000. The complex track includes a probable income loss in which the settlement award can be as much as $445,000.
"There is the ability to put forward a claim for actual income loss to a maximum of $250,000. So, in that case, a person would have to have shown that they had a career or employment that was delayed or interrupted as a result of problems from residential school attendance. So, in other words, they would have established an earnings history of actual income that was then lost for a period of time," says Shapiro. "I know there have been awards close to if not at the actual maximum. I can't tell you for sure the exact dollar, but there certainly have been awards that have been close to those."
IAP adjudicators' responsibilities included reviewing documents related to claims, hearing the testimony of claimants and witnesses in hearings, rendering decisions, and helping parties to talk through a negotiated settlement, as well as reviewing legal fees. There had been some very public issues with some lawyers and others taking advantage of the process and profiting at the expense of IAP claimants. In June 2012, the British Columbia Supreme Court ordered the removal of David Blott and Blott & Co. from representing claimants. Honour Walk Ltd., the Residential School Healing Society of Canada, and Hands Free Office Services were also removed.
The aim is to complete all its hearings by April 2016. According to the IAP web site, as of April 30, 2015, the IAP secretariat had received 37,965 applications for compensation. More than 84 per cent (31,970) of the claims have been resolved, and $2.789 billion has been paid out in compensation by the federal government.
After much debate on the issue, in August 2014, Justice Paul Perell of the Ontario Superior Court ordered the destruction of IAP records following a 15-year retention period, a decision Shapiro heralded as important to maintain the promise of confidentiality given to IAP claimants.
Truth and Reconciliation
When the settlements agreement was reached, one of the components included the Truth and Reconciliation Commission. The TRC went across the country holding seven events that provided an opportunity for former students to share their stories. Sutter attended the Saskatchewan TRC event in the summer of 2013. No longer a reporter, he was still very much interested in learning and listening to the stories from these former students. "These people wanted to talk, they wanted to tell their story, they wanted to be heard. And that's the value, that's part of the healing process. That's the value of the Truth and Reconciliation Commission," says Sutter. "It just allowed people to be heard. The stories are now real and are no longer invisible."
Aside from offering an opportunity for former students to continue with their healing process, the TRC also helped to educate the public about the schools. "Indian residential schools weren't even on the radar screen for most Canadians. Very few people outside of the native community, the federal government, the churches, or those who were employed in those schools were even aware of the existence of Indian residential schools, and that certainly applied to lawyers and judges," says Regina's Scott. "There were no Saskatchewan-based Indian residential school lawsuits when I got involved. I think there were only a handful of lawsuits in all of Canada. None of those lawsuits outside of Saskatchewan were being actively pushed forward."
Shapiro says lawyers and their law firms did a lot of work in advancing the residential school cause by bringing it into the public eye. "Members of the public . . . are often critical of lawyers. The reality is without the leadership and the significant risks taken by lawyers across the country these issues would not have seen the light of day," says Shapiro. "They would not necessarily have been brought to the courts and they would not have resulted in a settlement of this magnitude. So, I think the lawyers need to be given a significant degree of credit for that." Shapiro says lawyers had to face huge issues including taking on church entities, the federal government, vicarious liability, and time limits.
There were no judgements to refer to and at the time it was a very up-in-the-air question, Scott says about what he faced when he started the original claims. "And there were very few judgements involving the responsibility of an employer for the wrongful actions of its employees; more importantly, whether an employer might be responsible for the sexual misconduct of its employee."
Despite the hard work and challenges, Scott can now put the cases into perspective. "It was the highlight of my career," he says. "It laid the groundwork for everything that followed. I do recall being told the Gordon Indian Residential School litigations led the way in Canada when it came to residential schools. There is a sense of professional satisfaction."
Sutter agrees that those first cases laid the groundwork. "Those stories started the flood gates. It's not breaking the news because those stories were out there for years, but nobody really listened to the whole story." Sutter quotes Mark Kindrachuck, a lawyer for the federal Department of Justice, who was up against Scott at that time. "This is really the first case of this kind the federal government has had to deal with and I think it could be the tip of a very large iceberg."
Nobody could have predicted the size or the magnitude the Indian residential school experience would have on the Canadian public and the country's legal profession. About 253 law firms have been involved with 365 lawyers handling active IAP claims. As of the end of June, $2.8 billion has been paid out through the process.
During the Saskatoon Truth and Reconciliation event, Sunchild was walking to her car when one of the volunteers in a golf cart pulled up and offered her a ride. Sunchild was curious why this "Caucasian" man was helping out at the event and why he was interested in residential schools. The man told her he used to work in northern Saskatchewan's forest. One day he was doing some work near a lake and he saw all these people gather at a dock. He told Sunchild he saw these people come across the lake in boats with their children. He then saw some more people come out of the bush with children. Then these yellow school buses pulled up to the dock. The parents hugged their children saying their goodbyes and the children got on the buses. After the buses left, the man could hear the parents crying until their cries faded away as they crossed the lake returning home.
Sunchild says the man telling the story told her he witnessed something really terrible and it stayed with him his entire life. "He didn't know what it was until he started hearing about residential schools," says Sunchild.