The Federal government will be appealing the British Columbia Supreme Court's decision to strike down the Criminal Code ban on assisted suicide.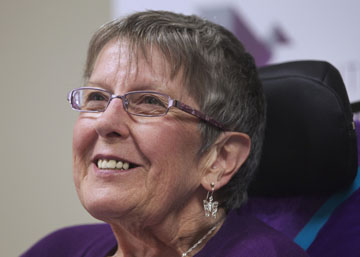 This afternoon, Federal Justice Minister Rob Nicholson made the following statement in announcing the government's appeal in
Carter v. Canada (Attorney General)
:
"After careful consideration of the legal merits of the June 15, 2012 ruling from the British Columbia Supreme Court, the Government of Canada will appeal the decision to the British Columbia Court of Appeal, and will seek a stay of all aspects of the lower court decision.
"The government is of the view that the Criminal Code provisions that prohibit medical professionals, or anyone else, from counselling or providing assistance in a suicide, are constitutionally valid.
"The government also objects to the lower court's decision to grant a 'constitutional exemption' resembling a regulatory framework for assisted suicide."
Gloria Taylor, 64, was one of several plaintiffs who argued in court that the criminal law was unconstitutional and that people with serious illnesses should be entitled to take their lives with the help of a physician.
In her 395-page ruling in June striking down the ban, Justice Lynne Smith found that the law was over broad and the absolute prohibition of assisted was "grossly disproportionate" to the objectives it was meant to accomplish.
She had suspended her decision for a year to give Parliament a chance to change the laws and bring them in line with the Constitution. But she had allowed an immediate exception for Taylor "to seek — and her physician will be permitted to proceed with — physician-assisted death under specified conditions."
"The laws surrounding euthanasia and assisted suicide exist to protect all Canadians, including those who are most vulnerable, such as people who are sick or elderly or people with disabilities. The Supreme Court of Canada acknowledged the state interest in protecting human life and upheld the constitutionality of the existing legislation in
Rodriguez [v. British Columbia (Attorney General)
]
," Nicholson continued in his statement.
"In April 2010, a large majority of Parliamentarians voted not to change these laws, which is an expression of democratic will on this topic. It is an emotional and divisive issue for many Canadians," he said.