Supreme Court of Canada Justice Morris Fish will be leaving the court at the end of the summer.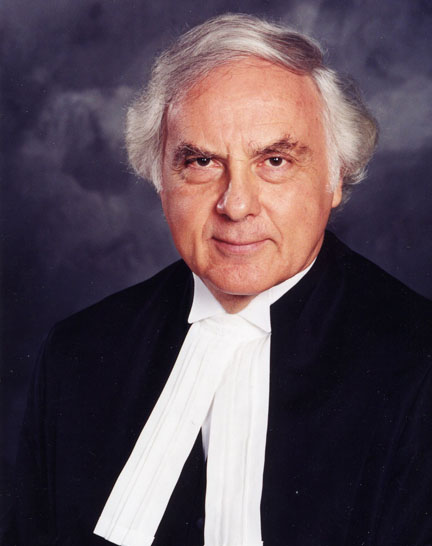 Chief Justice Beverley McLachlin announced today that Fish wrote to Justice Minister Rob Nicholson to advise that he will retire from the country's top court at the end of the spring session. Fish's retirement will be effective Aug. 31, 2013. Under the Judges Act, a retiring justice can continue to participate in judgments with respect to cases heard prior to retiring for a period of six months.
"Justice Fish has served on the court with wisdom, and made enormous contributions to the court and to Canada," McLachlin said in a statement this afternoon. "He is a wonderful colleague and friend who will be greatly missed."
For his part, Fish said, "By the date of my planned retirement, I will have served my country as a justice of its highest courts for nearly a quarter century — including more than 10 years on the Supreme Court of Canada. I am grateful to have enjoyed this privilege and mindful of the honour and public trust that attach to the holding of judicial office in Canada."
Ottawa lawyer and long-time Supreme Court agent Eugene Meehan commented on Fish's announcement: "In Canada's national court he always stuck his juridical neck out for the little guy – Canada's best defence judge has now 'gone fishing.'"
Fish reaches the mandatory retirement age of 75 this fall, and the other Quebec SCC judge, Louis LeBel, has to retire next year. The Supreme Court Act required that three of the nine judges on the court come from Quebec.
Fish was appointed to the Supreme Court bench on Aug. 5, 2003, after serving over 14 years as a judge of the Quebec Court of Appeal and a distinguished career as an educator and criminal lawyer in Montreal. He was the first Quebec Anglophone appointed to the Supreme Court of Canada since Douglass Abbott in the 1950s and was the first Jewish Supreme since former chief justice Bora Laskin. He succeeded retired SCC justice Charles Gonthier.
Upon his appointment to the top court in 2003, then chief justice of the Quebec Court of Appeal Michel Robert noted to
Law Time
s: "[Fish] has a passion for defending the rights of the accused, though he's not always in favour of the accused's rights. I think he's got some equilibrium and balance."
Update: 5:01 pm. Comments from Meehan.