Employee seriously injured while operating sausage mixer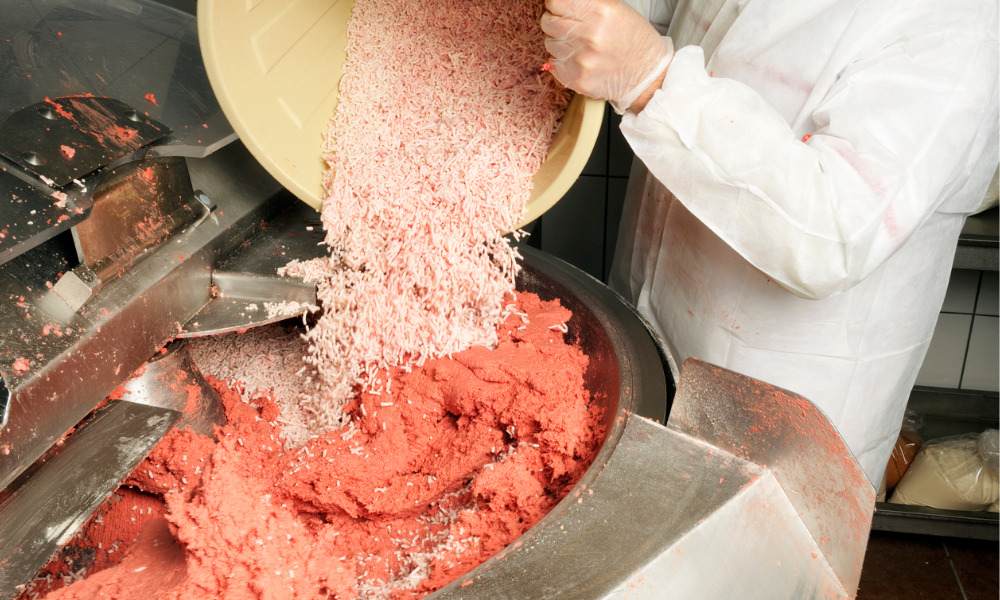 JBS Foods Ontario Inc. has been fined $75,000 after one of its workers was seriously injured in the workplace.
The employer must also pay a 25-per-cent fine surcharge as required by the Provincial Offences Act, to be credited to a special provincial government fund to assist victims of crime.
The incident happened on Dec. 30, 2020, when three workers were operating a sausage mixer at JBS Foods' Belleville plant.
To prepare it for cleaning, they were transferring its contents into two-wheel bins located at the outfeed of the mixer.
One worker turned on the two-hand control without realizing that another worker was reaching inside the discharge hole, seriously injuring them.
"JBS Foods Ontario Inc. failed to ensure the machine had a guard or other device to prevent access to the pinch point as prescribed in section 24 of O. Reg. 851, contrary to section 25(1)(c) of the Occupational Health and Safety Act, R.S.O., c.O.1, as amended," according to the Ontario government.
Previously, Sandhill Construction – Dwight Reimer Sole Proprietor, a Manitoba employer, was fined $18,500 after one of its workers suffered an injury. The worker was working on the second floor, on the top platform of a moveable steel scaffold. Suddenly, five of the rafters not yet secured to the top girder began to fall in a domino effect. One of the rafters struck the scaffold and caused the worker to fall approximately 10 feet to the plywood surface below, resulting in a spinal fracture.
Also, British Columbia employer A-1 Trusses Ltd. was fined $23,389.66 after a worker was seriously injured in the workplace. On the day of the incident, a worker was using a radial arm saw to cut wood for the fabrication of trusses. The worker tried to remove some offcuts from behind the running blade and was seriously injured.
Lastly, Sammy J's Morgan Crossing Ltd. was fined $9,660.57 for an incident that resulted in a worker sustaining serious injuries. The worker had emptied hot oil from a deep fryer into a pot for disposal. As the worker was carrying the pot toward a waste oil receptacle the worker slipped, spilling the hot oil.