Five of Ontario's top lawyers have become part of a select group of the province's most accomplished citizens, having been named yesterday among 30 Order of Ontario appointees.
Former Crown attorney and judge Clare Lewis, past associate chief justice Coulter Osborne, civil litigator Chris Paliare, human rights advocate Dave Shannon, and mediator-arbitrator Martin Teplitsky each received the highest honour an Ontarian can receive for excellence in their field of endeavour.
"The outstanding achievements of this august group of Ontarians are making a profound difference to the quality of life in our province," remarked Lt.-Gov. David Onley, who invested the appointees during a service yesterday at Queen's Park. "Each recipient has gone above and beyond the 'call of duty' and they are inspiring role models for us all."
Lewis was recognized for his work guiding a task force that pressed for the creation of Ontario's Special Investigations Unit. He also filled key offices such as police complaints commissioner, first chairman of the Alcohol and Gaming Commission, and provincial ombudsman.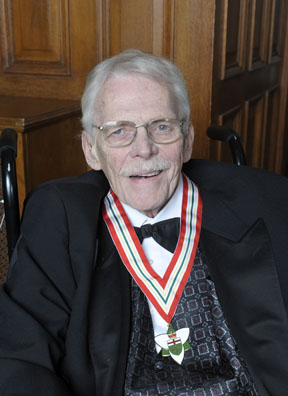 Osborne, who played on Canada's 1956 Olympic basketball team in Melbourne, was credited for helping improve the province's civil courts. He led the Civil Justice Reform Project, which released its
report
in November 2007. He also acted as Ontario's integrity commissioner from 2001 to 2007.
Paliare
, of Toronto's Paliare Roland Rosenberg Rothstein LLP, was honoured for his role in the development of administrative and public law, as well as dedication to human rights and pro bono work. He served as counsel during the 1997-1998 Dionne Quintuplet review.
Thunder Bay's Shannon was named to the Order for his efforts pressing for community inclusion for persons with disabilities. He has raised awareness for that cause by becoming the first person with quadriplegia to reach the
North Pole
and breaking the record for a
skydive by a quadriplegic
.
Tireless efforts creating the
Lawyers Feed the Hungry
program — which now runs in Toronto, Ottawa, London, and Windsor — were among the reasons Teplitsky got the nod. His work establishing several law scholarships was also noted, along with his community justice efforts and strong negotiation skills.
Additional representation from the justice community came from Ottawa justice of the peace Louise Logue. She gained her appointment thanks to contributions as an expert adviser on crime prevention, youth intervention, and criminal diversion.
A full rundown of all 30 Order of Ontario inductees is available
here
.