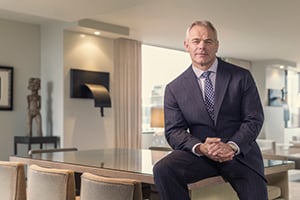 On March 24, the federal government announced four judicial appointments in Alberta, and William deWit — former boxer and criminal defence lawyer — came out on top. He was appointed a justice of the Court of Queen's Bench in Calgary.
deWit says this is his next challenge, a "new phase of life with different pressures — but I think change is good sometimes."
He has never shied from change, or a challenge. After a career in boxing that spanned amateur, pro and even a silver medal in the 1984 Olympics in Los Angeles, deWit eventually returned to Alberta wondering what to do next.
He met up with a fan of his from the ring, then-Alberta Court of Appeal judge Milt Harradence, himself a former boxer, who pointed deWit towards law and became a mentor to him. Following two years as an undergraduate, deWit attended the University of Alberta Law School.
He graduated in 1994.
deWit articled with Harradence at the Alberta Court of Appeal and completed articling with Howard Mackie (which merged, along with other firms, to create Borden Ladner Gervais LLP in 2000). In 1996, deWit joined the firm that eventually boasted his name — Wolch deWit Watts & Wilson, where he became a partner in 2000. In light of deWit's appointment, the firm is now branded Wolch Watts Wilson & Jugnauth.
Over the past 20 years of his career, deWit's practice has focused on criminal law. Since 2012, he has taught in the National Criminal Law Program organized by the Federation of Law Societies and in 2013 and 2014 was an instructor/panelist at Osgoode Hall Law School Professional Development Western Symposium on Search and Seizure Law in Canada.
"I think as a fighter I learned to have a good work ethic, and that did me well as far as my legal career is concerned," deWit says. "I think that just continues on when you're a judge, so I'll continue to have a good work ethic in the future."
In deWit's
questionnaire
filled out as part of his application to become a judge and made public under the new judicial appointment process announced in October 2016, he said that his most significant contribution to the law and the pursuit of justice in Canada has been "to uphold the principles of our system on a daily basis for the past 20 years," especially in his role as a criminal lawyer where he was duty-bound to defend his clients within the bounds of the law — despite the majority of them having committed wrongs against others and society.
"This requires that we view the law from a greater perspective than just whether our clients are guilty or innocent," deWit wrote. "As criminal lawyers we defend not only our clients but principles of our criminal justice system."
deWit was also asked to describe the personal qualities, professional skills and abilities and life experience that would equip him for the role of a judge. deWit noted his parents were both immigrants from Holland, and they came to Canada with "no money, no job prospects and no family" to help them. Despite these challenges, they "worked hard and prospered."
"The example they set made me the person I am today," deWit wrote. He added that his family's experience, as well as his own interactions with different cultures and people when travelling during his boxing career, helps to prepare him for his role as judge in a multi-cultural society like Canada's.
He also wrote that the world of boxing "introduced me some rougher aspects of life which I believe would be beneficial to me in understanding those that would appear before me if I were to become a judge." He noted his life experiences are not just related to school or legal activities, and said "I believe this would be beneficial to my ability to fulfill the duties of a judge."
deWit says that, since his appointment, he's been asked during interviews why he wants to make a change now, and he always gives the same answer.
"I say I've been fighting for 35 years — it might be nice to be a referee for a change."