On Thursday the Supreme Court of Canada posted a photo to its Twitter page showing the high court judges surrounding Justice Clément Gascon leaving the Supreme Court's courtroom for the last time.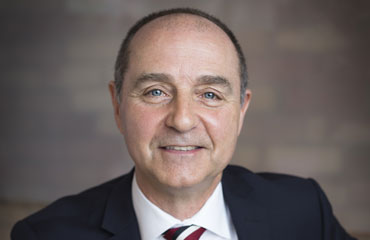 On Thursday the Supreme Court of Canada posted a photo to its Twitter page showing the high court judges surrounding Justice Clément Gascon leaving the Supreme Court's courtroom for the last time, prior to his retirement from the bench effective September 15. It also published a webcast of Justice Gascon's farewell to the court that day.
One month earlier Chief Justice Richard Wagner had announced that Justice Gascon, aged 59, would be taking early retirement "for personal and family reasons." On the afternoon of May 8, the judge disappeared briefly, prompting a police search. On Tuesday Justice Gascon issued a statement through the court revealing his 20-year struggle with depression and anxiety disorders, and citing recent concurring and extraordinary events for his disappearance; he confirmed that he was "in good health, and … fully capable of performing my duties as a judge."
The current situation — and the court's unified front with Justice Gascon — brings to mind another Supreme Court justice, Gerald Le Dain, who took early retirement after chief justice Brian Dickson refused a request from Le Dain's wife for a leave of absence for her husband, citing Le Dain's mental strain and depression.
Le Dain retired from the high court on November 30, 1988, three days after his 64th birthday, with no public acknowledgement of his mental illness; he left public life at this point.
In this recent case, though, some 31 years later, the issue of mental illness has been placed squarely on the table, with Justice Gascon publicly acknowledging his struggles and the court evidently supporting him.
"I think the parallels are very, very close," says David Butt, a criminal litigator in Toronto who clerked for Justice Le Dain in 1987-1988. "Both judges suffered from depression and anxiety, and both resigned. But the way in which each of those [situations] were handled are dramatically different."
Butt calls the current Supreme Court's treatment of Justice Gascon "heartwarmingly progressive.
"It's exactly what anyone would want when a colleague acknowledges a mental illness, is to react with compassion and support and warmth. And that's exactly what they [the Supreme Court] did. … And it's also profoundly appropriate that they do that."
However, Butt told Legal Feeds, "it also illustrates, by comparison, just how badly and wrongly Justice Le Dain was treated. So, it's a really interesting pair of cases that demonstrate progress over time, and demonstrate an appropriate response, and a highly inappropriate response. Juxtaposing those two cases, it's a really important lesson on mistakes made in one case, and mistakes not made in another.
"I take some comfort that [CBC Radio producer Bonnie Brown's] excellent work, and our approach to the court, may well have had some role in precipitating that change."
Bonnie Brown, producer of the CBC radio documentary "One Judge Down" that aired on The Sunday Edition in January 2018, told Le Dain's story in order to share the full circumstances behind his having to leave the court, and that a significant part of his contribution to the court — namely his drafting of the Supreme Court's decision in Ford v. Quebec (Attorney General) [1988] 2 SCR 712 — was erased from the record.
That Ford decision, released on December 15, 1988, is a landmark decision in which the Supreme Court struck down part of the Charter of the French Language, commonly known as Bill 101, which in Quebec had restricted the use of commercial signs written in languages other than French. The court ruled that Bill 101 violated the freedom of expression as guaranteed in the Canadian Charter of Rights and Freedoms.
Butt credits Le Dain with drafting approximately 95 per cent of that decision. In December he wrote a letter to the Supreme Court on behalf of several other legal professionals, and one of Le Dain's children, Caroline Burgess, asking that the court to remove the asterisk from beside Le Dain's name indicating that he "took no part in the judgment." According to the court's response, that was because the requirements under the Supreme Court Act had not been fulfilled.
"But our point was, [Le Dain] was inappropriately forced to resign, and so was deprived of the opportunity to put his own name on the judgment," Butt says of the asterisked footnote. (The decision was released two weeks after Le Dain's resignation was effective.) In its letter of response, the Supreme Court wrote that "[f]or purposes of future practice, the court will examine the wording of such footnotes … "
Caroline Burgess, a daughter of Gerald Le Dain who works as a career development counsellor in Hamilton, Ont., and whose son Andrew Burgess is also a lawyer (and who articled for then-chief justice Beverley McLachlin) believes that not only the Supreme Court but the legal profession in general need to take stock of the demands placed on lawyers and judges. Law school classmates of her son (who is in his early thirties) are already experiencing attrition and addiction, she says.
In her father's case, Burgess told Legal Feeds, "When he first became a judge on the Supreme Court, I was astounded that [judges] were also expected to be deputy governors general," in circumstances when the governor general was unable to fulfil her duties. "My father would have to go home, change into [formal morning] clothes, and meet with some ambassador." But he needed serious time to be able to think, and write, and the strain of the heavy workload on the Supreme Court caught up with him.
Butt saw this strain when he clerked under Le Dain while the latter was drafting the Ford decision; "it was an enormously stressful judgment to put out." The levels of stress working at the Supreme Court were very high, he says, "and it was the only time in my professional career [that] the stress of the job caused me to break down and cry. Part of it was my seeing the pressure Justice Le Dain was under as well. I've always been able to maintain that distance from professional work; that was the only year I couldn't."
He agrees that lawyers need to develop "the capacity to remain healthily disengaged from your professional work" and not "fetishize hard work."
From her professional background that includes working with clients with Asperger's syndrome, autism and more, Caroline Burgess would like to see more accommodation made of those with different needs. "When we try to accommodate that divergent brain [through work flexibility, for example], that benefits everybody."
The response to Justice Gascon's mental strain "will hopefully allow him to step into another role," she says. "But I do think we can't overlook the fact that this man is by all accounts a brilliant man who has a lot to contribute …
"My father wanted to give back to Canada," Burgess says; "people [like him] shouldn't be allowed to fade into the sunset; not before their time. Now, [the Supreme Court is] having the discussion: 'how can we make the denouement easier on you?' But was there the discussion, 'what can we do to make it easier on you?' I don't think we want to be complacent about letting that kind of talent fade away."