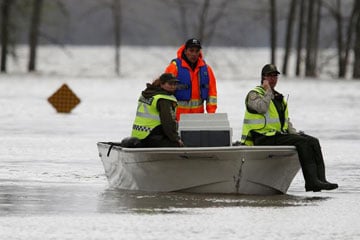 Services offered at the Gatineau courthouse are being affected due to flooding in the Outaouais region of Quebec.
The Quebec Ministry of Justice said in a
news release
dated May 9 that the court house will be limiting its services and running with a reduced staff until further notice.
For hearings, files with inmates and cases requiring immediate court intervention will be given priority. People travelling to the courthouse should contact their lawyer to confirm the status of their case, the release said. If the application is not urgent, people should return at a later date to file.
Other courthouses in the Outaouais, however, including Maniwaki and Campbell's Bay, are functioning normally, the release said.
A spokesperson from Langlois LLP, Marie-Ève Garant, reports that "lucky enough, none of our offices are affected by the flooding."
She notes most of Langlois' law offices are in areas higher than the water level. Boutique firms located in Old Montreal haven't been impacted either, she says. The West Island, including Oka where the army has been dispatched to help, is the worst area.
A
news release
on the federal government's website notes that approximately 1,650 members of the Canadian Armed Forces have been "deployed to support Quebec citizens in the four affected regions (Montérégie, Outaouais, Mauricie and Montréal) and coordination efforts."
The release also estimates 2,800 residents have "voluntarily evacuated their homes" and adds there have been mandatory evacuations from the Quebec Municipalities of Pontiac, Rigaud and Montreal.
Montreal Mayor Denis Coderre declared a 48-hour state of emergency in his city on May 7.
According to weather reports, floodwaters in Quebec peaked Sunday and floodwaters are beginning to recede in some areas but the clean-up effort is still underway and expected to take some time.
But Garant says the question now is who will pay for the damages.