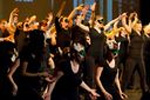 What do you get when you mix law students, raw talent, and charity together? Law Show!
Law Show, an annual variety show organized by students at the University of Alberta's law school, takes a humorous look at life as a law student and junior lawyer, with references to pop culture and hilarious non sequiturs. The show provides an opportunity for students to showcase their acting, dancing, musical, and vocal talent and give back to their community.

Since its inception in 1996, law students have been putting on the annual Law Show and Silent Auction to raise money for local charities. Law firms and businesses across Canada contribute to the show, covering operating expenses of the production so donations to the charitable foundations are maximized. To date, Law Show has raised $230,000 for various charities.

Charities are local and selected and voted on by the student body and each charity receives proceeds from the Law Show for a three-year period. This year is the last year of the three-year partnership with the Alberta Council of Women's Shelters, which has received $55,000 from the 2009 and 2010 shows. A new charity will be selected for the 2012 to 2014 shows.

This premise of this year's show, Draculaw, held Feb. 4 and 5, is "something wicked this way comes." The new law dean is terribly pale, the administration only offers night classes, and a suspicious amount of students go missing after attending faculty lunches! It is up to an intrepid group of law students to save the day and save the law school. From sparkling bloodsuckers to Franken-teens, from Rome to Transylvania, this year's Law Show has something for everyone.

Although anyone can join, students can choose to either be in the show or volunteer on the production side of things. Producer Marc Yu, a third-year law student, has his hands full with advertising and marketing the show and organizing the silent auctions, ticket sales, and the after-parties. Yu also dances in three of Draculaw's production numbers.

"This year's Law Show is shaping up to be a great show and it's very exciting to see it come together during rehearsal week. We have approximately 130 cast and crew participating in this year's show and another 30 people volunteering on the production side," says Yu.

Jillian Gamez, theatrical director of Draculaw and also a third-year law student, is responsible for organizing rehearsals and working closely with the acting, singing, dancing, and band directors, overseeing the script, assisting with song selection, and organizing costumes.

"The last two Law Shows have been fabulous and I'm excited to carry on the legacy," says Gamez.

Dracula would be proud!