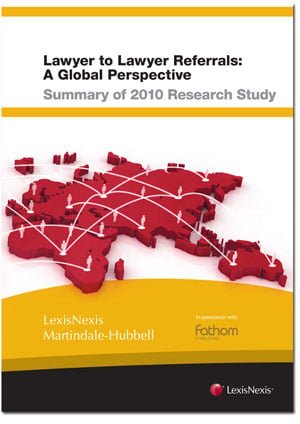 Companies doing business across jurisdictional borders increasingly rely on lawyer-to-lawyer referrals, and referral business represents a significant percentage of annual revenue for law firms in many parts of the world, says a recently released study.
However, more than a quarter of firms worldwide don't track referrals, says
"Lawyer to lawyer referrals: A global perspective,"
a study commissioned by LexisNexis Martindale-Hubbell.
"A quarter of law firms derive more than 20 per cent of their annual revenues via referrals from other law firms, yet the majority of firms polled have only basic tracking procedures, if any at all," says the study, which was conducted with the participation of 734 legal professionals from mid- and large-sized law firms in western and eastern Europe, Asia, Latin America, and the United States.
Of these respondents, 27 per cent say their firm doesn't track referrals.
That finding is important to note because it can come as a surprise to many, says Jacqui Hurd, head of marketing operations and global client development at LexisNexis, who recently presented the study at a Legal Marketing Association event in Toronto.
And one of the most important vehicles for referrals, she says, is international alliances of law firms that have properly vetted the qualifications of their members across the world.
Ken Kallish, a partner at Minden Gross LLP and former chairman at Meritas, one of the largest alliances of independent, full-service law firms, says establishing proper tracking is essential. It should start with proper training for lawyers who get the work coming from referrals from other jurisdictions.
"It takes a lot of work to indoctrinate that into the mind of lawyers," says Kallish, who spoke on a panel at the LMA event. "And sometimes lawyers just don't realize that they got the work through the referral network."
While Canadian firms were not included in the survey, the results are nonetheless relevant since many Canadian firms are part of international referral associations.
"From a number of roundtable meetings that we have held with law firms to promote the study, we have found that on a general level . . . the research does resonate with law firms throughout the world," says Bryn Hughes, a marketing and communications manager at the United Kingdom-based offices of LexisNexis.
Among the study's other findings is the fact that law firms are taking actions to protect their referral revenue stream in several significant ways.
"In response to what steps they are taking to either protect or increase the volume of referral work received, the top three significant actions were improving the firm's service capability, 52 per cent, developing or improving the firm's web site, 49 per cent, and listing the firm in international directories, with 30 per cent outside the U.S. taking significant action," says the report.
Other findings of the report include:
• The majority of respondents consider that they receive and refer equal amounts of legal business from and to other law firms. But there is a marked geographic trend as 95 per cent of U.S. firms support this view, compared to 58 per cent of respondents outside America. More than one-third, 38 per cent, of non-U.S. firms claim they are primarily a recipient of referrals.
• Of those firms based in eastern and western Europe, 63 per cent consider western Europe to be the most important source of referrals. Asian and Latin American firms tend to primarily rely on U.S. referrals (38 per cent and 63 per cent respectively), followed by referrals from within their own region. The U.S. is more self-reliant, with 94 per cent counting on referral work from other American firms.
• When looking at the proportion of annual revenue generated by referrals, Latin American and western European firms derive the highest proportions. In Latin America, 70 per cent of firms consider referrals to account for up to 30 per cent of annual revenue, which is comparable to 72 per cent of western European firms.
• Of all non-U.S. based firms, 15 per cent don't track referrals at all. More significantly, U.S. firms have the highest proportion of not tracking referrals, which directly contrasts to the earlier claim from 94 per cent of U.S. respondents that heavily rely on referral work from other U.S. firms.