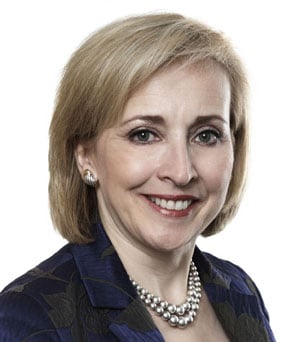 Carol Hansell has been appointed to the board of the
International Corporate Governance Network
. A partner at Davies Ward Phillips & Vineberg LLP, Hansell is the only Canadian serving on the ICGN board, which draws its membership from around the world.
The lead author of the firm's recent paper, "The Quality of the Shareholder Vote in Canada," which has prompted much discussion on the proxy voting system, Hansell says she had been approached over the last couple of years to be part of the network's board, but wanted to complete her three-year term as chairwoman of the American Bar Association's corporate governance committee (the first non-American to hold this position), which ended in August.
The ICGN's cross-border-voting practices committee is of particular interest to Hansell. In Paris last week at the 2011 ICGN Annual Conference, she learned there is an issue of double voting in France such that if you have held your share for two years you get two votes. Hansell says for a variety of reasons only the French can exercise that, but from the international perspective it is of interest with capital markets now more global in nature.
"The domestic issues we've been dealing with are one thing, but we need to make sure the Canadian investment community is aware of the issues internationally and we need to start playing a role and intervening to make sure people's shares are being treated the way they expect them to be treated, so that's been a big issue for me," she says.
Another issue Hansell says the ICGN is starting to deal with is providing education and creating a program specifically for the investor community.
"Governance education has generally been directed at directors, and the ICGN is now seeking to direct education at the investors, which I think is a useful way to go. They have their first program starting soon and I think that's a very worthwhile project," she says.
When it comes to the issue of say on pay, Hansell says it has been less of an issue in Canada than it has been south of the border.
"Say on pay is kind of an international wave that overtook. The investor community in Canada is a little split on it. I have always thought say on pay doesn't actually give shareholders any additional rights, particularly with majority voting they've had the ability to voice their concerns if they don't like what the compensation committee is doing, or the board generally. I think shareholders have found more ways to articulate their views."
However, from the director's perspective, Hansell says say on pay can be a very welcome change because it means, for the most part, investors will articulate their concerns about compensation first through a say on pay negative vote before they will go after directors individually.
"The shareholder vote is a fairly blunt instrument and so say on pay at least lets you focus to some extent on what the shareholders are unhappy about, rather than take a broad brush against directors in which it may not be clear what they're worried about," she explains.
The ICGN is a global membership organization of more than 500 leaders in corporate governance in 50 countries with a mission to raise standards of corporate governance worldwide. ICGN members are largely institutional investors that collectively represent funds under management of about $18 trillion. Past Canadian board members include Claude Lamoureux, David Beatty, and Peter Dey.
"Carol is internationally recognized as a leading authority in corporate governance. Her deep knowledge of policy and practice of critical governance issues in North America as well as globally, has positioned her to provide unique, sophisticated advice on questions of key concern to our clients," says Shawn McReynolds, managing partner of Davies' Toronto office.
Hansell has almost 25 years of experience leading corporate and securities transactions and working with issuers on issues related to reputation management, shareholder relations, board effectiveness, and governance structures and processes. She has acted as an independent adviser to board chairs and has worked with several multinational corporations in developing their global governance practices.
She also works with investors in structuring their investments and in managing issues with their portfolio companies and has advised securities regulators on a number of governance-related matters.
Currently serving on the board of the Bank of Canada and as chairwoman of the governance leadership council of the Ontario Hospital Association, Hansell has served on the board of directors of the Public Sector Pension Plan Investment Board, the Toronto East General Hospital, Royal Group Technologies, and the Institute of Corporate Directors.