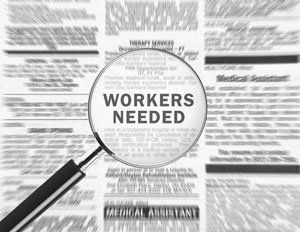 Changes to the federal Temporary Foreign Worker Program will make it more expensive and time consuming for Canadian companies to fill a position with workers from outside the country.
The
new rules
, made effective late last month, are to make sure Canadians are given the first shot at available jobs.
A new Service Canada processing fee of $275 must be paid for each position requested to cover the cost of a Labour Market Opinion. An LMO considers the labour market impact of hiring temporary foreign workers.
Employers need an LMO in order to get the green light to hire a foreign worker. A positive LMO shows there is a need for a foreign worker to do the job and that no Canadian worker is available for the position.
The fee does not apply to agriculture jobs. Prior to the changes, which became effective July 31, no fee was charged.
New advertising rules also kick in Aug. 28 stating a company must advertise a position for four weeks before it can even apply for an LMO, in order to prove it can't find a Canadian for the position.
If a company has already completed two weeks of advertising prior to Aug. 28 that will be accepted but it must continue advertising until the LMO is obtained from Service Canada.
The previous rules required only two weeks of advertising, then a declaration no Canadian could be found for the job, followed by an application to bring in a temporary foreign worker.
In addition to advertising on the national
Job Bank
web site or the equivalent provincial/territorial web sites, employers must prove they have used at least two other recruitment methods consistent with the advertising practices for the occupation — such as sites like Monster and Workopolis. Employers must show the source used for the advertising is targeting an audience realistic for the occupation.
It is currently taking between four and 12 weeks to obtain an LMO.
"I think they're really trying to show John Q. Public that employers need to search high and wide amongst the Canadians who are unemployed to find someone suitable," says Lloyd W. Ament, a specialist in citizenship and immigration law with Basman Smith LLP.
"But the reality is that for most of the employers I act for, they know what they need and know what the market has and doesn't have."
Ament says the new regulations are "definitely a nuisance factor" for employers.
"Not every position employers want will pass an LMO because these officers are programmed to say no and then say 'prove to us why we should say yes,'" says Ament.
For large companies that have used the TFW program in the past the fee will simply become yet another cost of doing business, says Jennifer Nees, senior associate at business immigration law firm Egan LLP, but for smaller companies it could well become a burden.
"I think for bigger companies it might not be as easy or convenient as it used to be. For smaller companies it could become cost-inhibitive and could curb them from setting up start-ups here," says Nees, who notes the fees are still considerably less than visas to the U.S.
Ament's clients include employers looking to hire tradespeople as well as skilled managerial staff. It's trade positions posing the greatest challenge these days.
"In construction recently it's been glaziers, stone masons, and welders that my clients have been looking for because they are difficult to find here. What the Service Canada workers are telling me is they are making sure the wages offered are at least the median and that the recruitment efforts of the ads are detailed enough to at least give locals a chance," says Ament.
Ament has instructed his clients to keep detailed logs and spreadsheets of everybody who responds to a job posting including what their backgrounds are and why they are not suitable in order to show the recruitment effort.
All the changes may serve to discourage many companies from considering the TFW program, says Lainie Appleby of Guberman Garson. Her clients include large corporations and smaller Canadian businesses looking for executive-level people and highly skilled employees.
"I had one prospective client who, when I called to explain the changes and steps they would have to take now, indicated they would have to re-think it. I think it's going to be a big problem if Canada wants to remain competitive in the global economy. There has to be a facilitative process that enables employers to bring who they need to Canada," she says.
Ament doubts the new fee being charged will be used to help beef up programs.
"The [immigration] bar has been screaming for years that the government should reallocate fees they bring in on immigration back to where it's needed and it's just been ignored," says Ament.
Amendments also include a new language assessment factor. As a result of the change, English and French are the only languages that can be identified as a job requirement, both in LMO requests and in advertisements by the employers to hire TFWs, unless employers can demonstrate another language is essential for the job.
The language restriction does not apply to positions under the Seasonal Agricultural Worker Program, Agriculture Stream, or on-farm positions.