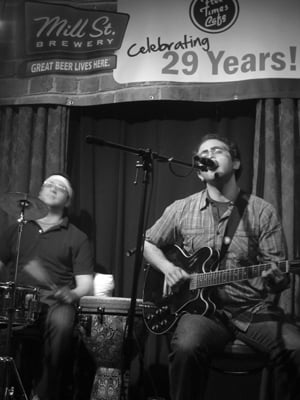 After completing dual law degrees at McGill University and an LLM from the University of Toronto, I opted to pursue a doctorate in law in 2009. At the same time, my long-time friend Shai Korman was equally busy pursuing his own career in the field of communications and government in Washington, D.C. We were moving in different directions, as is often the case with childhood friends. We grew up together in Montreal and have been writing and playing music together since we were 14 years old — me on guitar and Korman on drums.
We had girlfriends and then wives, mortgages, babies, and all the other responsibilities that come with adulthood. But the one thing neither of us was willing to give up was music. Life just doesn't seem complete without it. Live music reveals an aspect of ourselves that we can't get out in any other way.
My latest band,
What Does it Eat
, is the continuation of a long history of creative collaboration. Various projects and groups carried both of us through our undergraduate degrees at McGill and my time at law school. We've released two independent albums and played many venues around Montreal, even ranking ahead of Arcade Fire in a battle of the bands (though neither of us won that night).
Life moved on, with Korman moving south of the border, and me stopping in Ottawa and then Toronto. But we could never abandon our partnership. Working by telephone and e-mail, we have now put together a collection of eight new songs on our newest album,
Hot Points.
We recorded the album over five years in five different cities: Toronto; Parry Sound, Ont.; Montreal; Washington, D.C.; and Arlington, Va.
This record retains much of our distinctive songwriting style, described by T'Cha Dunlevy of the Montreal Gazette as producing "fun, thoughtful tunes." Our quirky lyrics are still set to poppy melodies laid over deceptively sophisticated chord progressions. Our latest effort has seen a development in production, moving from a bare-bones folk approach to a lusher sound, incorporating more electric and electronic elements.
Although I'm a new dad and hope to become a law professor in the very near future, neither fatherhood nor academia will impede my love of music because there is always time for my passion.
To celebrate the release of Hot Points, we're planning a show in Washington in the spring and hopefully a show in Toronto shortly after. We're also working on a 20-minute song cycle about secondary sitcom characters from the 1980s and '90s entitled,
Sidecar: The Musical
.