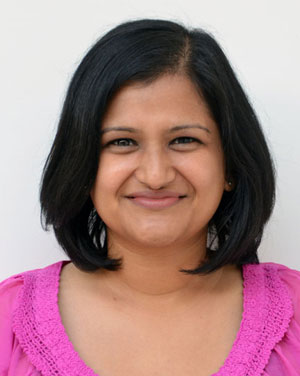 Melanie Banka Goela has a pretty unique role at Osgoode Hall Law School.
As a lawyer-turned-therapist, Banka Goela — who attended Osgoode herself — is uniquely qualified to share tips for coming out of December exams unscathed and returning after break rejuvenated and ready to tackle next term.
Making the most of your time off:
1. Let it go
"I find students share when they come back or before they leave they can't get exams off their minds," says Banka Goela, who calls letting it go the most immediate tip to start the transition from exams to break.
Students say they think about their performance, talk to other students about answers, and some go back to their study material to see what they should have said.
"Even though it's really hard — it's completely out of your hands now," she says. "Fixating or worrying just eats away at your energy, drains you, takes away from enjoying a much-deserved and much-needed break."
Simply being aware of your intention to not get fixated helps you not get stuck in those thoughts.
"Be aware and notice, take a deep breath or pause, and see if you can shift gears," she advises.
2. Make a connection
Reconnecting with those you love is another great way to start de-stressing. Law students tend to get a bit isolated, she says. "I can't overstate how important it is to be around friends and family."
Law students might think those who aren't in law school can't understand, empathize, or "get it," says Banka Goela, but that isn't a barrier to connecting. Bottom line, it is beneficial to be with those people who know you as a whole person, not just a law student.
3. Unplug and get outside
Law students spend a lot of time indoors, without natural light or fresh air, and also spend many hours in front of devices. Banka Goela says taking a break from laptops and smartphones — "making a conscious effort" to unplug — can be really recharging. Too much time indoors is draining physically and mentally.
4. Do what (used to) make you happy
Another great person to reconnect with is yourself.
"Do things that make you feel like yourself, give you energy — things you did before law school that you put aside because you don't feel you have time," Banka Goela advises. "Whatever makes you feel grounded."
Reflecting on what it is that really gets you feeling calm and happy — whether it be more outdoor activities, something creative like painting, cooking, or baking — and getting back into it over the holidays can be a rewarding experience.
5. Get some good old fashioned R&R
Rest and relaxation — basic, but so important.
"We are a very busy culture and we get into a chronic stress mode and we lose sight of the natural response we have, the relaxation response."
The relaxation response is a built-in way for our bodies and minds to relax after a period of stress. But chronic stress interferes with it, and eventually causes the need to retrain the response, Banka Goela explains. You need to get back in touch with what relaxation feels like, she says.
6. Job search prep
Holidays can also be a good time to work on landing a job. Banka Goela suggests working on applications or spending time thinking through job search strategy — not actually applying or interviewing, but doing prep work to ease the burden when school starts and you have more pressures. Banka Goela says she is always a fan of mixing business with pleasure to ensure an easier road later on — just keep in mind pace and balance are essential.
Gearing up for going back:
1. Take time to self-reflect
Self-reflection is essential, no two ways about it.
"As a therapist and counsellor I'm here to support people reflecting for themselves and get them to the insights for themselves," says Banka Goela.
She says law school students tend to give too much weight to what others think when it comes to courses, jobs, and even extra-curriculars. Take a look at what matters to you, and focus on what your values are. Then start thinking about how you can get back on track.
"With all the barriers to that — haven't been feeling well, mental health concerns, no support — it can get challenging to chart your own course," says Banka Goela. If that's the case, check out some resources and support options.
2. Be aware and take care of yourself
"Two things I say are mindfulness and self-care or self compassion," Banka Goela says. "Both are foundational for incorporating other healthy habits."
Making mindfulness and self-care priorities makes it easier for people to start to make decisions that are better for them, and can have a positive effect on other aspects of their lives — like school — as well.
"Mindfulness is a way of really training our attention, what we're focusing on, and learning how to become more present and not always lost in thought or in our heads," she says.
You can learn to be mindful through formal meditation (
YouTube
has some great introductions to it) or just through everyday tasks like washing dishes but being aware of the water, the soap suds, and not just what's next on your to-do list.
Self-care and self compassion are about being good to yourself in terms of how you think about yourself and how your inner dialogue is, says Banka Goela. "We can judge or be harsh with ourselves without realizing and that adds layers of stress."
Becoming aware of inner thought about yourself and shifting away from self-doubt and self judgment is helpful, says Banka Goela, especially in law school where these feelings can become magnified.
Working on these suggestions paves the way for being well beyond law school, as Banka Goela says law students and lawyers are particularly at risk for mental health issues.
Most important of all is to remind yourself it's never too late to develop healthy habits. Start small, pick one or two things to start working on, and get support, she recommends.
Banka Goela says law students can turn to counsellors at their school, the assistant dean of students, provincial lawyer assistance programs, support lines, or web sites such as
justbalance.ca
.
"These are guidelines for holidays and life," Banka Goela says. "Make these changes with the goal to have them in your life going forward."