People involved in human smuggling cannot be denied refugee status in Canada simply on the basis of having assisted in the smuggling, if they have not received any financial benefit from the activity, the Supreme Court ruled on Friday.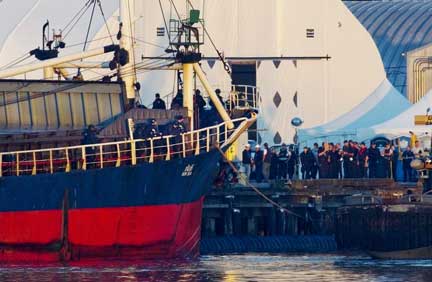 It made its ruling in a pair of unanimous decisions dealing mainly with Sri Lankan Tamils who arrived in British Columbia by boat in 2009 and 2010 and who argued that they were all asylum seekers themselves.
"I conclude that a migrant who aids in his own illegal entry or the illegal entry of other refugees or asylum seekers in their collective flight to safety is not inadmissible. . . ," Chief Justice Beverley McLachlin wrote for the court in B010 v. Canada (Citizenship and Immigration), which was heard with R v. Appulonappa.
The court also ruled that Canada cannot level criminal charges against people simply for having helped someone gain illegal entry, or else "a father offering a blanket to a shivering child, or friends sharing food aboard a migrant vessel, could be subject to prosecution."
To try to dissuade boatloads of migrants from arriving on Canadian shores, the government of former prime minister Stephen Harper had decided to go only after the organizers, in the hope of dissuading future smugglers from arranging such ventures.
Wednesday's decisions will make it tougher to go after those in charge, though that will still be possible if it can be proved that they gained financially or materially.
Several of the asylum seekers arrived with about 500 other Tamils who paid substantial sums to board the cargo ship Sun Sea in Thailand. Shortly after sailing for Canada, the crew abandoned the ship, leaving the asylum seekers to fend for themselves.
The Canadian authorities had concluded that several who undertook duties such as working in the engine room had helped with the smuggling and so should not be allowed to stay in the country. The court disagreed.
A separate group of asylum-seeking Tamils who the government says were the captain and chief crew of another vessel, the Ocean Lady, still will face criminal charges that they took money to ferry fellow Tamils to Canada.
The question of refugees has taken on added prominence in light of Canada's decision to take in 25,000 Syrians on an expedited basis. One criticism of the speed with which Canada is acting is that once they land in Canada, it can be difficult to deport them if they are found undesirable.