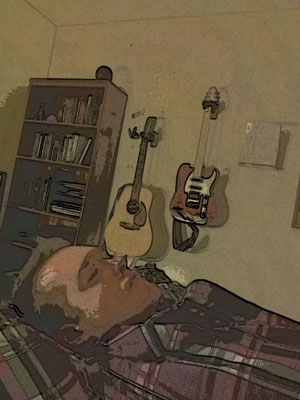 Nobody is perfect. If you came to law school believing you were, chances are the first year gave you doubts. Every year, law school classrooms get filled with brilliant, hardworking, and competitive young professionals. Being just one in the heap can be a difficult adjustment, especially for those who came from places where they were considered exceptional.
It certainly was for me. I failed at more things in law school than any place I had before. Those failures helped me learn that missing the target is alright. I failed in law school and you can too.
For most of us, failure is felt quickly and often in law school. Anyone familiar with the grading system knows that actual Fs are uncommon, but ask any law student and the feeling of failure is rampant.
We often mentally assign ourselves Fs for failing to meet our own expectations. Whether it's about grades, body image, career, extra-curriculars, or relationships, law students tend to have high expectations to live up to.
Law students' monumental expectations start much earlier than 1L. They likely coincide with being asked to beat out thousands of applicants to be allowed to attend law school in the first place. Maybe our first acceptance package goes to our heads — we expect to be able to keep up the "top 10 to 20 per cent" pace indefinitely.
The tragedy is that once we join the top 10 to 20 per cent, our success is redefined as the top 10 per cent of that group. Comparing ourselves to others is a losing game; it can only end in disappointment.
Before I graduated, I fell into the "other law students" comparison trap many times. Early on, I spent most of my energy trying to be like the "others" out there. If you spoke to me about who I was measuring myself against, I would describe the group of law students who had it all: great relationships, lots of friends, supreme fitness, straight As, buckets of energy, and made law review. Whenever I dropped the ball in one (or all) of those areas, which I did frequently, I felt like I was way behind.
The problem was that group doesn't really exist. If I had actually stopped and broken it down, it was actually an amalgamation of all the people in my class. I had magically combined many uniquely talented individuals into one person. In reality, nobody has it all figured out.
Job No. 1 for law students should be to drop unfair comparisons. They are a distraction.
Eventually I learned to measure myself against my own standard. For example, I had to learn the hard way that a heavy class schedule and multiple volunteer commitments did not leave enough time for a solid relationship.
I started noticing how much I needed to sleep, study, relax, and see my family to feel successful. I also started noticing that I learned better outside class and away from the library. Perhaps most importantly, I learned that relationships take steady work to stay strong.
I only started improving in law school after I started focusing on my own priorities. Avoiding social comparison during law school helped me focus on what really mattered for my success. Refusing to compare myself to others still takes constant work. These days I still set goals and push myself, but my goals are grounded in reality.
Learning to measure ourselves by our own standard is the first step to overcoming the feeling we are failures. Experiencing actual failure still feels terrible. It sounds clichéd but failing a few times in law school helped me create some of my best successes.
My first law school failure was an actual F on a mid-term. I attended class. I studied for the test. I read everything. Other people passed. I had no excuses. Even if it was not life-changing, it was a big deal. The first big deal in a legal career with many bigger deals ahead.
The real tragedy was what I did next: I avoided getting feedback. Instead, I ignored it and focused on the classes I thought I had a chance to improve in. At the time, that helped me avoid feeling like a failure. Later that year, I came up against the same professor's exam. I struggled and felt awful. Facing my failure earlier may have made that second test much easier. More importantly it would have helped me grow into a better law student.
Getting used to the idea that we can fail is important. In law school tests are temporary. In law practice the consequences can last a lifetime. Turning away from failure means we risk making the same mistakes later on.
Failure intolerance makes us hesitate when we face challenging goals — the possibility that we could make a mistake is paralyzing. Procrastination is comforting because it prevents us from ever trying our very best, so we avoid true failure. Instead, if we make failure acceptable, we become free to do our very best and learn from mistakes as they happen.
It took me a long time, but I eventually built up the courage to acknowledge my failures head-on. That became critical during my legal job search. I was rejected from more than 100 jobs and positions in law school before I secured a job at a great firm.
The rejections were often impersonal. However, I also had rejections that felt devastatingly personal — after spending months networking and getting to know the recruiters and interviewers. My worst week started with multiple rounds of interviews, handshakes, and dinners at several first-class law firms, and ended with the emptiness of zero job offers.
The last thing I wanted to hear was how I personally lost such great opportunities. The failure was deeply painful. I actually tried my very best and did not measure up. On the advice of a career coach, I eventually got the courage to follow up with a well-known recruiter I respected very much. I asked how I could improve. She candidly shared several key weaknesses that had proven fatal. It was difficult to listen to, but it helped me mature immeasurably.
It is easy to walk away from failure with the belief that we bore no responsibility for the outcome. Instead I walked away with the very uncomfortable feeling that it was mostly my fault.
The upside was that owning my failure helped identify what I could control. Motivation to do better next time was still possible. The universe was not against me, nor was it 100-per-cent my fault. There were just some things I needed to improve before I could get where I wanted to be.
After picking myself up and getting back on the job hunt, I eventually landed a job at an excellent firm. A few rejections helped me improve enough to make a match. Learning to seek out and incorporate feedback helped me make my last semester in law school my best ever.
I wanted to write this because I thought I spent most of law school trying to succeed. In reality, I spent all of law school learning how to fail. And you can too.
Ivan Mitchell Merrow recently graduated from Queen's University's JD MBA program, soon to be articling with Devry Smith Frank LLP in Toronto. He also writes on
IvanMerrow.com
and tweets as
@CanadianLawGuy
.