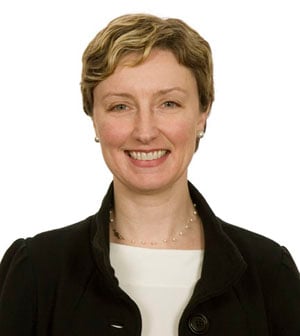 Nicole Broley is an experienced commercial litigator with a big professional services firm but lately she has been getting her feet wet in the area of family law. It's all part of a pro bono project launched by the Association of Corporate Counsel Ontario.

Broley, who is associate general counsel with Deloitte & Touche LLP and the Ontario Chapter advocacy liaison for the ACC, is in the process of helping a family with a special needs child adopt the boy, who is over the age of 18. He was placed in foster care as a baby and his foster family has cared for him since then. For this boy, this is his family, but legally they still need to adopt him to make it official.

"They are really mom and dad to this child," says Broley. "This is a family who wants to be an official family. When you meet the family, you realize how much it means to them to have this opportunity and you realize you have the tools at your disposal to help them do this. I don't want to undersell what we do day-to-day but this is truly, fundamentally important. This is a big deal for them."

Together with her colleague Nikki Latta, also an associate general counsel at Deloitte, who is representing the boy, Broley is working to help the family complete their adoption. They took the case in September 2012 and are working their way through the various steps required to complete the process. Latta's challenge is to establish consent from the special needs child for the adoption to move forward.

"In this situation, because it's a special needs issue, it's about the capacity to give consent," says Broley. "It's no question if you were to ask this child, but legally is there an issue as to whether the yes is a properly informed 'yes."

Broley and Latta are among the first members of the ACC Ontario chapter to take on an adoption case as part of a project called "In Your Corner."

Last summer, ACC Ontario approached Pro Bono Law Ontario about taking on a project in-house lawyers could assist with. It was decided there was a need to assist foster families looking to complete adoptions of children they had had in their care for many years.

A meeting between PBLO and Catholic Children's Aid revealed the legal department at the agency was getting a number of requests from adoption workers asking for help in finalizing adoptions for some of the former Crown wards who had just turned 18, says Lynn Burns, executive director of PBLO.


In July, an initial training session on adoption law took place in Toronto with the 35 ACC Ontario members who volunteered. It was led by a lawyer PBLO works with from the Catholic Children's Aid Society.

PBLO has been working with in-house counsel from RBC for six years providing a range of services including assistance to unaccompanied minors who arrive in Canada at Pearson airport who have no documentation, usually from war-torn countries.

The pro bono program will see in-house counsel helping foster families do the necessary paperwork to finalize adoption of children who were Crown wards and they have been caring for since birth. Not only is the program helping families finalize an important chapter in their lives, it's saving them money: a typical adoption can cost between $8,000 and $12,000.

"I have to hand it to PBLO — they are very good at creating manageable opportunities," says John Matheson, vice president and general counsel at Strategy Corp. He has been leading the In Your Corner program and is currently working on his first adoption case. He met his client in August and did some work on the case in October.

"In choosing this adoption program they picked something where we can add tremendous value and save people some money who wouldn't otherwise be able to afford it," he says. "Everything they say about how good you feel when you do this is true."

Matheson worked on his client's adoption file on Thanksgiving Saturday for four or five hours.

"It was great — it was something that was not in anyone's interest other than the family I was trying to help," he says. "I felt great about it and went around telling everybody I felt good about it. I sounded like Scrooge in the third act of a Christmas Carol. It's certainly something I'm gong to stay involved in."

Of the first 35 ACC volunteers who came forward, 20 are now ready to take on cases.

"I'm sure they weren't sure what they were getting into," says Burns. "It's like that with most of our projects and then as the years go by all of a sudden they become experts in this area."

Broley admits she was nervous at first, but realizes now her background and training is serving her role in family law as well.

"I didn't know anything about the process for adoptions. I was somewhat hesitant in the beginning because I don't practise in this area. The upside of being a litigator by background is often we jump into areas we don't know too, too much about and just figure it out. In this instance that training was helpful," she says.

Matheson says the pro bono program has helped to connect him to the reason he went into law in the first place.

"Everybody wants to connect with that thing that drew them to this honourable profession in the first place. Much of that you get in your day-to-day legal practice, but there are parts of it you do get divorced from," he adds.

Broley notes that taking on a case does not represent a significant amount of time. She hopes to take on another once her first one is complete. She also wants other in-house counsel to know it's not something that requires litigation training.

Burns hopes the program will expand as the in-house lawyers find their comfort level with the adoption cases.

"I keep saying the in-house world has so much to offer and the more we work with them you see they are just highly skilled, civically minded people wanting to do good work," she says.