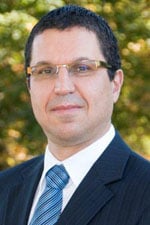 A few months ago, I bought myself an iPad2. At first, I thought I would be using it primarily as my e-reader. However, as I started to become more familiar with the device, I realized it also had serious potential of being an effective and powerful tool in my law practice.
In this article, I highlight some of the many applications (apps) that are available for use on the iPad and which I believe could be of particular value to us in the legal profession. Each of these apps is available for download from the iTunes App Store, which, by the way, has its own app and is preloaded onto the iPad and ready to use once out of the box.

Calendar/task-manager apps

CalenMob Google Calendar Client — This Google calendar app works offline in that you can create, edit, and delete events when you are offline. It will automatically synchronize these changes with your Google calendar when you go back online. The app includes a reminder system that will push reminders via SMS (text message) or e-mail. ($3.99)

CalenGoo — This app gives you fast and easy access to your Google calendar and provides multiple ways to view events. It works without an Internet connection by saving the changes and uploading them to your Google calendar the next time you go online. The app lets you set up reminders including SMS reminders that are sent to your mobile phone. ($6.99)

Google Calendar client — As with the previous two apps, this one allows you to work with events both online and offline. It supports everything you can find in Google Calendar including appointments, tasks, SMS reminders, recurring events, and invitations. ($6.99)

Pocket Informant HD — This app is described as a fully integrated calendar and task solution for your iPad. It includes a calendar, tasks, contacts, and notes. It also has a sync option to sync with Google Calendar, Google Tasks, Toodledo, native iOS calendar access, and Outlook for Windows. ($12.99)

Wunderlist — This multi-platform app (PC, Mac, iPhone, iPad, Android, BlackBerry, Linux, and the web) allows you to keep your tasks synced among multiple devices. This requires a Wunderlist account, which is free. You can also share your tasks with others. As with the other calendar apps listed above, this one can also be set up to push notifications/reminders. (Free)

Dictionary apps

Barron's Law Dictionary — Provides the definitions to more than 3,000 legal terms. ($9.99)

Black's Law Dictionary — This app puts the power of Black's Law Dictionary at your fingertips. ($54.99)

Bouvier's Law Dictionary — Provides the definitions to more than 6,500 words. ($2.99)

Free Law Dictionary — Provides the definitions to more than 1,200 words. (Free)

Law/Legal Dictionary — Provides the definitions to more than 7,500 legal terms. ($4.99)

Legal Terms Dictionary — Provides the definitions to thousands of words. It also provides examples for proper usage of the words. (Free)

Nolo's Plain English Law Dictionary — Provides the definitions in plain English to more than 4,000 legal terms. (Free)

Directory/driving direction/mapping apps

Canpages — With this app you can use your voice to power a local search of businesses, restaurants, etc. It also provides directions and information respecting traffic conditions. (Free)

YellowPages.ca for iPad — This app gives you access to Yellow Pages and the 411 People Finder right from the convenience of your iPad. The app also provides detailed driving directions. (Free)

Google Earth — Need an aerial or ground-level photo of a particular accident location? Try Google Earth.

Document management and presentation apps

Circus Ponies NoteBook — With this app, you can organize your notes and research in an organized and searchable format. The app also allows you to take notes directly on your documents. If you prefer, you can add your comments via voice annotation. ($29.99)

Evernote — This app allows you to record and organize your notes, photos, and recordings. Once recorded, the document is instantly synchronized from your iPad to your iPhone, Mac, or Windows desktop. (Free)

Exhibit A — This app allows you to organize and present your documents, photos, and videos in fullscreen HD display that you cannot achieve by simply mirroring your iPad. The app's presentation tools let you highlight, mark, and call out key sections of your exhibit instantly. The app also includes a virtual laser pointer. ($9.99)

GoodReader — This PDF document reader displays books, maps, movies, and pictures. It also allows you to annotate and highlight documents, search text, and leap between points using PDF hyperlinks. The program also allows you to "flatten" PDF annotations — in other words, it lets you make the annotations non-editable. ($4.99)

iAnnotate PDF — This app imports Word and PowerPoint documents and converts them into PDF documents which you can then fill in, annotate, highlight, or underline. Once you have annotated the document, you can also flatten thereby protecting it from any subsequent modification. ($9.99)

Noteshelf — This app allows you take notes in handwriting and create multiple notebooks based on client, topic, or whatever other category you may wish to create. Once you have established the notebook you can save it as a PDF and share it via e-mail. ($5.99)

PDF Export Professional — This app lets you read and annotate PDF documents, highlight text, make notes, save changes, and fill in PDF forms. This app works with Dropbox, MobileMe iDisk, and Google Docs. ($9.99)

Prompster Pro — This app turns your iPad into a teleprompter. It is also useful for practising your presentation as it allows for video recording with the iPad2. ($9.99)

Read It Later — As the name suggests, this app lets you save web pages for later reading even if you are without Internet. (Free)

ReaddleDocs — This app allows you to save and organize documents (PDFs, Word, Excel, PowerPoint, Apple iWork files, and any other documents that can be converted to PDF). PDF documents can be highlighted, marked, and notated. Files can be downloaded and uploaded using file-sharing services including Dropbox, iDisk, Google Docs, and MobileMe. ($4.99)

RLTC: Evidence — This image presentation app allows you to organize and annotate documents and images for later presentation through a VGA monitor. ($4.99)

Save2PDF for iPad — This app will convert most file formats including Word, Excel, PowerPoint, Pages, Numbers, Keynote, Photos, web pages, e-mail attachments, and contacts into PDF. ($5.99)

SignMyPad — This PDF signature tool lets you view and sign a PDF document and then save it or send it. ($3.99 for the basic version and $19.99 for the pro version)

SpeechPrompter — This app turns your iPad into a mobile teleprompter. ($7.99)

TelePrompt+ — Another app that helps you to use your iPad as a teleprompter. It can be useful for those involved in public speaking as well as for making submissions during a trial. ($14.99)

TrialPad — This app allows you to file, organize, annotate, and present your documents. In order to use a document in TrialPad, it must first be converted into PDF. Once converted, the program also allows you to highlight, redline, redact, and display your document using either a projector or a monitor. ($89.99)

WordPerfect Viewer for the iPad — This app lets you use your iPad to read WordPerfect documents. With this app you can also bookmark, e-mail converted files, export HTML versions, and perform a keyword search. ($5.99)

File-sharing apps

Dropbox — This file-sharing app allows you to share files (documents, music, photos, videos) from one device to another, whether it be computers, iPhones, iPads, BlackBerrys, or Androids. Any files that are shared in your Dropbox are automatically shared with your other devices or people having authorization to use Dropbox. (Free).

GoDocs for Google Docs — Allows you to work with your documents on Google Docs. ($4.99)

MobileMe iDisk — View and share files on your iDisk from your iPad, iPhone, or iPod touch. A MobileMe subscription is required. (Free)

SugarSync — With this cloud-based app you can use your iPad and all of your other computers (PC and Mac) to access all of your files, photos, and music. You can also share your stored documents via e-mail, or cut-and-paste links. Once you have edited a document locally, you can update that document on your other systems by performing a sync command. You will need to set up an account for this service to work. Signing up will get you 5 GB of free online storage.

I would like to add a few words of caution about these file-sharing services as well as the calendar apps discussed earlier in this article. Be very careful about what you store in the cloud, as confidentiality of your files isn't necessarily guaranteed. Keep in mind that many of these cloud-based services operate outside of Canada where different attitudes and rules exist respecting solicitor-client confidentiality. Password protecting your data may not be good enough. Unless you are absolutely certain about the security of the information being stored, I recommend not storing any confidential information in the cloud.

Finally, there is also the risk of data being lost while stored in the cloud. In order to protect against this, I also recommend storing and backing up your files locally.

In my next column, I will look at more apps in the areas of: law books, mortgage calculators, news and research, as well as social media and a number of other areas. So stay tuned.