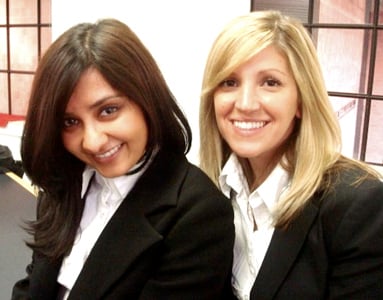 At the end of February, two Canadian law students will present a bill at Harvard Law School. The bill must be designed to include various acts, including the Animal Welfare Act, the Horse Protection Act, the Humane Slaughter Act, and all wildlife laws with human provisions.
Third-year University of Windsor law students Helen Karpouzos and Anita Goela will travel to the Ivy League school to participate in the 2011
National Animal Law Competitions
.
The eighth annual version of the moot is presented by the Centre for Animal Law Studies, in collaboration with the Animal Legal Defense Fund. It's hosted annually by the Harvard chapter of the Student Animal Legal Defense Fund.
The competition has three separate events: a legislative drafting and lobbying competition, a closing argument competition, and an appellate moot court competition. Goela and Karpouzos are each expected to compete in the legislative drafting and lobbying competition.
Open only to law students currently studying at American Bar Association- accredited law schools in the United States, Karpouzos and Goela are able to compete since they study in a specialized program at Windsor.
Windsor Law and the University of Detroit Mercy School of Law teamed up to create a dual JD program that allows students to earn both an American and Canadian law degree, and sit for both bar exams, in just three years. Both Karpouzos and Goela are in their final year of the program.
"The competition used to be open to Canadian law students," says Laura Handzel, assistant director of the Centre for Animal Law Studies. "But with the overwhelming interest we've been having, we've had to close it to American students only. It is a national competition, after all."
The competition only accepts a certain number of teams or participants per event. This year, registration filled up and sold out for every event in less than 24 hours.
"We are really excited about the overwhelming interest that we've been getting," Handzel continues. "And I think it speaks to the popularity of the field of animal law and how much the field has developed."
Both Karpouzos and Goela express passionate interest in the welfare of animals. Both are members of the Student Animal Legal Defense Fund Windsor chapter, and are vegetarians.
"I've always been concerned about animal welfare," says Karpouzos, president of the Windsor chapter. "It wasn't until I attended a conference in Washington, D.C., in 2005, called 'Taking action for animals,' that I learned . . . how the law was failing to protect animals and how this is bleeding into various facets of our society and that the way of affecting change is through the law."
Goela says: "In my first year of law, I decided to follow a plant-based diet. From there, I started becoming aware of how important animals and animal products are in international and domestic trade.
"I found that how humans approach the welfare of animals says a lot about the morals and priorities our society holds, generally."
This common interest in animal welfare and the protection of animals through the law binds the competition's participants together — whether as competitors, problem authors, or judges. Students and experts in the fields of both animal care and law come together to discuss the important issues facing animal well-being.
"[The National Animal Law Competitions] is a really great opportunity to not only advance my skills as an advocate and in legal writing," says Karpouzos, "but to meet other professionals and students who are interested in animal law and to hear other people's ideas, to network and collaborate with other people."
This year, Nancy Perry of the Humane Society of the United States primarily penned the problem for the legislative drafting and lobbying competition. Scott Heiser of the Animal Legal Defense Fund and Megan Senatori of DeWitt Ross & Stevens S.C., co-authored the 2011 problem for the closing argument competition. The problem for the Appellate Moot Court Competition has been primarily authored by Susan Hightower of Pirkey Barber LLP.
Aside from the opportunity to engage with other students and professionals in a historical setting like Harvard, the competition provides students with a chance to refine their advocacy skills and expose them to an area of law that they may not otherwise have had access to.
"We have students who have come from middle America, so they haven't had the chance to take animal law . . . and there's not much exposure to lobbying in law school," says Handzel. "These three separate events cross the breadth of what legal skills you want to come out of law school with."
An aspect of the competition that Handzel is particularly excited about is that three U.S. federal court judges — David Brooks Smith, Lee H. Rosenthal, and Roslyn O. Silver — will be overseeing the final round of the appellate moot court competition.
"It's a really unique exposure for some students . . . it gives them the opportunity to work on legal analysis and strategy," says Handzel. "And the opportunity to work in front of federal judges who are intimidating just because of who they are. . . . Most lawyers won't get the opportunity to give an oral argument in front of a federal judge, so it's truly remarkable that they can be here."
With the competition only one month away, Goela and Karpouzos spent every spare moment preparing.
"I've had to learn how to write legislative bills, especially in the U.S. context," says Goela. "I've had to examine current animal welfare bills and analyze where they are deficient."
"The problem we're faced with is pretty daunting because we're supposed to create a distinct federal agency that will take over enforcement of various [animal welfare] acts," adds Karpouzos. "I've been doing a lot of research into current legislation and bill drafting and I've had a lot of help from my coach, Jerry Simonelli, who's been a tremendous support."
Goela has been getting help from professors and friends. "In particular, I have a coach. Her name is Dr. Alka Chandna, and she is a laboratory oversight specialist for PETA in the U.S."
Upon completion of the dual JD program at Windsor Law, Goela will be articling at Legal Aid Ontario and Karpouzos will be articling with the Crown attorney's office.
The National Animal Law Competitions will take place at Harvard Law School from Feb. 25 to 27.