"His advocacy skills were second to none," Chief Justice Richard Wagner says in tribute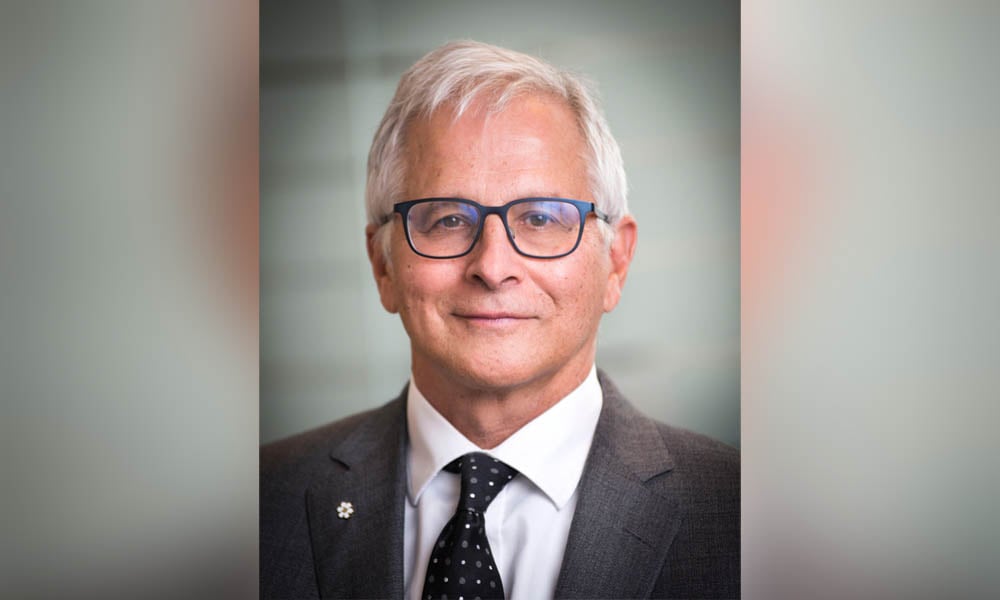 He's been called a champion of justice, a tireless defender of the underdog, and "one of Canada's greatest constitutional litigators and fighters for civil liberties and human rights."
Joseph Arvay, constitutional lawyer, human rights and civil rights advocate and litigator, died in Victoria on Monday of heart failure; he was 71 years old.
The chief justice of Canada, Richard Wagner, paid tribute to Arvay at Wednesday's opening of the Supreme Court's hearing for that day.
"His advocacy skills were second to none," Chief Justice Wagner told the court. "Some have referred to him as the court whisperer, given his long line of victories here at the court. He defended the Canadian Charter of Rights and Freedoms with great passion, and regardless of the odds, he was quoted as saying, 'If I must lose, I'd like to lose in the right way.'
"Mr. Arvay's legacy is outstanding."
Arvay — a native Ontarian who founded the boutique law firm Arvay Finlay LLP with John Finlay and Murray Rankin in Vancouver in 1989 — was counsel in some of the country's most notable constitutional litigation and appeared before the Supreme Court of Canada more than 60 times.
In a Q&A for Canadian Lawyer's "Ottawa Update" in its September 2020 issue, Arvay told Canadian Lawyer that "my appearance in Carter v. Canada (AG), 2015 SCC 5 — the case that established a right to Medical Assistance In Dying — remains the highlight of my career. There was just so much at stake for so many Canadians.
"But the first Little Sisters case (Little Sisters Book and Art Emporium v. Canada (Justice), 2000 SCC 69) remains one of my favourites even though it was decided 20 years ago. It established the importance of sexual expression as a socializing force for the LGBTQ community. One of my most surprising wins was in the Health Services case (Health Services and Support-Facilities Subsector Bargaining Association v. British Columbia, 2007 SCC 27) which held that collective bargaining was constitutionally protected notwithstanding three prior SCC decisions to the contrary."
Another important win was in Canada (Attorney General) v. PHS Community Services Society, 2011 SCC 44, which exempted the Insight safe injection site in Vancouver from drug possession laws.
"He understood the law and saw creative ways to apply it, just unlike anybody else," says Catherine Boies Parker, a partner in Arvay Finlay who practised with Arvay for her entire legal career. "He was so committed to taking very difficult, challenging cases, and then continuing to think about them, continuing to work on them, until he got it right.
"And it never stopped," she adds. "He was always trying to make the argument better, to make sure that we promoted the client's interest to the full extent possible, and as a result, he was able to do things that other people would have thought were impossible. It was the honour of my life to be able to practice with him."
Arvay represented the British Columbia Civil Liberties Association (BCCLA) on a pro bono basis for the better part of three decades in several ground-breaking cases, including Carter, Little Sisters Book Emporium, a years-long battle against censorship laws that went to the Supreme Court of Canada twice, and a successful constitutional challenge to prolonged, indefinite solitary confinement in federal prisons.
Grace Pastine, the BCCLA's litigation director, calls Arvay "a pillar of the organization" whose work was central to the work of the BCCLA, and was held in "incredibly high regard" by board members and the entire staff.
"Joe was a fearless and a brilliant advocate," Pastine says. "He was dogged, and tireless, and he would take on the biggest fights. To many of us in the social justice movement, Joe was our hero, because he worked at the highest levels of the legal profession, but he did so much important work that mattered so deeply to regular people.
"He fought tirelessly for equality, for dignity, for liberty; he upheld the highest ideals of our nation, and our peoples, in all of his work."
Arvay was "uncompromising in his advocacy, because he thought everything through," says Ken McEwan, a director of The Advocates' Society and a civil litigator at McEwan Partners in Vancouver. "He knew what the best answers would be for the questions he would be asked."
He was also "personally fun and charming," says McEwan, who would cross paths with Arvay in Vancouver courthouses, though McEwan practises in commercial and securities litigation. In the hallways, Arvay would "switch" from the human rights and civil rights cases he was arguing, and would be "asking you about what you are doing"; he had a "boundless intellectual curiosity."
And although "he worked all the time," he was also a great reader, a solo sailor and competitive skier who watched more Netflix than most people," says Boies Parker. "He was always the first one on the dance floor," and would cook for his colleagues when they were out of town to argue cases.
Boies Parker says the response she has received following Arvay's death is from "a steady stream of people whose lives he had touched.
"He was to change the world in such big ways. He changed the world for people who needed medically assisted dying, for people who needed safe self-injection sites, for workers by protecting collective bargaining, for the LGBTQ community by ensuring that they had rights. And yet he changed the lives of so many people personally around him as well. It is remarkable."
Joseph James Arvay was born in Welland, Ontario, on March 18, 1949. He was left a paraplegic in a 1969 skiing accident, which is credited for instilling a desire in him to fight for the disadvantaged. In 1974 he graduated with a Bachelor of Laws degree from the University of Western Ontario, and later from Harvard Law School with a Master of Laws. He then taught law at the University of Windsor before moving to British Columbia, where he practised in British Columbia's Ministry of the Attorney General. After co-founding Arvay Finlay in 1989, Arvay joined Farris, Vaughan, Wills & Murphy LLP in January 2014 following the death of one partner and the entry into politics of another, Murray Rankin. He reformed Arvay Finlay in 2017 with former associates.
In 2015, Arvay received The Advocates' Society's Award of Justice, which recognizes the highest standard of advocacy in representing members of society whose cause may be politically or socially unpopular or against the mainstream, and who make a substantial contribution to achieving the goal of social justice by championing the rights and liberties that are the foundation of democracy.
In 2018, he was made an Officer of the Order of Canada. "With keen legal acumen and dedication to social justice, he has played an unparalleled role in shaping the interpretation of the law on matters of civil rights and liberties," Arvay is described in the Order's honours.
Despite all his successes, Arvay did find losing especially painful. Describing his loss in the SCC's decision in Reference re Environmental Management Act, 2020 SCC 1, Arvay told Canadian Lawyer it was "perhaps the most painful and humiliating [loss] but not entirely unexpected.
"I tend to hate losing any case more than I love winning," he said in written comments in September. "The wins are euphoric but ephemeral; the losses tend to bother me for a long time."
Joseph Arvay is survived by his wife of 20 years, Connie Addario, their children Louigi, Hannah, Carmen and Gina Addario-Berry and Emily Arvay, and six grandchildren.