Court services in Kitchener, Ont., will begin relocating as of next week with the completion of the area's new consolidated courthouse.
"This new, modern, accessible facility brings together all local court services in Waterloo Region under one roof," said Attorney General John Gerretsen.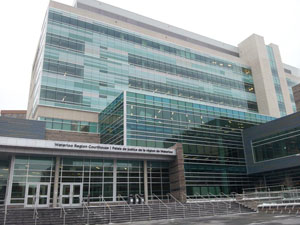 "The new courthouse will increase access to justice locally and be a one-stop shop for those who rely on its services."
The new facility will bring together Superior Court services on Weber Street East with Ontario Court of Justice matters in both Kitchener and Cambridge, Ont., under one roof at 85 Frederick St. in the city's downtown. Construction began in 2010. The province built the 30-courtroom facility to the Leadership in Energy and Environment Design silver standard. The facility features a barrier-free design as well as video conferencing, close-circuit television, audio amplification systems, and equipment for simultaneous interpretation and evidence presentation.
Superior Court matters will start moving to the new facility on March 4. Ontario Court family matters in Kitchener will follow on March 18 with criminal cases and services moving as of April 2. On April 15, Ontario Court services and Small Claims Court matters in Cambridge will begin relocating.
"The new Waterloo Region courthouse has great significance for not only the justice community but local businesses, community agencies, and residents," said John Milloy, MPP for Kitchener Centre.
"It will have a major impact on the revitalization of downtown Kitchener."
The provincial government is touting the on-time and on-budget completion of the new courthouse. According to the
Record
newspaper, the project will cost $766 million over 30 years, including maintenance. As for the old Superior Court building, the Region of Waterloo is planning to renovate it to house its staff, the
Record
reported.