Still in its inaugural year, Canada's newest law school at Lakehead University has launched its student newspaper today.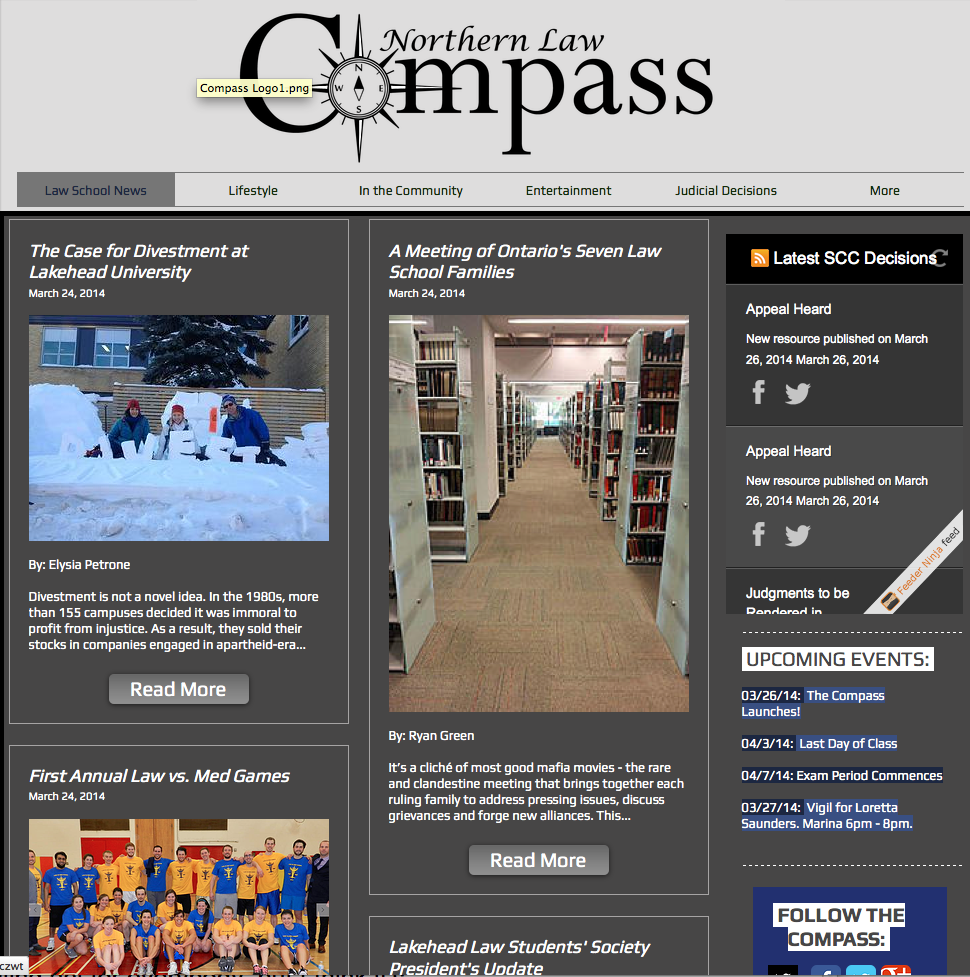 The first edition of
The Northern Law Compass
is available online only and predominantly features coverage of recent law faculty activities.
"We just really wanted to have an outlet for students, whether it be to voice opinions or discuss events that are going on in the law school," says Elizabeth McLeod, co-editor of
The Northern Law Compass
. "We want people to know what's going on and see that we're developing a community and a student culture here."
Recurring features will include a section on environmental law, an aboriginal law column, and lifestyle columns. The publication will also review important recent Supreme Court decisions that set a binding precedent for Canadians.
"We're hoping that this column will be a way for the general public to be [introduced to] recent decisions," says Scott Mainprize, also a co-editor of the paper.
So far, submissions have been made by volunteer student writers, as well as one faculty member. They hope to include local members of the bar in the future.
The team decided together on the appearance of the paper, looking to other some other student publications for some inspiration when needed.
"It's been a long time coming," says Natalie Gerry, the paper's third and final co-editor. "So we're just looking forward to showing everyone what we've designed and I think everyone is looking forward to seeing other student columns and what they've been writing about."
All three co-editors have seen the time they devote to the paper increase since the concept was first imagined in October last year.
"Because we're a new faculty and new small student body, everybody has multiple commitments," says Mainprize. "Everybody is involved with at least one other group within the school community, so it has been a juggling act for everybody, but I think it's been a priority to each of us."
The Northern Law Compass
received funding from the Lakehead law faculty, the univeristy's student union, and Lakehead University Law Students' Society. Funds were used to buy equipment for the production of its web site, as well as general administrative costs.
The editorial team plans to produce a print version of the paper in the future. They will continue to publish stories on the site throughout the summer and an official second edition will be published in the fall.
* Updated March 27 to amend the name of the newspaper