Since its founding in 1984, fund has given grants totalling $4.5 million to over 185 projects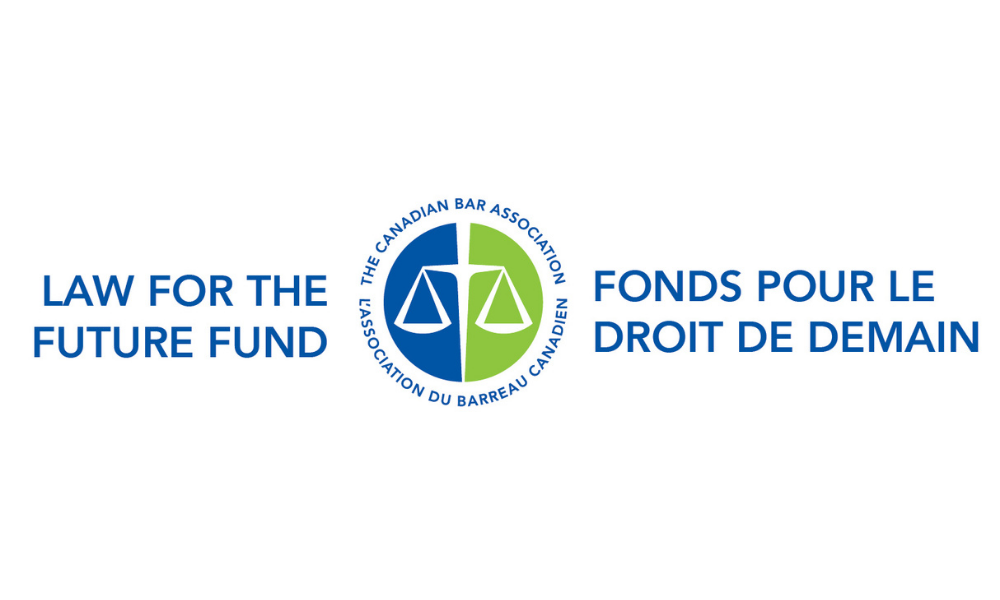 The Canadian Bar Association's Law for the Future Fund has awarded annual grants amounting to over $200,000 to ten initiatives tackling topics ranging from artificial intelligence in the criminal justice system to the law's deficiencies in addressing domestic abuse.
Other funded initiatives concern access to justice, probation supervision, the legal status of human ashes and 21st century consent education for the digital world, the association said in its news release.
The funded projects are:
University of Calgary: Legal Framework for the Use of Artificial Intelligence (AI) Technology in the Canadian Criminal Justice System — $16,174.00
University of Winnipeg: Exploring Probation: How Offenders and their Intimates Make Sense of Probation Supervision — $22,400.00
University of Ottawa, Faculty of Law: Human ashes: (de)composition of a legal status and a legal regime — $18,000
Women's Legal Education and Action Fund: 21st Century Consent Education for the Digital World — $25,000
Aboriginal Legal Services: FASD and the Justice System: A better understanding — $22,800
Thompson Rivers University, Faculty of Law, Justice Epidemiology – Developing a Systemic Approach to Measure and Improve Access to Justice — $13,320
Inclusion Canada: The Access to Justice and Legal Capacity Nexus: Ensuring the Right to Equality — $26,995
Fédération des maisons d'hébergement pour femmes, Is domestic violence a crime? Evaluation of the tools and deficiencies of Canadian criminal law in dealing with of domestic violence — $8,750
University of British Columbia, Allard School of Law: Post-Conviction Disclosure in the Canadian Context — $34,950
University of New Brunswick, Faculty of Law: Establishing the foundation for pay transparency legislation in New Brunswick — $18,850
Every year, Law for the Future Fund has a granting budget of approximately $200,000 and an application deadline of May 1. The fund, since its establishment in 1984, has provided financial assistance of $4.5 million to a total of over 185 innovative Canadian research projects in the field of law.
According to the association's website, funded projects over the years have dealt with issues including the recognition of environmental rights, access to justice in civil and family matters, prostitution laws, women's equality rights, the simplification of basic principles of human rights and ways to make legal organizations more accessible to persons with disabilities.
To be eligible for funding, an initiative should be of national interest and/or of benefit to the general public and should be in the area of legal research, legal education, legislation, and law reform or the administration of justice.
The fund does not offer financial assistance for capital projects, ongoing operating expenses, budget deficits, general fund drives, annual charitable appeals, scholarships, sabbaticals, conferences, seminars or applications exclusively relating to publication costs, equipment purchases or travel costs. It will also not provide funding for permanent commitments made in support of a particular project or funding leading to financial gain to an individual or organization.