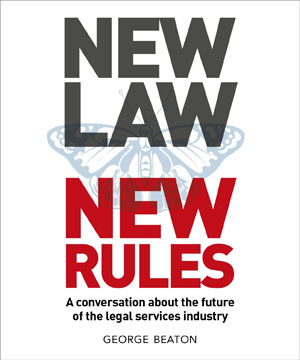 NewLaw, New Rules — A conversation about the future of the legal services industry, by its very nature, shows how much the practice of law has changed. It is dubbed "a conversation about the future of the legal services industry," and while Australian consultant George Beaton is billed as the author, it's really a collaboration between dozens of lawyers, professors, and analysts from around the English-speaking world (including several Canadians, most notably Jordan Furlong).

The logistics of putting something like this together even 10 years ago would have been daunting. However, Beaton and his collaborators compiled enough material for a book after months of stimulating debates and discussions carried out over their blogs, Twitter feeds, and other social media platforms.

The result is a rather informative and thought-provoking e-book that should make every lawyer reconsider how they're running their practice. The past decade-and-a-half has seen many alternatives to the traditional law firm arise — virtual firms, where much of the work is done outside of a central office; firms using fixed fees, as an alternative to the traditional billable hour; even companies like LegalZoom (co-founded by Robert Shapiro, best known for his position on O.J. Simpson's "dream team"), which prepare forms and some online guidance for people who wish to represent themselves.

Beaton uses the term "NewLaw" to describe these developments, and notes a "NewLaw" firm Axiom Law, whose employees work remotely to keep overhead low, is on pace to become the world's largest law firm by 2018 — even though the company would bristle at the phrase "law firm."

NewLaw, New Rules explains how companies like Axiom are much more reliant on technology than the traditional law firm, which may be more likely to baulk at the cost. And they've thrown out the traditional partnership model, instead relying on outside investors and shareholders. In Britain, where new legislation has opened the doors to outside ownership of law firms, commentators have invoked the name of that country's largest supermarket chain to discuss the rise of "Tesco Law."

And yet, if the NewLaw business model is so obviously superior to the way traditional Big Law firms are run, the latter would have been run out of town years ago. But the law firm as we've always known it isn't going away any time soon — in fact, several of the contributors to New Law, New Rules passionately defend the "old-fashioned" model.

The larger firms still continue to attract the top graduates from the most highly regarded law schools, and they still have the resources to navigate the most complex international transactions. And after the Great Recession, they've proven to be a safe haven for those who aren't sure they want to try out a newer, more innovative but less-established legal service provider.

Still, there's no doubt that things have changed more in the past few years than they did in the previous few decades. It's reflected in my own practice — I do quite a bit of my own legal work from my home office or on the road, and the Internet has opened a wealth of affordable (or even free) legal resources that let me access texts, journal articles, and case law without having to open a book. It used to be only the larger firms had the largest law libraries; now, the playing field has been leveled.

At the same time, I've been reluctant to adopt other NewLaw practices, such as flat fees. I can estimate how much it may cost to handle a hotly contested divorce from start to finish, but until the matter is well under way, I can't say how co-operative the other party will be, or whether there will be a dramatic change to the parties' living arrangements (say, a child decided to leave mom's house and move in with dad).

I intend to be in this business for a long time, so I have to do a lot of thinking about how I'm going to conduct my practice in the years to come. NewLaw, New Rules, available in electronic format only, can be a hard, buzzword-heavy read at times, but it helped me see which way the winds are blowing.