The University of Ottawa Faculty of Law common law section's management of students with disabilities is being criticized.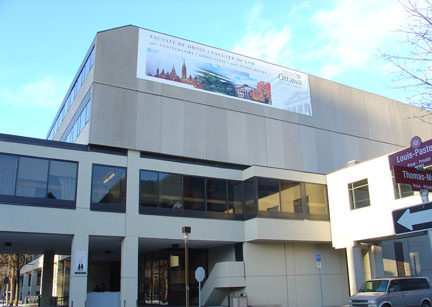 The Centre for Equity and Human Rights, a service provided by the university's student federation that handles human rights matters, has raised concerns about the common law section's handling of student accommodation in a recent
report
.
In the report, the CEHR identified several barriers that common law students with disabilities have faced at the faculty, including difficulty with the accommodation process, the examinations committee's unwillingness to contextualize appeals, and upper management's refusal to consult with student advocates.
The student federation's Student Appeal Centre often works with the CEHR on human rights cases. Mireille Gervais, director of the Student Appeals Centre, says they have several concerns about how the section handles disability cases.
"The common law students that come to the Centre for Equity and Human Rights almost always, if not always, have problems related to the prohibited ground disability," she says. "That's pretty unique. We have a few problem areas that we've identified in the university in other departments, but the common law disability-related problems really have stood out over the past few years."
In particular, Gervais says students are experiencing issues with the accommodation process, which she says is quite confusing.
The University of Ottawa has a central office called Access Services, which deals with students' medical documentation and then issues an accommodation letter for students to show to their professors. But the common law section also has its own equity and academic success manager, who students are told to meet with.
"The web site says that students can choose to go through one or the other, which is a strange practice," says Gervais. "It also means that confidential medical documentation is held within the faculty and it creates the concern that it could find itself in the student's academic file, which it really should not."
The common law section needs to make the process clear and uniform for all students, she argues.
Another issue is that the faculty claims it does not have jurisdiction over human rights matters.
"Whenever a student puts a human rights-related concern in a letter of appeal, the faculty has told us that they do not have the jurisdiction to consider human rights-related matters, which is a huge problem," Gervais tells
Legal Feeds
.
"It's their duty to look at these human rights-related arguments. And so to have appeal committees that are not trained in human rights matters and who refuse to have that perspective and that approach and consider their legal obligations in that regard, it really leaves students at a disadvantage."
Another point of contention centres around outgoing common law dean Bruce Feldthusen's refusal to meet with the Student Appeal Centre to discuss these barriers.
"We've tried to meet with the dean and even the assistant dean to share these concerns on more than one occasion and there has been a complete refusal to meet with us," says Gervais.
The CEHR report states that it hopes to have better relations with incoming common law dean Nathalie Des Rosiers — who begins her term July 1.
The report recommends the common law section review its accommodation practices and policies, create a new openness to meet with advocates, and train appeal committee members on how to properly handle human rights cases.
"It's always surprising for me as an advocate to see that the part of the university that should be the most knowledgeable about their legal obligations is the section where we're facing the most resistance," says Gervais.
"As such, I really hope that this report will lead to a change of heart in the way these matters are dealt with and seen. We really hope that we'll be able to work with the common law section to make sure that students with disabilities aren't left behind."
Update: 3:27 pm:
In an e-mail, the University of Ottawa Faculty of Law said, "We have no comment at this time."