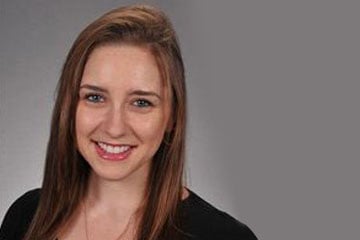 NEW YORK — While tech disruption and innovation in the legal market is causing law firms and in-house departments a lot of pain as they try to adapt, no other one trend has been quite so vexing as recent political challenges including the new administration in Washington and the Brexit vote.
"What we consistently hear is that the impact of political and economic disruption is their single biggest concern," said Daniella Isaacson, senior analyst with ALM Intelligence, who speaks regularly with managing partners, general counsel, vendors and consultants in the legal sphere.
Isaacson was speaking together with Nicholas Bruch, senior analyst also with ALM Intelligence, as part of the opening address to the Legaltech conference in New York City today.
Bruch said the biggest concerns for firms and in-house departments are around things they can't control and regulations are just one big piece of that puzzle.
"If you look across the world, you see this very clearly if you look at the two biggest markets — the United States and the U.K. — what we see is uncertainty. I think it's safe to say there is a lot of uncertainty over the new administration," said Bruch, referring to the Trump presidency in Washington. "In the U.K., it's Brexit that is driving it. We also see a similar story in the EU, in the Middle East and in future of U.S.-Asia trading."
The global CEO of Dentons, Elliott Portnoy, who appeared in a video as part of the presentation, agreed that regulatory uncertainty is good for business but comes at a time when firms face many other challenges.
"The most consistent theme I hear from clients is that their greatest concern is regulatory uncertainty in key markets and that does create more work for our firm and others but comes at a tricky time for the industry," he said.
Given this world of uncertainty is one in which law firms and increasingly many in-house legal departments live and work, and as lawyers are also risk managers, the state of the world should not be viewed as a threat but an opportunity to serve as advisers in difficult times.
"For law firms, it means more questions, more clients, more billable hours. For law departments, it's an opportunity to showcase your abilities to the broader organization," said Isaacson.
Portnoy said firms like Dentons need to be "far more nimble, far more agile in adopting the same innovation strategies that our clients are using."
New competitors providing new services are also a threat — not just other law firms competing with each other but also in-house departments competing with law firms and service providers particularly who are creating something entirely different with artificial intelligence, blockchain and machine learning.
Bruch also noted that the in-house departments are also under pressure and are rapidly changing how they source services. There are companies leveraging non-lawyers, virtual lawyers and contract lawyers. ALM Intelligence data shows 80 per cent of law departments are in-sourcing more and 40 per cent are decreasing their use of law firms, while 70 per cent are increasing their use of alternative service providers.
Isaacson said firms can save millions by moving to shared service centres or from re-engineering staffing.
At an earlier session with ALM editors, top trends discussed included a move at some firms with regulatory practices taking on social media work for clients in a model that doesn't require the staff involved to bill hours. This signals a move toward firms generating revenue in different ways and having to determine how partners take that revenue home.
Requests for proposals also continue to determine who gets work. Often defined as "Flintstone or Jetson" firms — those who demonstrate they are using technology and better understanding how a company works are winning over the Flintstone firms. In one instance, a firm lost a bid when it proposed addressing certain matters by going to trial even though the company had expressed no interest in arriving at a solution that way.
Analytics were also highlighted as a big driver for law firms this past year. There is also a trend toward consolidation in the e-discovery sector, while cloud technology has seen a slower adoption. It is expected that artificial intelligence will pick up speed in the next year or two.
Legaltech continues tomorrow and Thursday.