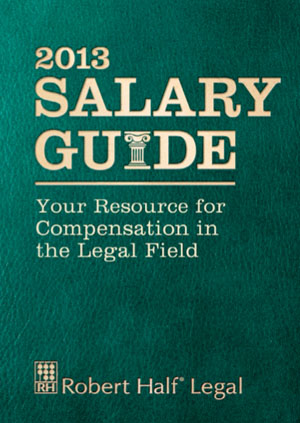 Canadian legal professionals can expect an average pay hike of two per cent next year, according to a projection by
Robert Half Legal
released yesterday.
Average starting salaries for associates are expected to increase by 1.7 per cent in 2013, the annual salary guide projects. Although salaries vary by region, Ontario's numbers aren't much different from the national average, according John Ohnjec, division director of Robert Half Legal.
With a 3.7-per-cent increase in base compensation, licensed lawyers with four to nine years of experience at mid-size law firms will see the biggest boost. The projected raise will bring their salaries to a range $108,000 to $196,500, according to Robert Half Legal.
"Firms are realizing that the economy is recovering and that it's necessary to retain these lawyers, that it's best to keep them happy," says Ohnjec.
The 2013 salary guide says small and mid-size law firms are "doing much of the hiring." They're looking to recruit lawyers who have an extensive client base and can help them secure new business relations.
"Lawyers with three to five years of experience in high-demand specialties, such as general business and commercial law, labour and employment, and litigation, are particularly marketable," the guide says.
But the recent salary growth isn't nearly as remarkable as the numbers in pre-recession times.
In 2006, Robert Half projected that lawyers with four to nine years of experience at a law firm with 10 to 35 lawyers could expect an 8.8-per-cent salary increase. That's almost double what the same professionals will likely get in in 2013.
The recent upward trend doesn't mean we can be sure we're going back to good times either, Ohnjec says.
"It's encouraging to see what we've seen in the last year but it's difficult to say if we're climbing back up or taking one step in a long, arduous climb," he says, adding it will probably take another year of steady growth to get a better sense.
Robert Half Legal's projection also says starting pay for paralegals or law clerks at law firms will likely increase by 2.4 per cent. Paralegals with more senior positions can expect a 3.5-per-cent raise, bringing their annual compensation to a range of $51,750 to $68,000.