More than one quarter of general counsel today are grappling with data breaches and it turns out Canadian in-house lawyers are more willing than their peers around the world to report them.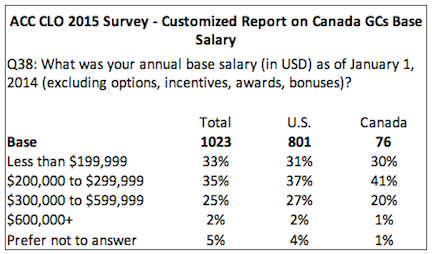 According to a recent Association of Corporate Counsel
2015 survey of chief legal officers
, one in four CLOs reported experiencing a data breach within their organizations over the past two years.
CLOs in the health care industry were most likely to report a breach compared with all other industries, and CLOs from Canada (41 per cent) were most likely to report a breach when compared with CLOs in Asia Pacific (14 per cent) and the United States (26 per cent).
The survey, which includes responses from 1,289 individuals in 46 countries, revealed that 27 per cent of CLOs and GCs work at organizations that have experienced a data breach in the past two years. The likelihood that a company experienced a data breach increased to over 50 per cent among companies with more than $4 billion in revenue, according to the survey.
Of the 1,043 respondents to the 2015 survey, who answered the question "in which country is your office located?" 79, or eight per cent, reported they were based in Canada. CLOs based in Canada provided the second-highest response rate.
Although CLOs from the telecommunications, transportation, professional services, and educational services industries all reported their companies had experienced data breaches at higher-than-average rates, health care led all industries in data breach prevalence. According to the survey, 49 per cent of health care industry CLOs said their companies have experienced breaches since 2012.
Canada also leads other nations with regard to women in legal positions, according to the survey.
In all regions of the globe, males made up the majority of legal staff within companies and organizations, except in Canada, where the percentage of females in legal positions was 54 per cent.
However the news wasn't all good for Canada — in North America, Canada reported higher cuts to legal staff than the United States.
The majority of CLOs in the survey reported an annual base salary that falls between $150,000 to $399,999, with almost 11 per cent making $400,000 or more per year. However, some variation in base salary was found between those who identified as a member of a minority or underrepresented group and those who did not, and between male and female CLOs.
When looking at total compensation, female CLOs were significantly more likely than male CLOs to report total compensation less than $200,000 annually (26 per cent versus 19 per cent). Men were more likely than women to report total compensation packages of $600,000 or more (21 per cent versus 14 per cent) and seven percentage points less likely to receive compensation packages of less than $200,000.
When it comes to other issues keeping CLOs awake at night, 96 per cent rated compliance and ethics an important issue for 2015.
Compliance was the top practice area for hiring over the past year with more positions created over the past 12 months in Latin America (33 per cent) and Asia Pacific (30 per cent). An average of 13 per cent of a CLO's time is spent ensuring company is in compliance.
Hartland Paterson can relate to those numbers. Last year the general counsel for CAE Inc. in Montreal added chief compliance officer to his title. CAE is a manufacturer of simulation technologies and training services to airlines, aircraft manufacturers, defence and mining companies.
"I was doing half the job anyway by accident rather than by design. It's not that I think the company has become riskier in the last decade — I would argue it's become less risky — but I have seen the enforcement environment get so strong in the last decade," he says. "No week goes by that I'm not thinking about compliance a fair bit."
As he has been with CAE for 14 years, he felt he would have a better grasp for the issues rather than splitting it off as a separate hire.
"I know there is a lot of writing saying it should be separate from legal but some of that I feel is a bit self- interest — people who want to be a chief compliance officer and create a new C-suite level position," he says. "We decided to take a more organized approach and it's been good."
In fact Hartland says there's been some good financial payback for the company by adding the compliance role.
"I thought compliance would be purely a cost centre but we've actually found cost savings.
When it comes to alternative fee arrangements, in large law departments (25+ employees), 53 per cent used flat fees for entire matters compared to 36 per cent in departments of 25 or less.
41 per cent of CLOs reported use of flat fee for an entire matter — a decrease of about seven per cent from last year, while use of periodic retainer fee for a portfolios and flat fee for portfolios increased.
Department Spend: on average, five percent of CLOs reported plans to make significant decreases in their total budget, with seven per cent in outside spending compared to two per cent in inside spending.
More than 40 per cent of the average CLO's budget comprised of internal legal sending.
Update 4:47 pm: New graph added.