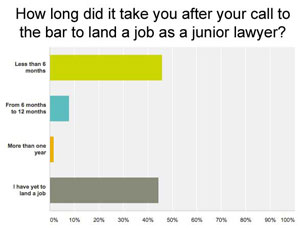 Finding work in the legal profession after graduation can be tough, with a recent survey showing just 46 per cent of law grads in Ontario and Quebec found meaningful work in less than six months following completion of their articles.
"The statistics are not as bad as some people may feel they are," says
Law Job Exchange Group
founder Nikolitsa Katsoulias, who says she has heard some horrible statistics in the past. "I thought it was a lot worse."
The Law Job Exchange survey of 81 new lawyers painted an "encouraging" picture of the industry, says Katsoulias. She was careful to note that while the results were positive for about half of the small group surveyed, the other half are "still looking."
Of those surveyed, 61 per cent reside in Ontario, 34 in Quebec, with four to five people from three other provinces, says Katsoulias. Of those who completed the survey, 80 per cent were called to the bar in 2015, while another 20 per cent were called between 2013 and 2014.
The survey, conducted in December, also found that 85 per cent of respondents were paid while articling.
Katsoulias is also a recent law grad and hopes to join the successful half of those who are employed after she takes the Quebec bar exam this spring.
As someone who found finding summer positions at law firms relatively easy, Katsoulias was inspired to launch the Law Job Exchange web site.
In her second year of law school, Katsoulias started a law job exchange Facebook group. "My friends, my colleagues always ask me, 'How do you get all these jobs?' and I decided to just share jobs that I found online or any leads that I had regarding summer jobs or articling," she says.
The Facebook group quickly became a community support group with other students sharing job posts they were either not interested in or weren't qualified to do. The group also served as a discussion forum about bar exams and the interview process, she says.
The Facebook group turned into a web site after a student who had trouble finding an articling job offered his brother's help building the site if Katsoulias agreed to help him find a job. She helped him make his resumé and cover letter and look for a position.
The site has 5,000 registered users and its success is largely due to filling a need, as well as putting a positive spin on the law job search process.
"When you first go to law school, there is a lot of this competitiveness, especially when you think about people trying to get into the big law firms, and no one is really helping," says law grad Philippe Guiton who now works for Barrett Tax Law in Ottawa.
Many law students have a similar experience. Guiton shares the sentiment of another law student who recently told him "it almost turns you off of the law profession… when you see all these young prospective lawyers kind of working against each other for the future jobs."
While Guiton has found the Law Job Exchange to be helpful in many ways, his present job lead did not come from the web site.
But for many other law students, the site has been a good place for finding legal work.
Rishani Vettyvel, who graduated from a law school in the United Kingdom and completed the LLM at Osgoode Law in 2014 and is currently finishing her articles, actually found her first summer position with a law firm on the web site, which subsequently helped her land an articling position in Toronto.
The web site is not for profit and there are no fees associated with registration.
Katsoulias works on growing the site by going to networking events to find unofficial job leads. "As you know, most jobs are not posted, and you might apply to an opportunity that nobody else saw," she says.