McLeish Orlando's Patrick Brown on how he built a stellar career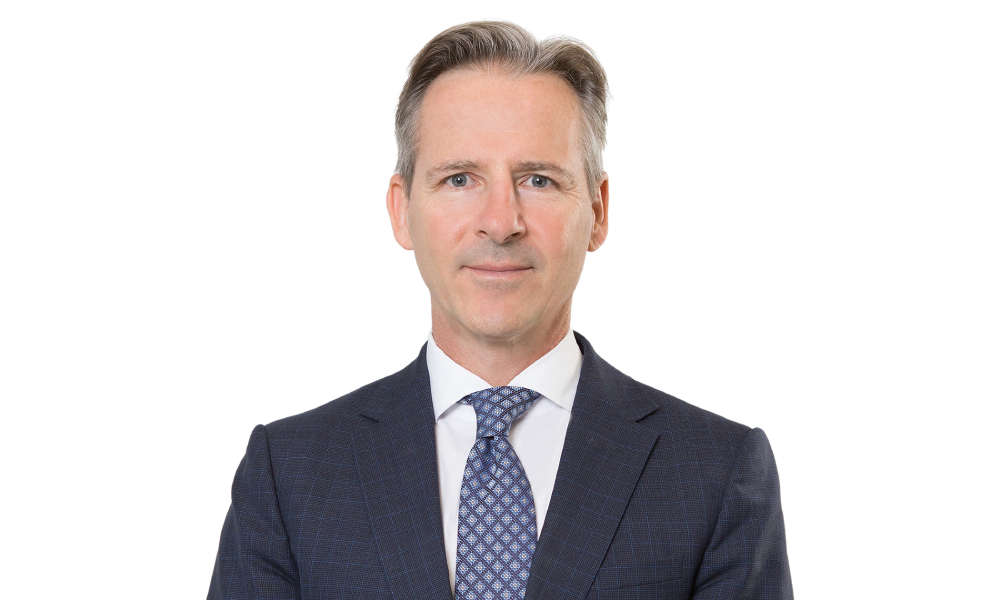 Sponsored content
When Patrick Brown first started out, he would attend court hours early and "watch, listen and learn as best I could." Now twenty-five years into his career, Brown, a principal partner at McLeish Orlando LLP, may not show up to the courthouse so far in advance — but the principle behind it stands.
"It goes without saying that if you want to excel at anything you need to work hard, but you also have to be willing to watch, listen and learn," Brown says. "That type of attitude in relation to all aspects of litigation is key."
Brown didn't initially want to be a personal injury lawyer — in fact his goal was to do criminal law — but when he started to practice he found plaintiff civil litigation was a great fit. He got to be in court, didn't have to send clients a bill until the end of the case and enjoyed the fact that his clients were so grateful. After a few years, it was all he did.
"You might not know at an early stage what you really like, but when you do find it, pursue it," Brown says. "If it requires taking a risk — take the risk."
While client hugs and thank you cards are still an element of what drives him — "Of course you love the end game when people are happy and you've made a difference," Brown notes — over the years he's leaned into the litigation and advocacy aspects of his role. His practical education began with a good mentor who allowed him to roll up his sleeves and work with them at various stages of litigation, and that "was a huge change for me in not only becoming better at what I did, but enjoying it and thinking I was doing it the right way," Brown says.
There's no substitution for simply diving into the role: getting a number of years under his belt made Brown a better litigator, and he takes what he learns from his cases and applies that expertise to the community. Whether it's pro bono work, advocating for legislative change, sitting on boards that promote safety like the Ontario Safety League or running organizations that promote cycling safety, "all these things intermingle in my law practice as an advocate," he says.
Learning from experience also honed his ability to make decisions, a critical skill in doing his utmost best to represent his clients. Communicating clearly about their case, ensuring they understand the risks involved in litigation and helping them make decisions that work for them is what it comes down to, he says.
"You never have enough information coming at you to feel you can make the ultimate right decision, but you gather as much as you can and share it with the client to assist them. That's what makes me a good advocate — the ability to make decisions."
While he's had cases over the years that received a lot of attention, those aren't the ones that stand out to Brown. Looking back, the Williams case that went to the Court of Appeal and affirmed the door on social host liability was not closed "definitely pumped me up," he says, because it had larger implications that "hopefully reduce the number of people hurt or killed by drunk drivers, which is a problem in our society."
Another case that stands out involved Eva Ravikovich, a two year old who died at a daycare in Vaughan. Brown maintained a successful action against the Ministry that lead to an overhaul of the laws regulating Ontario's daycare system, making it safer for children.
"Many families have benefitted— and will benefit — from that case," Brown says. "It's not about the high profile cases, but about the ones that make a difference."
Attracted by their philosophy for the firm, which he shared, Brown joined Dale Orlando and John McLeish 20 years ago. McLeish Orlando is not a volume operation: they want to "ensure every file that comes through the door gets quality representation," he notes. The only way to do that is to attract and retain the best people to work with them, which they achieve by investing the firm's capital to "ensure we had a large, dependable, high-quality staff and a commitment from everyone to be strong advocates in the courtroom."
McLeish Orlando was built on a team approach, where everyone has a role to play in the quest for a successful outcome for clients and every position and person matters. Brown says he never wanted to work in an office where he was referred to as Mr. Brown or had to refer to others with certain designations as "you don't get the best results from that type of hierarchy. We want to come to a place we sincerely enjoy."
Brown also became more involved with the business side of running the firm, learning about marketing issues, accounting processes and staffing and human resources elements as well as the importance of having solid technology in place, such as a time management system and document software.
"There are a lot of moving parts in firms like ours, and you have to get good at those as well as the law," he says.
That willingness to watch, listen and learn forms the foundation of Brown's successful career, and while there's no one standard of success in the profession he recalls a phrase someone said to him long ago that still resonates: the biggest fear is fear itself. And the advice he gives to combat that, regardless of age or stage, has also stood the test of time.
"From the seminal, unreported case Nike v. Nike," Brown laughs. "Just do it."