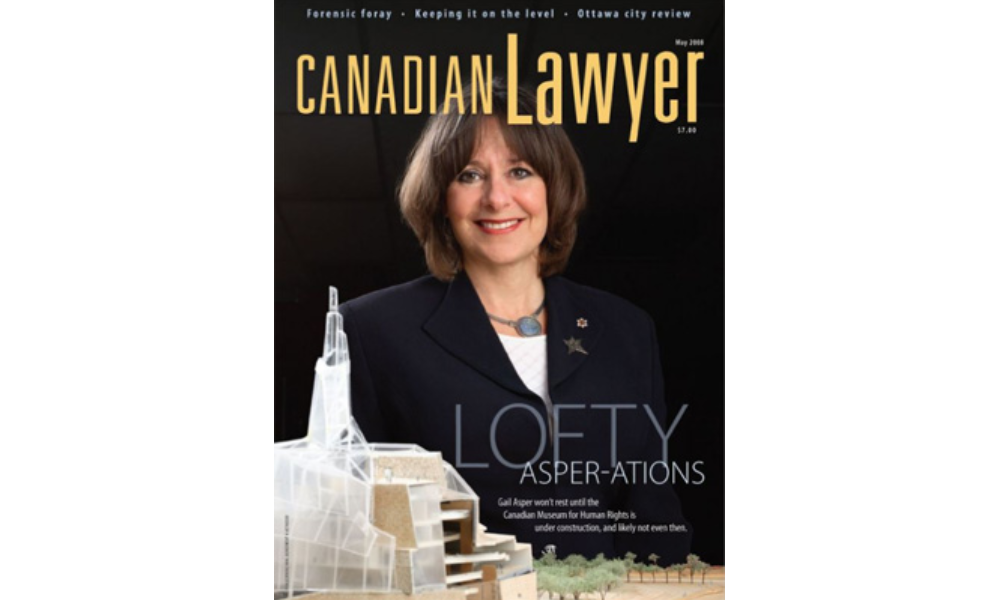 Gail Asper is clutching a metallic, Thermos travel mug of coffee with her left hand and, with the other, swinging a bulging crimson purse near an electronic security pad by the door leading to the Canwest Place underground parkade.
"Don't tell me I don't have the right keys," she groans, turning the handbag this way and that near the gray square, hoping her security card buried beneath the cosmetics and cellphone will trigger the mechanism and open the door. "Come on," she commands, and it relents. We buzz through and head to her cherry-red, hardtop convertible BMW. Trained as a lawyer in a family of lawyers — including her late father Israel H. (Izzy to most) and brothers David and Leonard — Gail is a live wire. She plunks the purse onto the trunk and fishes out her keys, telling me how she wanted a Porsche but that 20 years ago, when she went car shopping, the Porsche people were condescending and aimed the sales pitch at her husband instead. Fools. He's the reliable sedan type.
"Do up your seatbelt," she says. "We've got five minutes before the luncheon and we're 15 minutes away. We'll have to hurry." Seatbelt? Where's my helmet? The woman snaps through downtown Winnipeg traffic like a fuse.
We get to the hotel convention centre a mere three minutes late — everything bends to Asper's will, even time it seems. She marches into the lobby in navy, slingback stilettos and asks the first lanyard-yoked man she sees if he knows where the Mel Myers Labour Law Conference is. He points down the hall to where crowds are disgorging from a room. "I hope it's not over. Did I get the time wrong?" She hastens forward. "Hi, Gail," a man says, and suddenly she's swarmed. Someone's taking her coat and introducing her around. She's cutting jokes, shaking hands, inquiring after friends, doling out credible good-to-see-you-agains, and then mentions, a little self-consciously, the henna tattoo on her left hand. "I got it at my friend's 50th birthday party," she explains. "I didn't think it would be this dark."
Paul McKenna, a partner with Myers Weinberg LLP, which hosts this annual not-for-profit conference, ushers her into a room of 200-plus union executives, labour reps, board members, and a smattering of labour lawyers. "Is there coffee on the table?" she asks. "I hope there's coffee." We sit down near the podium and tuck into lasagna and caesar salad, her left hand holding both a knife and pen for last-minute speech edits.
Halfway through lunch, McKenna indicates it's time. She presses a napkin to her lips, grabs her speech, and awaits her introduction. The morning's miasma of conference calls and management meetings at her office, the signing of papers, questions posed and answered, the migration of file folders, the roving, half-finished conversations in hallways — "Don't forget to invite so-and-so," and "Gail, do you have a sec?" — drains away.
Gail Asper is here for one reason, the only reason she goes anywhere or talks to anyone these days, including this magazine: to spread the word about, and gather remaining dollars for, the Canadian Museum for Human Rights, an architectural and cultural coup for Winnipeg and the last major unfinished business of Izzy Asper. This year, Myers Weinberg is donating conference proceeds to the museum, so she's here to say thanks and point out that labour rights are human rights and deserving of space at this new institution.
Three levels of government are supporting the $265-million museum project with cash, land, and other in-kind donations, and the legislation that sanctions Canada's first national museum since 1967 — and the only one outside the Ottawa region — received Royal assent in March. But the Friends of the Canadian Museum for Human Rights and Asper, its national campaign chairwoman, are still short about $16 million in private fundraising. (The Asper Foundation gave $20 million.) Cruising into the home stretch of this seven-year relay from father to daughter, Asper is barely breaking a sweat. She's got a number of generous promises outstanding and, as surely as the Golden Boy shines above Manitoba legislators, she'll collect. "Once I had to say no to Gail, and believe me, it wasn't an easy task," says Winnipeg mayor Sam Katz. "I didn't sleep that night."
Growing up the middle child of Israel and Babs Asper — David is the eldest by one-and-a-half years, Leonard is four years her junior — in Winnipeg's tony River Heights neighbourhood and whiling away summers at their Falcon Lake cottage with comics and junk food, Asper was content and comfortable. The only Jewish kid in her public school class, she was always called upon to explain Hanukkah. Izzy, a tax lawyer with Pitblado Buchwald Asper, ran for leader of the provincial Liberals, in 1970, and won. But much to young Gail's disappointment, the nomination was held Halloween night. The Asper kids and their friends had to forego free candy to parade around the conference room, singing their dad's campaign anthem, "Let the Sunshine In," from Hair.
Asper wanted to be a schoolteacher but dad had other plans. After graduating with a BA from the University of Manitoba, he persuaded her to go to law school. Law, he told her, was a calling card: proof of tenacity and brains. "Even if you never practise a day in your life," he suggested, "you will never regret having this education." She yielded, applied, and was accepted to the U of M's law school, where she studied without distraction, since boyfriend Mike Paterson was in Indiana pursuing a master's degree in science. When the two completed their degrees, Paterson got a PhD offer from Dalhousie University in Halifax, so they married and moved east.
"I was a Prairie girl by the ocean, with the fish and the seaweed, the fog and kelp," she says, laughing. We're sitting in her Asper Foundation office, a private charitable foundation halfway up 31 floors at Canwest Place on Winnipeg's storied Portage-and-Main corner. She is managing director. Her desk is obscured by paper and, next to it, her briefcase: a small suitcase on wheels with its retractable handle still aloft. A blue leather swivel-chair is cloaked in Post-it notes and printed e-mails, a trick her assistant employs to ensure the boss reads them before sitting down. Asper chooses a different chair and the storytelling begins.
"My first day in Halifax, I'm walking around, door-to-door, going for interviews to all these firms, and it's April," says Asper, who will be 48 this month and is mother to Stephen, 17, and Jonathan, 15. "It's about three degrees Celsius and it's horrible sleet. I'm trying to look my best but my hair is becoming plastered and frozen and I look so bedraggled walking down Barrington Street. I'll never forget it." She articled with Cox Downie & Goodfellow and then landed an associate's job the following year with Goldberg MacDonald (now Goldberg Thompson) where she practised corporate-commercial and real estate law from 1985 to 1989.
"I do remember her. I was young and a bachelor then, and she was very attractive," Walter R. E. Goodfellow says, laughing at his candor. He's on the phone from Nova Scotia, where he is now a judge with the Nova Scotia Supreme Court and the Court Martial Appeal Court of Canada. "She was intelligent and had a keen interest in people. A lot of students are intelligent but they don't have a grasp of human nature and they don't have an interest in the human aspect," he says. "I'm a firm believer that if you deal with the people aspect of law — criminal, family, estate work, that kind of thing — it hones your judgment."
Victor Goldberg got to know Asper well in four years and remains friends with her today. "I remember the first transaction she helped me on was the sale of this establishment in the north end of Halifax. I took Gail up with me. For some reason, we had to visit the site," says Goldberg, from his Nova Scotia office. "It was a combination massage parlour and S&M establishment, and the proprietor, who had these 40-inch nails, was giving us the tour. In one of the rooms, there were handcuffs. I mean, you can just imagine." Asper shakes her head and smiles. "I think her name was Misty Lee. It was an eye-opener extraordinaire, but funny. She was really an extravagant dresser. Hey, this was a city of brothels and sailors and still is," she says. "There was never a dull moment at that firm."
Life was civilized then. People opened actual mail, took lunch breaks, and rarely worked evenings. "I remember I was working on some transaction and I was there at 10 o'clock at night for several nights in a row, and one of the partners said, 'Here's the rule: you can do this two or three times a month, but I don't want to see it becoming the norm. You have to have a life.'" She considers those years in Halifax some of her best, helping enthusiastic entrepreneurs get ideas rolling and absorbing Maritime history and culture. She also gained confidence in a place where people didn't know her father or the increasingly prominent Asper name.
It's sunny and three degrees in the Manitoba capital. Cars and pant cuffs are splattered with khaki meltwater, but nobody's complaining. Nothing makes this city giddy like a warm day in March and the Brier. Special Brier buses ply the streets. Clusters of flag-waving fans bustle about like patriotic gangsters. Ubiquitous TVs broadcast those telltale concentric circles. Curling is officially hip.
It's an apt metaphor for the city itself. Winnipeg has endured its share of name calling since the grain-trade heyday at the turn of the 20th century. The cosmopolitan "Chicago of the North" became "Winterpeg" and "Murder capital of Canada." Eschewed by the East, adopted orphan to the West, there it is: middle-of-the-road Winnipeg. But the city's cool again. Trendy shops and restaurants crowd The Forks and Osborne Village. Revitalization of the derelict Exchange District, now a national historic site, has attracted budding artists, nightclubs, community groups, cafés, and galleries. A labyrinth in honour of late author Carol Shields is set to start blooming this spring, and the Conference Board of Canada predicts Winnipeg's economic growth rate, at 3.4 per cent, will be third-highest in the country this year, after Calgary and Edmonton.
If you ask politicians and other local power brokers, they'll tell you the Aspers and Canwest Global have contributed much to the city's invigorated success and pride. Say what you want about the perils of one company owning most of our daily newspapers and Global TV — and critics do say a lot about homogenization of news, local media vulnerability to bottom-line corporate management, and a broadcast mentality superimposed on newspapers — there's no denying what the Aspers have done for this city, not the least of which was to stay here.
"Did Izzy throw his might around a little bit? Sure. He was a self-made man. But at the end of the day, he's done more for the city and province, probably, than he did for himself," says Bob Freedman, CEO of the Jewish Federation of Winnipeg. David Asper's recent $7.5-million donation to the University of Toronto's Faculty of Law notwithstanding, Winnipeg gets a fair share of Asper benevolence. Canwest employs roughly 450 people in the city and has donated, on average, about $1 million annually to local hospitals, universities, social agencies, sports facilities, arts organizations, Jewish causes, and other recipients, not including the $10 million each Izzy donated to the Winnipeg Foundation and the University of Manitoba in 2000. The Aspers are like a Prairie royal family, only less prim.
Asper never planned to join the family business. When her dad called, in 1989, asking her to join Canwest as general counsel, she was reluctant. David was starting law school and Leonard was just finishing up his arts degree. Izzy was nearing 60 and needed someone to learn the ropes while he could still swing from them. When she was a kid, Gail earned quarters shining her dad's shoes once a week. That image lingered in 1989.
"You're essentially going back to working for your dad, shining his shoes again, and getting an allowance/salary. I was concerned. If it didn't work out, how do you separate the business fallout from the family?" she says. But her colleagues in Halifax encouraged her to try it out, promising her a job if she ever came back. With safety net secured, she and Paterson returned to Manitoba. Paterson, a limnologist, got the perfect job, at Winnipeg's Freshwater Institute, as lead scientist for the Experimental Lakes Area. Asper's first day on the job was similarly auspicious. After a protracted legal battle between Izzy Asper, who then owned half of Global, and Seyton Ltd., comprised of Paul Morton and Seymour Epstein, which owned the other half, a judge dissolved the partnership and offered Global up in an auction between the two parties. The Aspers won that auction in December 1989, becoming sole owner of Global Ventures Western Ltd. and subsidiary Global Ventures Holdings Ltd.
The pace of life accelerated thereafter: Canwest went public and then international. Asper accepted the added role of corporate secretary, recording board minutes and capturing the "flavour" of meetings. Her father insisted she be meticulous and thorough in case they got subpoenaed in court. The advice was prescient. Her minutes from the 1990s were recently examined in court in connection with some remaining Morton/Epstein litigation.
Alongside managing the legal team, she handled investor relations and liaised with the board of directors. How corporations are governed, and the relationship between board members, managers, shareholders, and other stakeholders, came under greater scrutiny in the 1990s, and Canwest was not immune. "We were always being looked at with concern because we didn't have enough independent directors, we didn't have a separate CEO and chairman, and there were these reports coming out attacking the right of the majority shareholder to have a say on the board," she says. "I was constantly writing submissions to defend the role of the entrepreneur."
I'm walking through the cubicle-sectioned administration offices of the Manitoba Theatre Centre, eyeballing the tapestry of theatre posters, cast photos, media clippings, and stranded stage props on my way to the boardroom with artistic director Steven Schipper. Gail and Izzy Asper had more in common than law and the Order of Manitoba. They were both musicians and performers. At age 19, she attended the then-Banff School of Fine Arts to sing and act and dream of Broadway. But acting would be a struggle, she concluded, and it might never pay off. When she returned to Winnipeg in 1989, with five years of legal training under her belt, she had no plan to revive her inner thespian. She did, though, precisely because she was a lawyer.
Every year, in conjunction with the Manitoba Bar Association, MTC puts on a community play fundraiser with the entire cast composed of lawyers, Crown prosecutors, and even judges. The play is performed over several nights in April, at the Warehouse Theatre, and in the past two decades has raised more than $500,000. Her first audition landed her a part in Twelve Angry Jurors, a gender-neutral adaptation of Twelve Angry Men. "The thing I remember about her audition and her work — and, by the way, I never flatter; I only compliment — was that she could easily pursue a professional career in theatre," says Schipper. "She gets what it means to be in the moment. She has a lot of talent, and the same charisma that works for her offstage is lit up onstage." Since that first show, Asper has played many roles, including Nurse Ratched in One Flew Over the Cuckoo's Nest.
Allan Fineblit remembers seeing her as Nathan Detroit's girlfriend, Miss Adelaide, in Guys and Dolls, about 10 years ago. "Gail was born to play that part. She was absolutely fabulous. It suited her to a T," says Fineblit, CEO of the Law Society of Manitoba, who once worked at Izzy's law firm. She's not the only actor among city advocates, he says. "They're all hams. That's why they do it; they love to perform." And not just on stage.
Freedman says it was near Christmas two years ago when Gail Asper presented her annual report to the Friends of the Canadian Museum for Human Rights. "Gail gave her report by singing it to the tune of some Christmas carol — Rudolph or something like that. Were people taken aback? No. That's Gail. They almost expect it of her."
Asper still marvels at the opportunities afforded her by the law. "My legal training was absolutely kismet, fate," she says. "Because I was a lawyer, I could audition for MTC, so I auditioned and the next year they asked me to join the board." That lead to her MTC board presidency from 1996 to 1998, during which she learned about fundraising, capital campaigns, and managing volunteers — the very skills she requires today for the museum project. "So it was the law which helped me get involved again in arts and culture," she says. "It opens doors."
It also opens your mind to periodic indignation. A longtime member of the Women's Legal Education and Action Fund and keenly interested in the feminist aspects of family law, Asper despairs how some women are shortchanged during a divorce. Take, for example, a woman who chooses raising children over becoming partner with a law firm. She takes 10 years off or works part time and finally becomes partner at age 45, instead of 32. Then hubby wants a divorce. Her savings are fewer, her RRSP contributions are lower, and she's lost 13 years of partnership wages. That lost capacity should be capitalized and form part of her settlement, says Asper. "But there was a case where they said, no, they would not give a lump-sum settlement to recognize that forever-lost income," she says, more than a little perturbed.
The history of women's rights in Canada will likely be included in the Canadian Museum for Human Rights, which, if the money's in place, could be open by 2010. But will the women's portion include the right to abortion? What about the right of two women to marry? The wrongs perpetrated upon Japanese Canadians during the Second World War and upon native children absconded to residential schools are fairly cut-and-dried. But other issues, like homosexuality, abortion, and whether Palestinians have a right to their own state, are still blurry to some.
"Canadians want to see balance. They want to see both sides of the story. They don't want to feel there's an agenda in place. You can't be willfully ignorant that these things are still controversial," she says. "Many people believe that gay marriage is not something that should be in Canada but it is. So we're trying to put forward the view that there should be an objective, journalistic laying out of the facts." Even, she says, when it comes to Israel and Palestine. "I'd think you'd want to have an objective discussion and what I mean is, making sure that the facts and the context are put forward."
A board will soon be struck to begin deliberations on which stories the museum will tell, and how. She's hoping for a seat on that board, but other than that, her influence will wane and a curator will be hired to assemble a unique, international, dialectical collection. Then maybe, say her friends and colleagues, she'll take a break. "I think she's a tremendously focused, energetic woman and a well-rounded human being," says Emöke Szathmáry, president of the University of Manitoba. "We don't want her to burn out too soon. She's a candle that has to stay lit and burning for a long time."
Asper was in law school when the Canadian Charter of Rights and Freedoms became law. It was the Charter, she says, that spurred her interest in human rights and, later, her passion for the museum. "Lawyers have a special understanding of the legal system, and human rights are very much tied into the laws of the land. And as people who make their living by ensuring there's a system that respects the laws and respects the individual, we have a special understanding of the importance of human rights and the sacredness of an independent legal system and an independent judiciary," she says.
When she committed herself to establishing the museum — lest, as Freedman says, "Izzy's arm reach out from the grave and strangle her" — Asper relocated from the opulent, softly lit and spacious Canwest corporate headquarters on the 31st floor of Canwest Place to the more austere, fluorescent foundation offices on the 15th. She ceased being general counsel several years ago and just recently divested herself of the corporate secretary title as well. Aside from managing the family's personal stable of lawyers, accountants, and other professionals, she is fully occupied by the museum and the Asper Foundation. For now.
Before I depart, she is keen to show me where the museum will be built but we must climb 16 floors for an unobstructed view. Her staff, anxious to corral her for a meeting, stand paralyzed as she breezes past, beckoning me to the elevators. Having spent a few hours with gale-force Gail, I understand their look of helpless defeat. We disembark at the 31st floor and ascend a final staircase to the glassed-in penthouse with it's rarely used Israel H. Asper memorial boardroom, kitchen, bar, pool table and couches. "This would make a great nightclub," she says, drawing the blinds to reveal a spectacular view. Hanging there like an apparition is a cut-out of the museum, pasted to a window. Step back a few feet to a square on the carpet, squint your eyes, and the dream descends into reality near the confluence of the Red and Assiniboine rivers.
Here, presiding over downtown, you can see just about anything. Look north to the past: the Italian Renaissance Union Trust Tower, the old CIBC building, patterned after a Greek temple, and the palace-style Bank of Hamilton building, all century-old stalwart in marble, bronze, and granite. Look south to The Forks, a traditional meeting place for First Nations and also a key to the city's future: outdoor theatres, market, children's museum, skateboard park, and, if Gail Asper has her way, an elegant gathering place where we can learn about and remember the things we did wrong. Look straight out to the east and even on a clear day, the House of Commons and Bay Street are nowhere in sight.