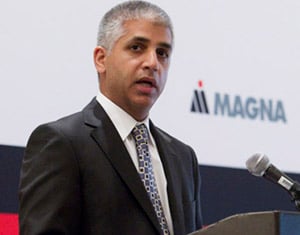 Magna International Inc. is adopting a number of corporate governance enhancements as part of initiatives it began in 2010 to become more friendly to shareholders.
The changes include say on pay, full majority voting, disclosure of detailed voting results, board member renewal, and a board evaluation.
"While the governance changes we have adopted are not novel, they are reflective of the distance we have travelled in a relatively short period of time," says Bassem Shakeel, vice president and secretary with Magna International Inc.
The steps adopted by Magna show that the board, "continues to be responsive to, and is fully aligned with, shareholder interests," said Magna chairman Michael Harris in a statement.
In 2010, Magna had a controlled structure in place that allowed the Stronach family to maintain control of the company despite not having the majority of the equity. That was brought to an end in August 2010. It occurred through a transaction that received a lot of media attention as it involved a significant financial benefit to the Stronach family, but three quarters of the company's shareholders voted in favour of it and the courts approved it as well.
"We told shareholders in our 2010 plan of arrangement proxy circular that improved governance would be one of the benefits of unwinding the dual class share structure and the changes adopted by the board are the fulfilment of that promise," says Shakeel. "Our board was at that time, as they are today, focused on how to preserve Magna's unique culture, which has been central to our historical success, while at the same time meeting shareholders' expectations as to what a Canadian-based public company's governance practices should include."
Since the end of the control structure in 2010, the board has been looking at evolving its governance practices. In the fall of that year the company began reviewing a number of changes. The board has also approved several increases to Magna's dividend, bought back shares under a share buy-back program, and overseen a number of acquisitions.
The enhancements adopted by the board also include say on pay. Commencing with Magna's 2012 annual meeting, shareholders will vote on an advisory resolution relating to the company's approach to executive compensation.
"The board considered the pros and cons of it, together with the views communicated by our shareholders — a number of which have told us that say on pay is a priority for them. While there are differing views on the merits of say on pay, the board recognized that the larger issuers in the Canadian marketplace have moved towards it and U.S. issuers have all adopted it due to Dodd Frank. Ultimately, our board also decided to adopt it," says Shakeel.
Magna also commenced a search for independent directors using an outside search firm, Russell Reynolds Associates. It is looking for candidates with strong financial, automotive, and global business and/or corporate governance expertise.
Board renewal has been an ongoing focus for Magna and while a
report issued in December 2011
by Davies Ward Phillips & Vineberg LLP, suggested Canadian boards should be seeking to have a more diverse slate of directors which includes gender diversity and diversity of global talent. Shakeel says while diversity is a priority for Magna it's focus is in finding directors with diverse experience, perspectives, and skill sets.
"At the moment our board does have one female director and gender diversity is certainly a consideration which factors into the recruitment process, but the primary consideration is diversity of experience and perspectives in order to cover all the skill sets needed to enable the board to function at the highest level," says Shakeel.
In fact, governance expert and Davies senior partner Carol Hansell, who sits on the International Corporate Governance Network, will facilitate an evaluation process of the Magna board and directors in light of changes that took place in 2011.
Other changes at Magna include:
• Full majority voting: Magna's existing majority voting policy has been amended to clarify that a resignation delivered by a director who receives more "withhold" votes than "for" votes, will be accepted unless there are extraordinary circumstances that would justify rejecting the resignation. After receiving the recommendation of the nominating committee, the independent directors of the board who secure a majority of "for" votes will accept or reject a resignation no more than 90 days after the meeting at which the director election occurred. The decision made by the independent directors will be publicly disclosed by press release and reasons will be provided if a resignation under the policy is rejected.
• Director stock options eliminated: Compensation for Magna's independent directors will not include any new grants of stock options. No stock options have been granted to independent directors since May 2010.
• Disclosure of detailed voting results: While Magna previously announced that disclosure will be made of detailed voting results relating to each shareholder meeting beginning with its 2012 annual meeting, the board approved a formal policy confirming that Magna will publicly disclose the number and percentage of votes cast on every matter at each shareholders' meeting.
• Director education: A formal policy to ensure that Magna's directors receive education relating to the company's business and industry as well as information on topics such as corporate governance, risk management, and executive compensation.