It won't be just Marc Rosenberg's brilliance that his former colleague, former chief justice of Ontario Warren Winkler, will remember. It will also be his smile.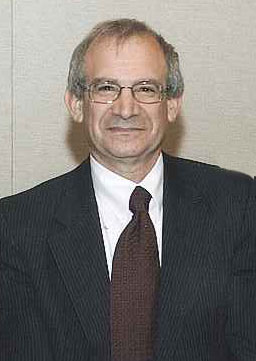 "He always had a big ready smile," Winkler recalls. "And he'd be working away at something and I'd go in his office and sit down and put my feet up and he'd turn away from his computer and a big grin would come across his face.
"You know, I was interrupting his work, but it never mattered. It was a big smile, and he'd turn around and the conversation would start like it had never ended from the last time you saw him."
Winkler is one of many members of the Canadian bar and bench mourning this week. Rosenberg, a former judge of the Court of Appeal for Ontario and one of the country's foremost experts in criminal law, died on Thursday after a battle with brain cancer. To many of those who worked with him, Rosenberg was not just a colleague but a dear friend.
"He was just one of those people who had an impact on many, many people in different areas, and he wasn't one dimensional by any stretch of the imagination," says Winkler. "People he came in contact with, he made a mark on them. He just had that way about him, because he was a person with a huge amount of depth but he also wasn't reclusive — he was a warm person."
Born in 1950 to Ethel and Morris Rosenberg, he was called to the bar in 1976 after graduating from Osgoode Hall Law School. He practised criminal law at Greenspan Rosenberg and Buhr for nearly two decades until 1995, then served as a Court of Appeal judge for almost two decades more, retiring earlier this year. He also served as assistant attorney general for the ministry's Public Law and Policy and Civil Law divisions.
Rosenberg's accomplishments were many. He was a director of the Criminal Lawyers' Association from 1987 to 1991, and was a non-bencher member of the Law Society of Upper Canada's legal education committee. He served as editor of Martin's Annual Criminal Code and wrote many articles on criminal law and the Canadian Charter of Rights and Freedoms.
"Justice Rosenberg had a decades-long association with Canada Law Book, and later with Carswell, as author/contributor to numerous prominent publications, including the highly-regarded Martin's Annual Criminal Code and Martin's Ontario Criminal Practice. It was both a pleasure and a privilege to work with him. He will be missed," said Rachel Francis, the vice president, legal and regulatory, at Carswell.
Rosenberg served as consultant on a number of influential commissions, including the Law Reform Commission on Electronic Surveillance and on the Powers of the Attorney General, the Donald Marshall Inquiry, and the Government of Ontario's Justice Review Project, according to a biographical note on the Court of Appeal web site. He also taught at Osgoode, and around the world as a judicial associate with the National Judicial Institute.
Winkler's friendship with Rosenberg began, he says, soon after he himself became a judge.
"He was one of what I call my 'have-coffee-with people,' because I would go in in the morning early, he would go in in the morning early, and we would either go out for a coffee or we'd sit in his office and have a coffee and just talk about general things," he says.
Rosenberg's many achievements, says Winkler, stemmed not only from his widely recognized brilliance but also his work ethic.
"He was a tireless worker, and a perfectionist," says Winkler. "So everything that he did reflected that.
"From my point of view as the chief, if I needed anything done at all by way of extra things, for him to help with, he was always a volunteer. . . I could go to him and he'd take on any sort of task or job no matter how busy he was, and you didn't have to worry about it — he'd get it done."
Rosenberg was also a passionate teacher.
"Whenever he wasn't sitting and doing his judicial work, every other spare moment he spent teaching both across Canada and internationally to both lawyers and other judges. And he did that through the judicial council or through anybody who asked him, frankly.
"I always used to kid him about his air miles . . . because he was always on an airplane going somewhere, to the Orient or Europe or the U.S. to teach, because he was so good at it and so popular.
"He was in great demand, and he would be all over the world, appearing at conferences and teaching other judges and they loved him. Everybody loved him because he was a very good teacher, he was very clear and he simplified everything down so that everybody could understand it," Winkler says.
Rosenberg was predeceased by his wife Martha, whose death a few years ago dealt him "a huge blow," says Winkler. He is survived, according to the Court of Appeal web site, by his partner Priscilla Platt and two children, Debra and Daniel.
"I call him a dear colleague but also a dear personal friend," Winkler says. "And I say I'm going to miss him immensely."
Toronto criminal lawyer Brian Greenspan, brother of Rosenberg's late partner in private practice, says he was very well described in the funeral notice written by his family.
"They said he was a man of great integrity, intelligence, and judgement, and of unfailing humility and grace," says Greenspan. "Knowing Marc as I did for over 40 years, I think he would have smiled and told them 'well done,' because I think that probably most aptly describes who he was, the type of person he was, and the type of lawyer and judge he was.
"It's a great loss to the community and a great loss to the law."
The notice is viewable on the web site of Benjamin's Park Memorial Chapel, site of Rosenberg's funeral this afternoon.
Anthony Moustacalis, current president of the Criminal Lawyers' Association, knew Rosenberg when we worked in private practice alongside Eddie Greenspan.
"He was at the time, I would say, the leading criminal appeal lawyer in Canada," Moustacalis says.
As a legal scholar, Moustacalis says, Rosenberg "had the uncanny ability to synthesize contradictory legal cases and explain how they all fit together, which was always quite remarkable."
As a judge, he recalls, Rosenberg "was always someone who on and off the bench was very soft-spoken, but a very incisive thinking person," whose decisions were referred to by "all other courts in Canada, at all levels."
Among his most influential decisions, Moustacalis says, was in R. v. Priest, 1996, in which Rosenberg argued against custody for a young first-time offender.
In a prepared statement, Ontario Attorney General Madeleine Meilleur said: "I was greatly saddened today to learn of the death of the Honourable Marc Rosenberg, a respected and influential figure in the Canadian legal community. . . . Today my thoughts and prayers are with Justice Rosenberg's family, many colleagues and friends. I join with them in mourning his loss. He will be missed."