When it comes to marketing, sometimes it pays to be a little offbeat, even if it means marketing outside the box.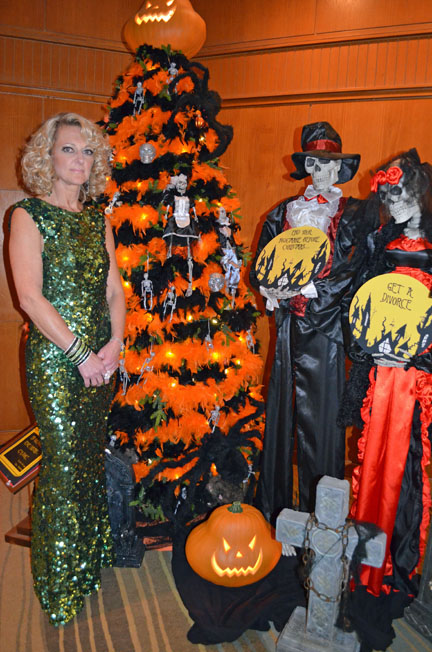 That's how Vancouver divorce lawyer Tracey Jackson's Halloween tree — complete with fake spiders and skeletons — stood out in the traditional forest of sparkly Christmas trees scattered around downtown high-end hotels for the Vancouver Festival of Trees charity event.
And, by the number of lookey-loos, who often stood two deep around the hybrid Halloween-meets-Christmas tree, Jackson's themed message "End The Nightmare Before Christmas — Get a Divorce" was a howling success.
"It has gotten a lot of attention," agreed Jackson, as the tree was displayed in the lobby of the Vancouver Four Seasons Hotel during December. Trimmed in bright orange and black feather boas plus creepy crawlers, the tree was accompanied by a ghoulish pair, headstones, and a fog machine spewing out eerie mist.
The majority of viewers enjoyed Jackson's sense of humour — with one noted exception. Jackson said the hotel was asked to remove the tree by a wedding party hosting a reception in a nearby ballroom but it was later put back.
2012 was the third year that Jackson had participated in the Festival of Trees, a B.C. Children's Hospital charity event where firms pay $3,000 to place a decorated tree, which may carry simply a Christmas message or the company's theme. Since the first year, she has used the event to publicize her practice of family law. The trees are usually placed in high-end hotels.
"It's a very sophisticated clientele," she said, adding, "if you are target marketing, then the people who attend functions at these hotels are the people you want to reach."
Planning a tree that will stand out is a year-long event.
"We usually start planning our tree in January," she said, adding her office staff participates. One of her staff, secretary Shelley Johal suggested the 2012 theme as spin-off on Tim Burton's The Nightmare Before Christmas, the 1993 film of a Halloween king who kidnaps Santa Claus as he tried to merge Halloween with Christmas.
Trees entered by Jackson in previous years carried spirited themes as well. One was divided between the sexes with an ultra feminine side (feathers, jewelry, and bows) while the other was decorated with the accompaniments of bachelorhood (beer cans, fast cars, and sports gear). The tree's message — "divorce may be expensive but freedom is priceless." Two cutouts, a male and female, caught in wild dance, accompanied it.
In 2011, it was the Tiffany tree full of dazzling in huge crystal rings and blue legal scrolls. It carried the message: "give her what she wants — the ring" but also a caution, "get a pre-nup." Jackson admits that tree got a better reception from men than women.
The 2013 tree is already partly planned out, said Jackson. It will feature garlands of money and trappings of riches plus carry the message that if one gets the right lawyer in a divorce, one can enjoy financial security.
The trees "are generating business," as a marketing tool, said Jackson. The eye-catching displays are putting her name out there and at least one client has mentioned that she heard of her through the festival of trees event.
Jackson, who also served as co-chair of Vancouver's 48th Christmas Family Ball, held at the Four Seasons, said: "I get a lot of buzz about it (the tree). It's a fun marketing tool — even if it is a little bit offbeat."