Retired Supreme Court chief justice Beverley McLachlin has been appointed to Hong Kong's Court of Final Appeal.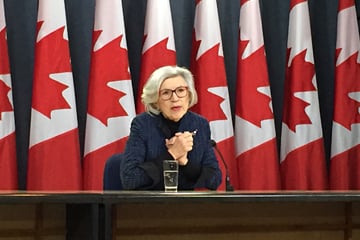 Retired Supreme Court chief justice Beverley McLachlin has been appointed to Hong Kong's Court of Final Appeal.
The court, which is Hong Kong's highest appellate court, made the announcement Wednesday that McLachlin will be one of its newest non-permanent judges. Hong Kong retained its own legal system when the United Kingdom handed sovereignty of the island back to China in 1997.
In addition to its permanent justices, the Court of Final Appeal has up to 30 non-permanent rotating judges, who can be from other common law jurisdictions. Non-permanent judges have come from New Zeland, Australia and the United Kingdom, but McLachlin will be the first Canadian to sit on the court.
McLachlin retired from the Supreme Court in December after 28 years. She oversaw the court as chief justice for 17 years, a period in which the SCC made landmark judgments on a wide range of topics including assisted dying and prostitution.
Her court clashed with the government of then-prime minister Stephen Harper on a number of issues, striking down laws such as mandatory minimums and rejecting his nomination of Federal Court Justice Marc Nadon to the Supreme Court.
Lawyers say it is not necessarily uncommon for Canadian judges to make a contribution in another sphere. Lawyer Eugene Meehan, of Supreme Advocacy LLP, says that the multi-disciplinary depth of Canadian judges, including their experience with the Charter and Constitutional law, is internationally respected and clearly sought after.
"Canada's Charter and Constitutional complexity makes them more juridically nimble. They stick-handle in the corner with aplomb," says Meehan.
Other Canadian judges that have been enlisted in foreign roles include retired Supreme Court justice Ian Binnie, who was asked to lead a 2011 inquiry in New Zealand regarding a wrongful conviction compensation claim. In 1996, justice Louise Arbour, who would later serve on the Supreme Court of Canada, was appointed as chief prosecutor of the International Criminal Tribunals for the former Yugoslavia and Rwanda in 1996.
Payam Akhavan, a law professor with McGill University, says that what likely makes Canadian jurists sought after is the cosmopolitan jurisprudence of Canadian courts, which has considerable influence beyond the country's shores.
"Canadian jurisprudence is renowned for its comparativist, internationalist and bilingual character," he says. "We have a globalist juridical perspective far ahead of many jurisdictions that are still grappling with strictly national legal trends."
Akhavan says Canada is far ahead of the curve as its juridical perspective is commensurate with an increasingly interdependent world that is witnessing a fusion of different legal systems. He says that Canadian judges can contribute to other common law jurisdictions, not just because of the shared Anglo-American legal traditions they serve but also because they are equally adept at bringing a comparative perspective from civil law and Indigenous law traditions.
McLachlin retired just nine months before reaching the mandatory retirement age of 75.
Lawyers and legal scholars say it is not surprising that McLachlin would take on such a role so soon after retiring from the Supreme Court and that she will likely seek other opportunities as well.
"McLachlin has lived her life like she's had a buckhorn chasing her. She does not know the phrase 'semi-retired,'" says Meehan.
McLachlin will join Baroness Brenda Hale, the current president of the Supreme Court of the United Kingdom, as the first women appointed to the Court of Final Appeal.
Hong Kong's Legislative Council will still need to approve her appointment in order for it to be finalized.